One Texas bride is vowing to never let her mom live down the ultimate wedding album fail of 2023.
In a viral TikTok video, Nicole Hunt, 28, explains that she's just opened a gift from her mother, Dr. Sherry Noblett. It's a Shutterfly photo book filled with pictures from Hunt's nuptials in April.
"My mom had hyped up this book so much," Hunt, a nurse, tells TODAY.com. "She was like, 'Make sure no one else does a book because I want to give it to ya'll.' When it finally shipped, she was so excited." 
The images that Noblett chose are perfect. But there's just one problem: They all have autogenerated captions — and none of the captions have anything to do with weddings (let alone her daughter's wedding).
A giggling Hunt pans to a snap of her husband, Daniel, and one of his best friends looking dapper in tuxedos. Underneath the picture it reads, "She managed to hold onto that bubble for over a minute before it burst."
There's a page dedicated to Hunt posing solo in her wedding gown. The corresponding text? "We had a picnic, then walked around the park collecting pretty leaves."
As Hunt flips through the album, she and her sister, Christina, both howl with laughter. Even Noblett, who was initially mortified, can't keep a straight face. 
"When she gave me the book, she was bright red, and she goes, 'I think I may have messed up a little bit,'" Hunt tells TODAY.com. But Hunt couldn't be more grateful for the gaffe. As she wrote on TikTok, "Favorite wedding gift EVER!!!!"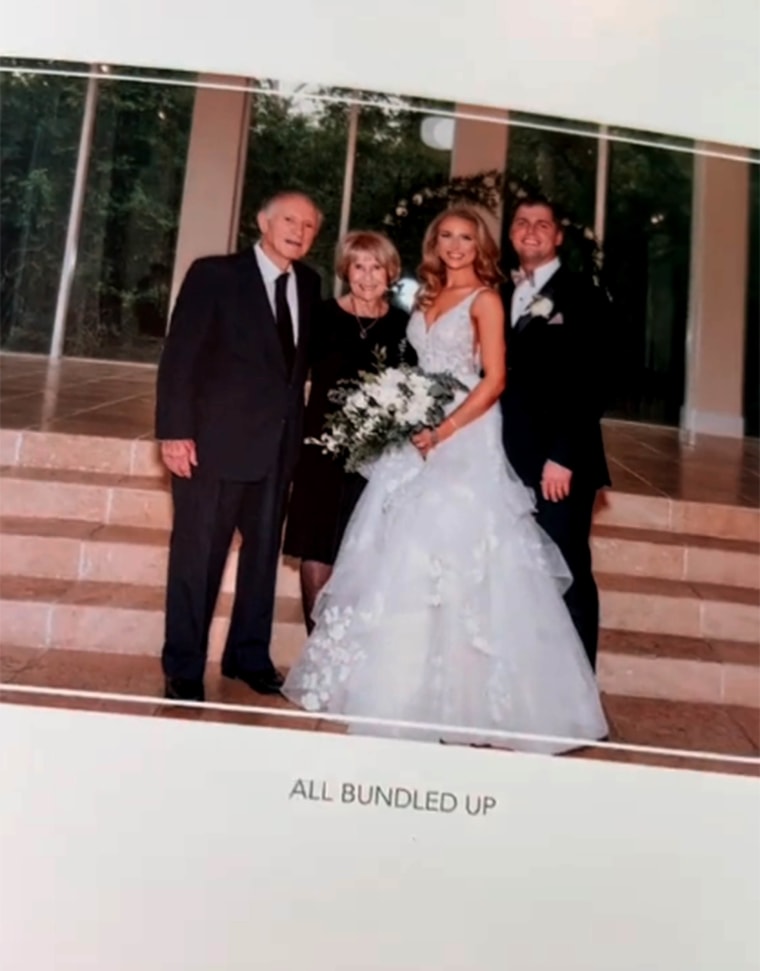 Comments continue to pour in on Hunt's video, which she posted earlier this month.
"i forgot to change the caption on my shutterfly holiday cards (from the year we got married) so everyone got cards from a Megan and Blake," one person wrote.
Added another, "I forgot to change the caption on our first dance page and it says "'Marvin swept me out onto the floor' my husband is Colby."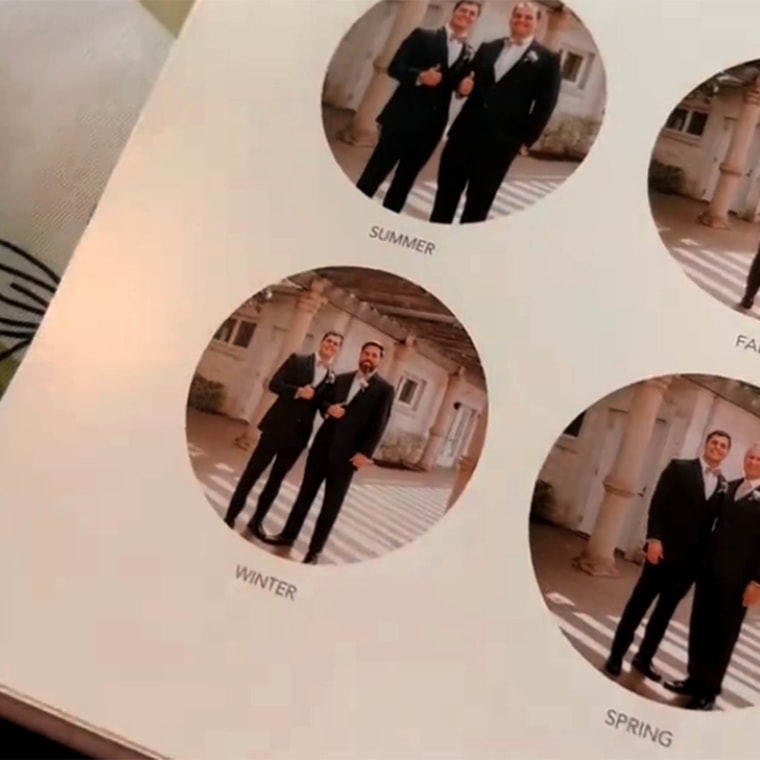 Hunt says her mom is known for having trouble understanding technology, in other words, "boomer generation stuff."
"A couple of months ago, she was talking about how her phone was running really slowly," Hunt recalls. "I opened her Safari and she had 486 tabs open."
Hunt adds that Noblett has a history with Shutterfly. 
"Every year there's an issue with her Christmas card," Hunt says. "Usually it's small, like typos and stuff. But there's an ongoing joke that she can never get it right with Shutterfly."
Shutterfly has credited Noblett's account so she can make another wedding book, but Hunt loves the original version. 
"It's on our coffee table," Hunt says, "And it's never moving."