He's a wildly successful singer, songwriter and composer with over 250 million record sold worldwide, and Elton John enjoys living well on the fortune he's earned from that success.
But his sons, Zachary, 5, and Elijah, 3, won't live the high life off that same wealth when they grow up, because John and husband David Furnish have no intention of leaving it all to the boys.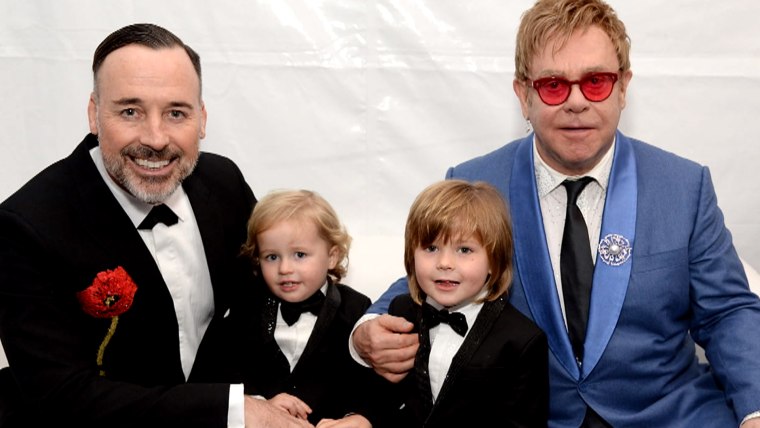 When the "Rocket Man" hit maker sat down with TODAY's Matt Lauer earlier this month, he said, "I live well. I like to be surrounded by art and photos. I like to have my homes filled with it, so I can get inspired when I get up in the morning, so my kids can get inspired."
MORE: Elton John talks career and fatherhood, calls his sons 'greatest decision'
But in a new interview with the Mirror, John said that the kids will have to earn their own extravagant inspirations one day.
"Of course I want to leave my boys in a very sound financial state," he said. "But it's terrible to give kids a silver spoon. It ruins their life."
"Listen, the boys live the most incredible lives, they're not normal kids, and I'm not pretending they are," John added. "But you have to have some semblance of normality, some respect for money, some respect for work."
MORE: Elton John and astronaut Tim Peake swap tweets 'from one Rocket Man to another'
Furnish agrees.
"The greatest joys — everything Elton and I have created — have come from hard work, and that's where your self-esteem comes from," he said.
And so, even though their children are surrounded by luxury now, the dads are already trying to instill a worth ethic in them.
"I came from a very working class family and was born in a council estate house," John said. "I earned everything I did from hard work and that's the way they've got to do it as well."
The boys are already learning to work for rewards at home.
"They have to do chores in the house — take their plates to be cleaned, help in the kitchen, tidy their rooms and help in the garden, and each time they do they get a little star to put on these charts they've made," John explained. "They understand they need to do these things, and they enjoy it."
Follow Ree Hines on Twitter.