Your college kid would never write you a letter. Even phone calls are rare. But what's the trick in getting a loving text from your kid? 

It's all about the old-fashioned treat that arrives via snail mail: home-baked goods, chocolate and a taste of home, all bundled in a care package.
While some parents do it often, others send things rarely , and some none at all, there is little doubt the college "care package" has come a long way from where it started.
The original CARE packages in 1945 (then the Cooperative for American Remittances to Europe) went to feed people in the aftermath of war. They included pounds of beef broth, liver loaf, margarine, lard and honey. But there was chocolate, and that part has endured.
Parents nowadays seem to overwhelmingly favor it, whether it's chocolate chip cookies, brownies or bars. Throw in something from the homestead to seal the deal — a picture of your kid when he/she was younger, a favorite T-shirt; for a holiday, add a string of colored lights or window gel; a letter from the family pet goes a long way, and importantly, anything they have forgotten or already run out of. A gift card for a food place is good, too.
Natalie Mahdesian of Los Angeles, Calif., says her two kids, who attended the University of Southern California, always favored home-baked treats over anything else. "I never really sent anything they didn't want or need," she adds.
Cindy Schwed of Juno Beach, Fla., says a typical box she occasionally sends to her two daughters, who are students at the University of Florida, includes almonds, vitamin C, mascara, and a $20 bill. While her daughters appreciate it, what they really love is when mom shops online for shoes or clothes and has it sent to them directly. Schwed calls it "kind of a modern day care package surprise." 
One no-no when sending care packages, according to several moms: Don't succumb to college solicitations of pre-made packages.
Pat Remick of Washington D.C., says those packages "would have been easier but they didn't seem to have much of substance in them or seemed really expensive for what you got."
But not all care packages are a win.
Dana Gordon of Arlington, Va., had sent only one care package to her daughter in almost two years. Her daughter told her how she felt guilty about eating most of her roommate's jar of Nutella hazelnut spread. "I sent her two EXTRA large vats of Nutella — one for each of them," says Gordon. "They both proceeded to sit down with a spoon and eat almost the entire tubs. Somewhere around 10 ounces per hip."
And when Laura Schwed sent her son, who attends the University of Texas in Austin, a box with a dozen cans of chili, it was less than successful. Schwed's son informed mom that he had given up meat, so he wouldn't eat it.
Then you have Arlington, Va., mom Rita Koby, whose three kids — one college grad and two currently attending — are just plain out of luck.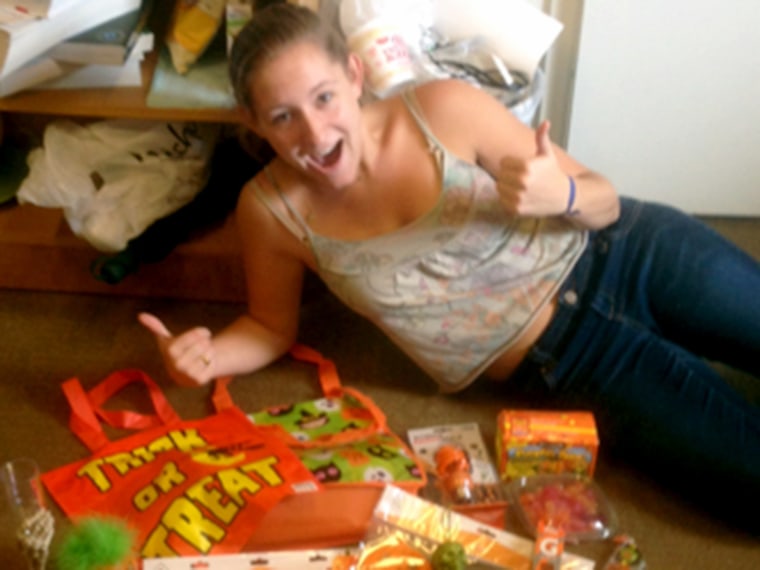 "My kids gave up begging for them when I told them it wasn't summer sleep away camp," Koby says. "Care packages for college kids? You mean the same 'kids' who take off for the Bahamas or Cancun for spring break? Please!"

Koby wonders: "…what the heck is wrong with people who are still sending 18- to 22-year-olds care packages?"
I guess she's talking about me. I just shipped off Halloween goodies to my daughters at the University of Vermont and Tulane University in New Orleans, USPS flat-rate large boxes stuffed to the brim with treats, sparkly colored skeletons and lights, and, yes, chocolate.
And that's what got me my text:
"I love my box it made my day," wrote daughter No. 2 at Tulane. "I was in a bad mood but now I'm very happy."