A senior prank at a Wisconsin high school proved to be so convincing that it even caused a concerned citizen to report it to the police — and the cops later applauded it.
Four students from Cumberland High School made sure the Class of 2018 would be immortalized by using an optical illusion to stage what looked like a car that had crashed into the side of the school building.
Senior Konur Pasko enlisted three friends to pull off the illusion, which looked so real that someone called the Cumberland Police Department to report an accident after the students set it up around midnight on Monday.
"When I first heard about it, I thought, 'My God, what happened?''' Cumberland principal Ritchie Narges told TODAY. "Then when I saw what they did while leaving nothing damaged, I thought that it was really cool. It turned out to be a real positive thing."
The police were also impressed, calling it "one of the best senior pranks that Cumberland High School has seen."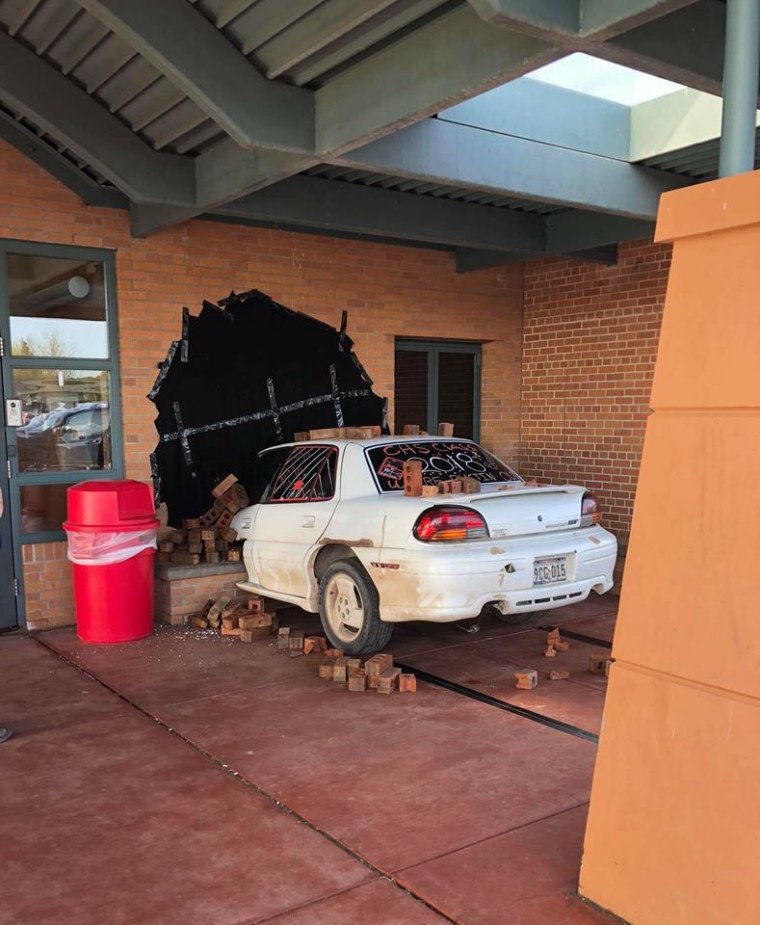 Pasko, whose father is the school's shop teacher and also owns an automotive shop, secured an old junker for the prank. They sawed off the front of the vehicle over the weekend so it would fit tightly against the wall of the school.
They got some bricks to match those of the school, used duct tape to make the skid marks behind the car, and then used a felt cloth and some black duct tape to create the illusion of a hole in the wall.
The four seniors showed up at the school around midnight and had the whole thing set up in about 10 minutes before taking off before they could be seen.
A person driving through the parking lot around 3 a.m. actually called the police thinking it was an accident, Narges said. Members of the senior center across the street also thought someone had driven into the wall.
Narges, who is in his 14th year as principal, said this is the best senior prank he's seen in his time. The "car crash,'' which will stay up until graduation on Saturday, also happens to be on the wall right outside his office.
"I'm 52 and I think back to the pranks when I was in high school, and they weren't really appropriate,'' he said. "This shows that you can do pranks in a healthy, responsible way, without breaking things."
Follow TODAY.com writer Scott Stump on Twitter.