/ Source: TODAY Contributor
Much of Spencer Halford's life revolves around duck hunting. The Tennessee father-of-three owns his own business, making game calls for fellow hunters, and says some of his fondest memories are of hunting with his own father.
Halford and his friends are also collecting video footage for a potential television show about their game calls and duck hunting hobbies. But it was a piece of footage not intended for the show, filmed and edited by college student Dylan Farrell, that recently brought Halford to tears. It also moved hunters from around the world to share their own memories of hunting with their fathers.
The video, which has received over one million views, follows Halford's 5-year-old son, Tripp, on his first duck-hunting excursion. Halford, who also has two daughters, ages 11 and 10, says he and wife, Lindy, never thought they'd have a son — something that made the day even more special for Halford.
"The most precious memories to me are of times I spent with my own dad," Halford explained. "He's my hero, he's my best friend, and I have spent my whole life wanting to have a son ... when Tripp was born, I just remember thinking it was the most amazing thing that I had a son and that I would have the kind of friendship and relationship with him that I have with my own dad."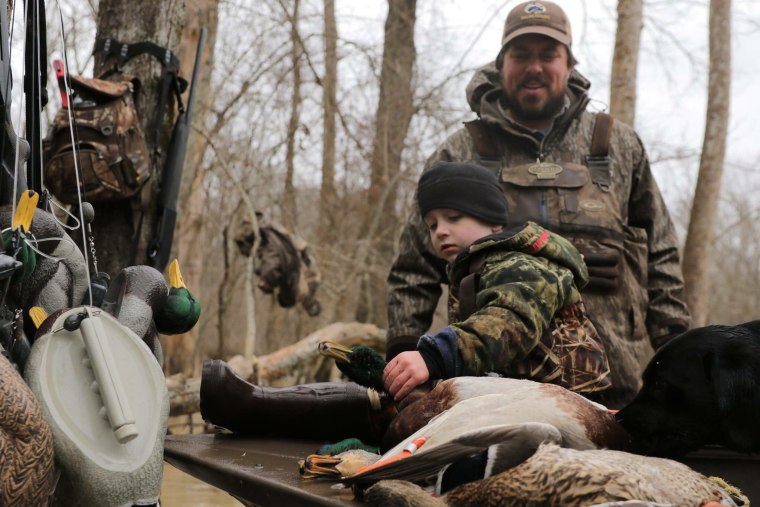 Farrell says he shot the video from Tripp's point of view because seeing the boy's excitement about the day reminded him of his own hunting experiences as a child.
"He was so happy and his eyes were lit up about everything that happened," Farrell told TODAY.
RELATED: 'Today is going to be a good day': Dad, son say inspirational pledge before school
The collection of video footage shows Tripp learning to use a duck call to attract ducks, eating snacks with his dad, and sending his dog to retrieve a duck shot by family friend Jared Tidmore. Later, Tidmore gifts Tripp with a government band from the duck's leg, an act that was special to Halford for many reasons.
"There's millions and millions of mallard ducks in North America, and they only band a few of them, so they're really rare — kind of like a unicorn," said Halford. "So for a duck hunter, a band doesn't happen very often and what's even more rare is for it to happen with a little boy in tow, much less on his very first duck hunt."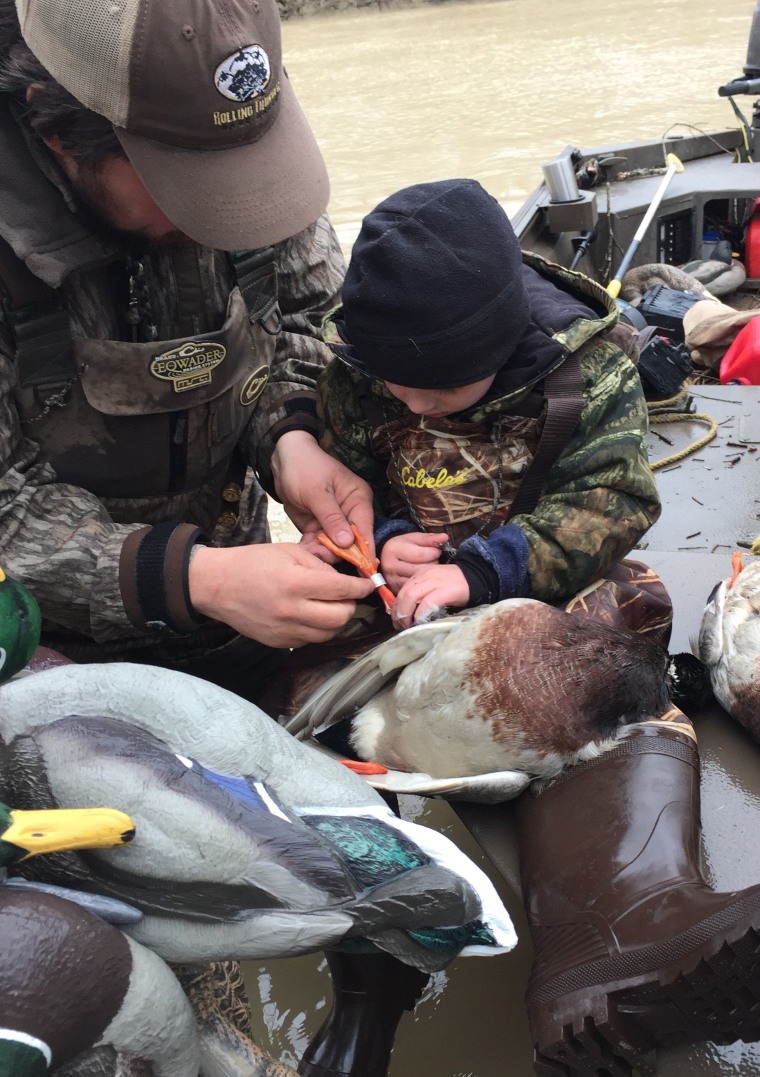 Halford says his son enjoyed their day of hunting, and is already packed and ready to go on another outing.
Never miss a parenting story with TODAY's newsletters! Sign up here
"He came home and was so proud — he showed his mama the ducks and said he had brought home dinner," said Halford. "He was really proud of himself, and I was really proud of him."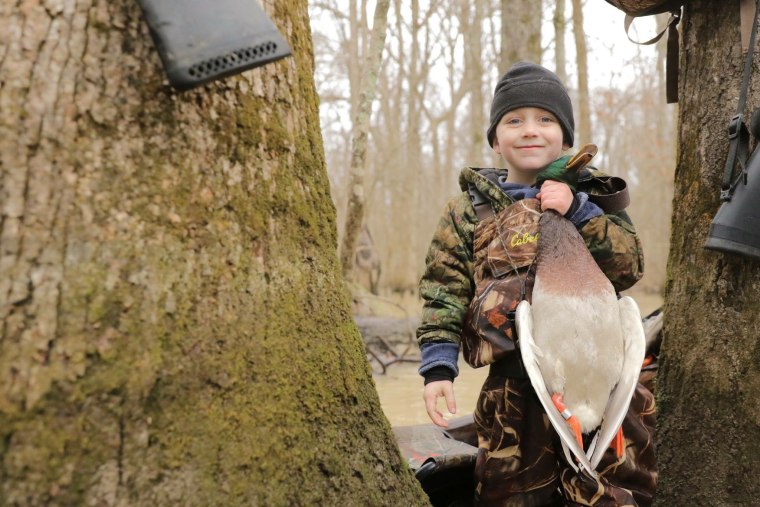 Halford also says he will treasure the memories captured in Farrell's video forever.
"When I saw the video, it was so moving to me because I would give every penny that I've ever earned in my life to have some videos of the first times that I hunted with my dad," said Halford. "I'll be able to show him the video one day, and he'll be able to see what it was like the first time he went duck hunting."