You may want to measure the width of your mantelpiece before opting for this Elf on the Shelf.
According to a Craigslist ad posted last week, a Boston man is offering his services as a "Living Elf on the Shelf" for your gathering, party, holiday, or simple amusement.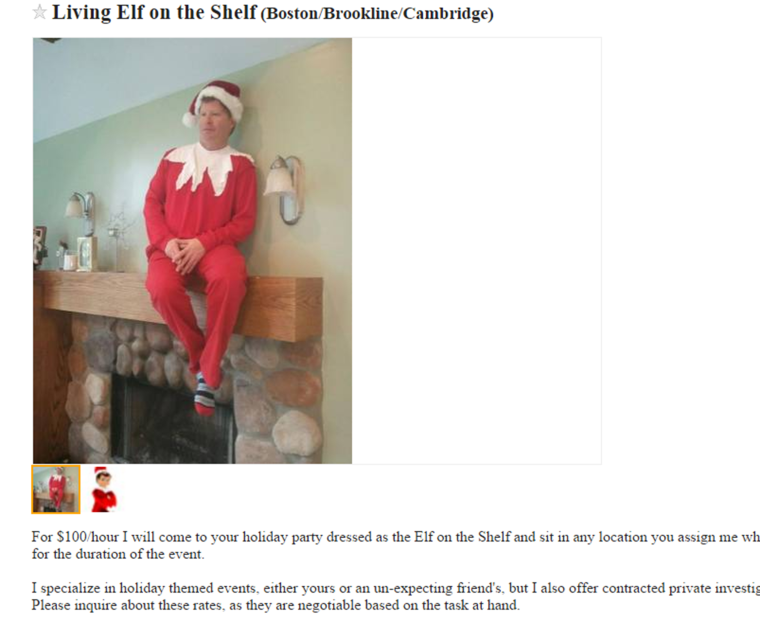 A photo with the post showed the middle-aged man in full holiday garb, perched atop a fireplace just like Santa's elfin scout, who, as most parents know, is tasked with spying on kids and reporting naught and nice behavior back to the North Pole.
MORE: Parenting win: Why this mom broke her Elf on the Shelf's leg
"For $100/hour I will come to your holiday party dressed as the Elf on the Shelf and sit in any location you assign me while I stare emptily at your guests for the duration of the event," the ad says.
It adds that his services are "in high demand" so he requires 48-hours notice for any booking.
It's signed, "Whatever you want my name to be," a goof on how the real toys are always named by their owners.
MORE: Ho, ho, no! Why parents should beware of Elf on a Shelf
You gotta give these Bostonians credit: They've got the winter marketing market cornered, whether it be Christmas or a historic snowfall. (Remember the guy who would ship you snow?)
TODAY.com has reached out to Mr. Living Elf, but he has not replied so far. It's possible he's busy sitting around.
Follow Randee Dawn on Twitter.