/ Source: TODAY Contributor
With the excitement of the Olympic Games in Rio, your kids may be inspired to try some of the Olympic events for themselves. If you have future Olympians ready to play, a few inexpensive items from the dollar store can put you on the road to Rio for your very own backyard Olympics.
Gold medal with a sweet surprise
Sure Michael Phelps, your Olympic medals are pretty sweet, but maybe not as sweet as these gold medals that hold delicious cookies inside. Just wrap the sweet treats in gold wrapping paper and attach a red, white, and blue ribbon to the wrapping paper with tape.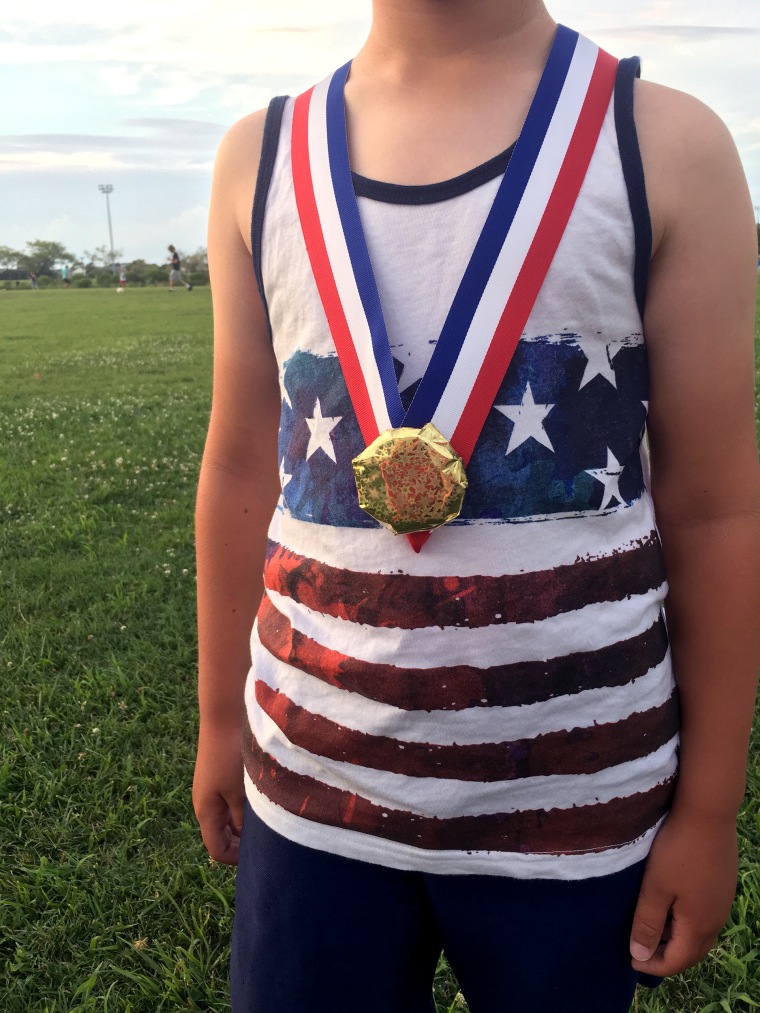 Your Olympic athlete's action shot
Amazing pictures of Olympic athletes going for the gold will grace the covers of newspapers and magazines for weeks following the Olympic Games. You can create a front-page-worthy picture of your future Olympians using sidewalk chalk from the dollar store. Just draw a scene from their favorite event, have them lay down on the drawing, and take their picture from above.
RELATED: 23 Olympic-inspired outfits that your kids will love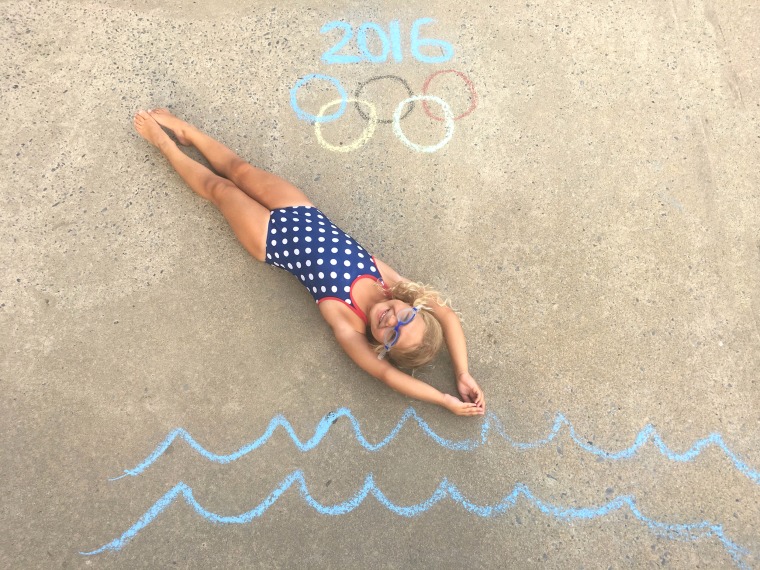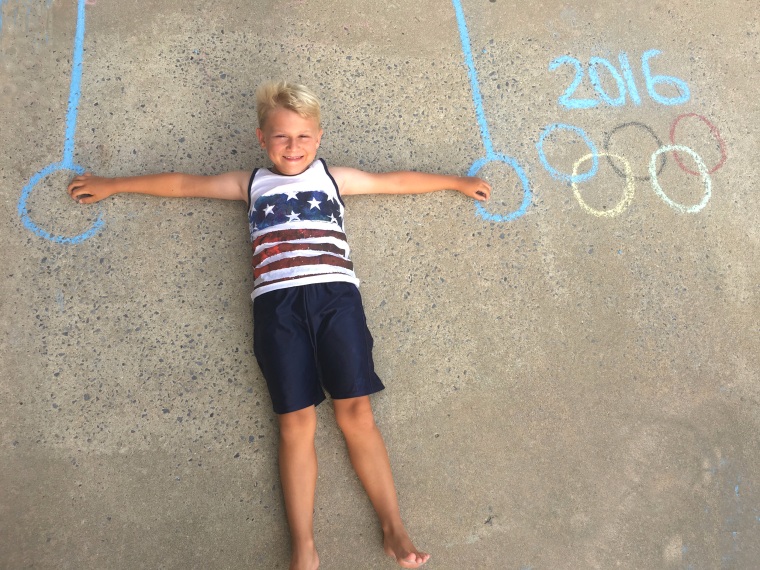 Pool noodle horse and obstacle course
Fun fact: the equestrian events in the Olympics are the only events where men and women compete against each other. Another fun fact: these adorable horses are made from pool noodles, craft foam, and googly eyes, with a dollar-store dog leash attached for the reins. You can create an equestrian obstacle course in your backyard with items you already own, or take your riders out for a trot around the neighborhood with their horses.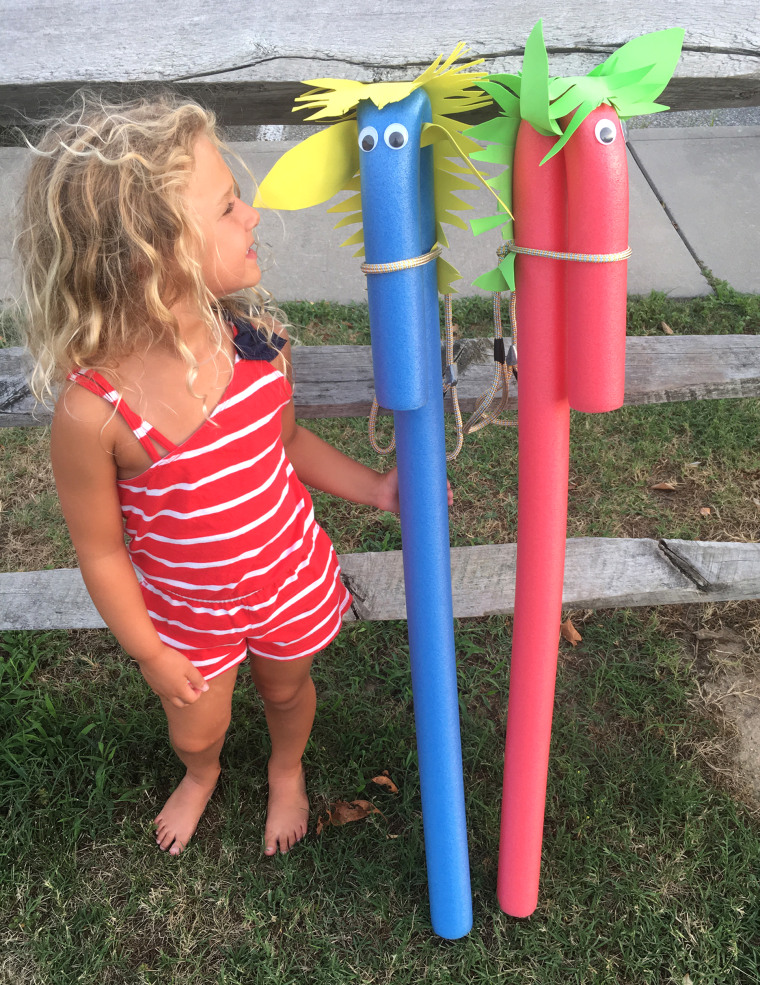 Backyard balance beam
Go for the gold and get the entire family feeling like Team USA gymnasts with their own backyard balance-beam routine. Using colorful duct tape, create a balance beam on the grass — this way you don't have to worry anyone will fall off. Then have a few judges score the performances. Perfect 10s all around!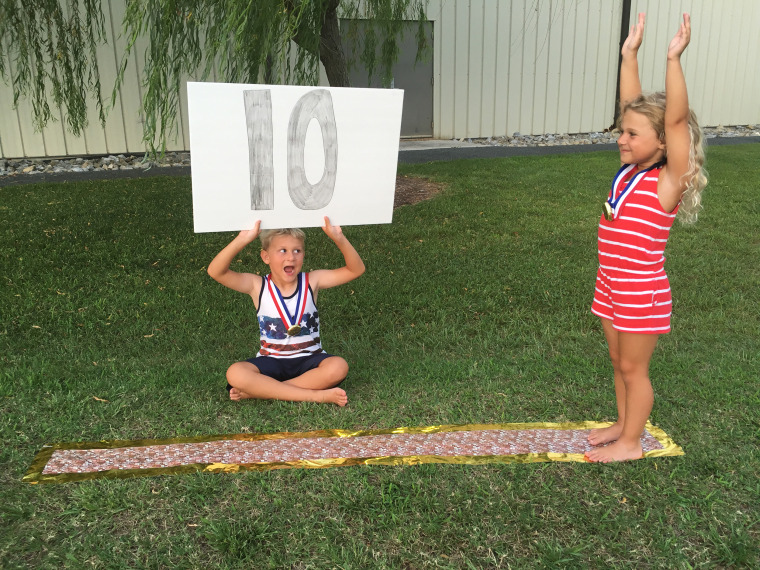 Pool noodle bow and arrow
Create your own archery set with a pool noodle and some string. Using a serrated knife, cut a piece of the pool noodle to 28 inches. Tie the string to a pencil, drop it through the noodle, and finish by tying the string to both ends of the noodle. Create arrows from the leftover pieces of the noodle by cutting the pieces in half and making points at one end. You can make targets in the backyard, or see who can shoot their arrow the furthest.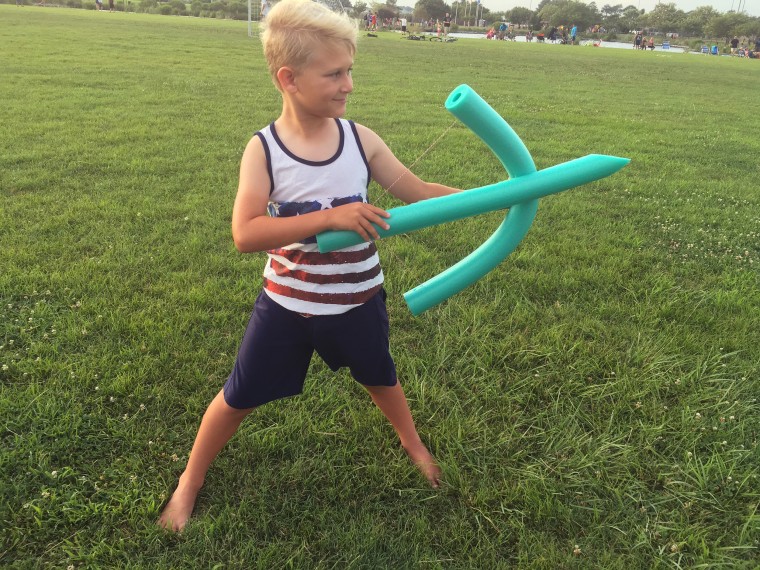 RELATED: Squad goals: USA gymnasts earn admiration from toddlers, teens
Straw javelin
A few bowls from the dollar store and a pack of straws create the perfect playing field for a javelin toss. Use tape to assign a point value to each bowl.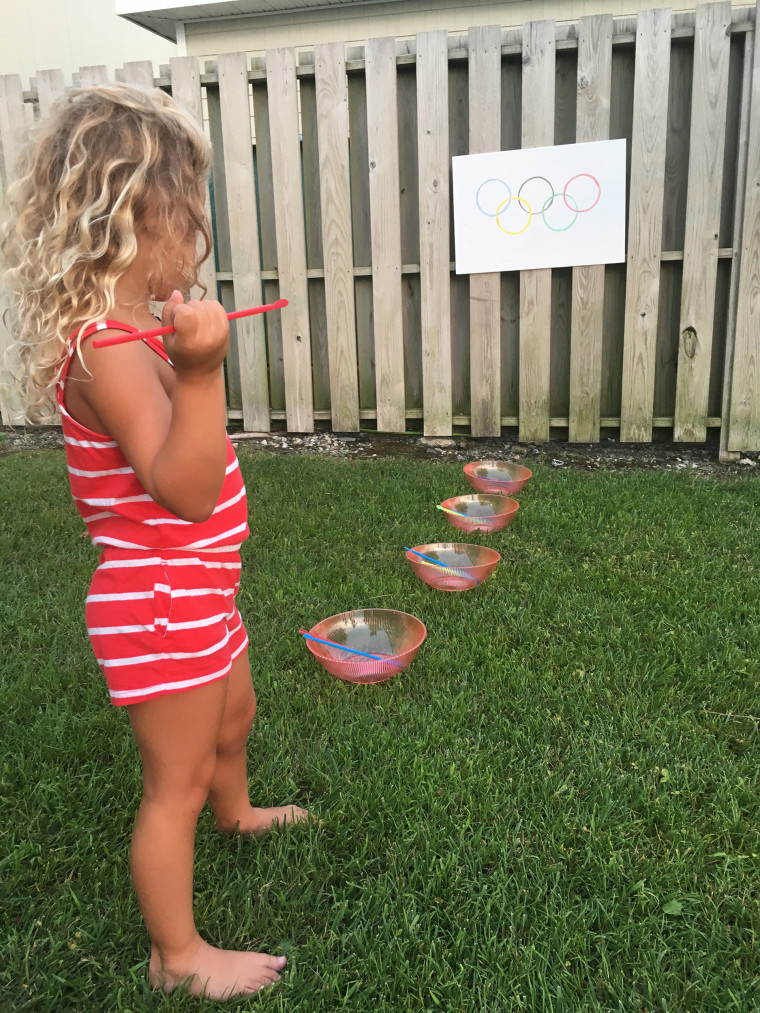 Pool races
You don't need an Olympic-sized pool for your swimmers to feel like they are part of Team USA. Create lanes in the pool with dollar-store painter's tape. Grab a few colorful rafts to make those pool races and relays even more fun.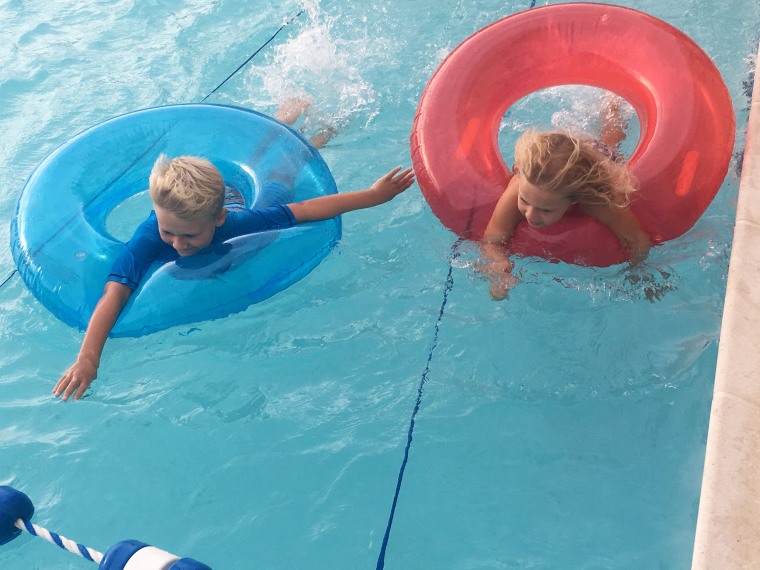 Glow-stick high jump
Here's the perfect reason to jump on those couch cushions. Using glow-stick bracelets and string, create a high-jump bar and attach to the floor using tape. Pile up couch cushions and pillows for the perfect mat to catch the jumper. After each jump, you can raise the height of the bar by adding more glow stick bracelets to the sides of your high-jump bar.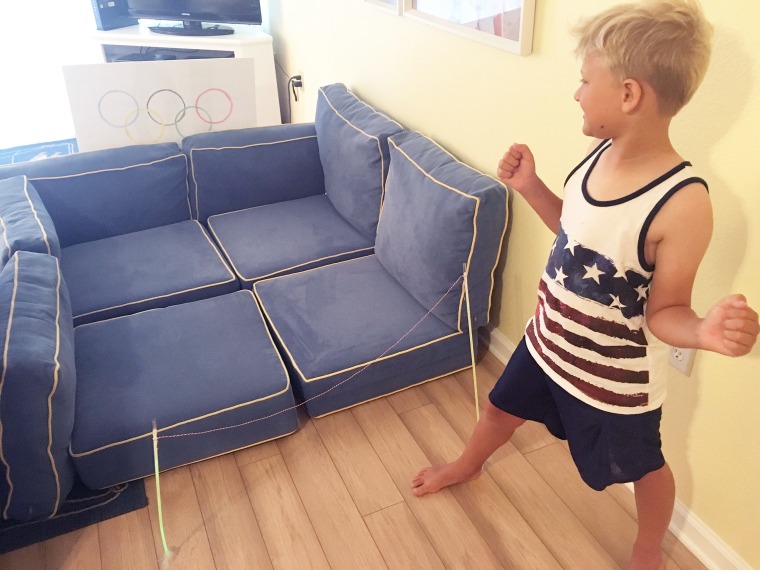 Fencing
If you're feeling brave, why not try fencing with your athletes? Consider using these dollar-store swords that are covered in soft foam. But, as every Olympic mom knows, having a referee to watch each match is probably a good idea.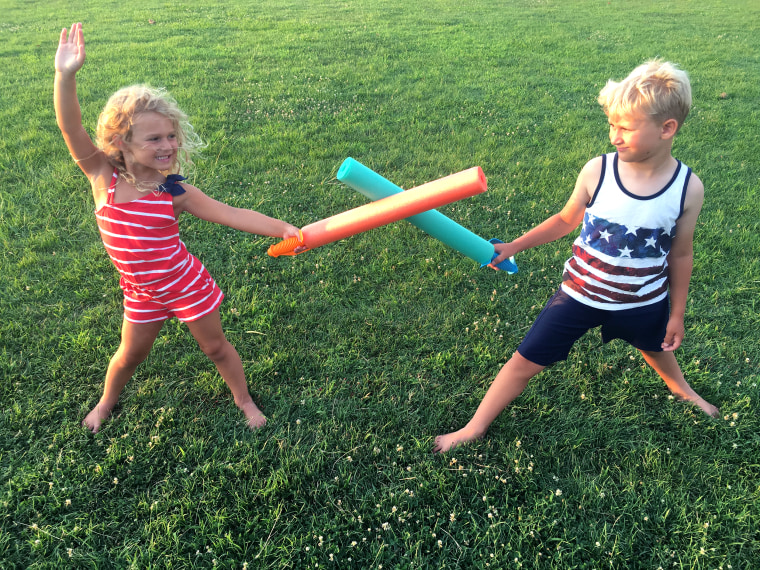 Never miss a parenting story with TODAY's newsletters! Sign up here
Super-easy Olympic torch
Begin your closing ceremonies with this DIY Olympic torch. All you need is a flashlight wrapped in aluminum foil, with red and orange tissue paper taped to the top to create a torch that will make your backyard Olympics shine a little brighter.