/ Source: TODAY Contributor
These are the baby names you're looking for: Just months after the blockbuster release of "The Force Awakens," expectant parents are turning to names from the "Star Wars" universe, according to Babycenter.com.
It shouldn't be a surprise that Rey, the name of the scrappy scavenger played by Daisy Ridley, is rising up the charts. Her character was a heroine who discovered her talents in the ways of the Force, and she showed compassion and kindness throughout the film.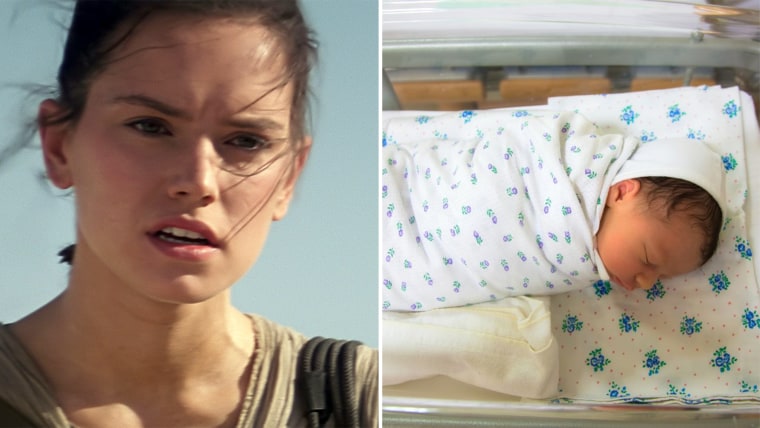 For girls, the name Rey has rocketed up more than 11,000 spots since 2015 — an increase of 82 percent according to Babycenter.com. The site notes that it remains to be seen whether Rey can catch up with longtime favorite Leia, ranked at 211 now (more than 2,000 spots higher than Rey) and up 64 percent over the past 10 years.
RELATED: This baby will stop crying for only 1 thing: the 'Star Wars' trailer
"(Rey is) a fierce warrior, a Jedi master. If you're looking for a strong girl's name that embodies power but still sounds beautiful, you can't do much better than Rey," said Linda Murray, Babycenter global editor-in-chief.
But if babies receiving the name Rey at least have a positive role model to look up to, that's not the case with baby boys receiving the name of Kylo Ren (Adam Driver), a Dark Side warrior who's responsible for the most heartbreaking death scene in the film.
Kylo is awakening as fast as the Force and has zoomed up the boys' list by 67 percent since 2015, Babycemter reports.
"I was surprised by the rise in interest in Kylo because the character Kylo Ren is such a negative force, but some parents may be attracted to the power and the darkness in this name," said Murray. "If you're edgy and a bit of an outlaw, you might gravitate toward a name like this. And Kylo does have great lineage with (parents) Han (Solo) and Leia, so maybe people cut him some slack because his parents are awesome."
RELATED: Watch these babies react adorably while watching the new 'Star Wars' trailer
"Star Wars," of course, has been around since 1977, and some names in the films have already enjoyed a bump in popularity due to George Lucas' creations — including the filmmaker's own.
Lucas, the series originator's last name, has been on a steady climb for 20 years and is ranked No.5 so far this year, Babycenter reports. But the site notes that the names Luke, Poe and Finn have yet to take off. While Luke Skywalker was of course a "Star Wars" hero from the first film on, Finn and Poe were characters introduced in "The Force Awakens."
And some "Star Wars" fans are really reaching far, far away for their name choices — some parents are naming their offspring "Jedi," Babycenter reports.
But there are limits, even in the name galaxy. Babycenter told TODAY that so far, no babies in their database are named "Darth" or "Vader."