/ Source: TODAY Contributor
White bread, devoid of nutrients, slathered in butter...and rainbow sprinkles.
These are just some of the key components involved in making toast for a toddler — and getting him to eat his breakfast — according to a funny how-to video created by author Bunmi Laditan.
The video moves through the many, endless steps involved in satisfying a picky child, from cutting toast into triangles to removing the already added butter because you added too much.
And, spoiler alert: the toddler in Laditan's video doesn't eat his toast at the end of the tutorial, leaving Laditan to suggest eating the toast yourself while "dying inside" and "questioning your life decisions."
Related: 13 times the Honest Toddler author made us laugh and cry about parenting
Laditan, who created Honest Toddler, has three children, and says she has learned to laugh at the difficult parts of parenting so that when the blissful parts happen, she's ready to enjoy them.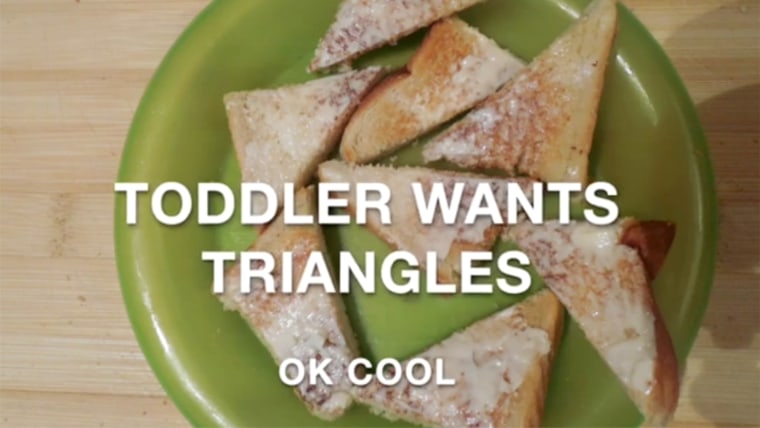 "I think we balance being real and enjoying the beautiful parts of parenting by just laughing about it," Laditan told TODAY Parents. "Parenting is a wild ride that I wouldn't trade for the world and laughing at the parts that make me want to scream gets me through the day."
These days, Laditan is also passing her days working on hew newest book "Confessions of a Domestic Failure," which will be released in 2017 through MRIA Books, an imprint of Harlequin.
Related: 'Honest Toddler' author blows the lid off dinnertime desperation on Facebook
"I think it's all about knowing when to be firm and when to just relax," said Laditan. "One has to pick their battles. I love the comments from moms of 20-year-olds who tell me that they went through the same thing and their kids are just fine now."