Attention all couples: It's time to step up your game for your next baby gender reveal party. Freddie Freeman of the Atlanta Braves and his wife, Chelsea, just hit their reveal out of the park!
The couple, surrounded by family and friends, took to the ballpark to find out if they should make way for a little boy or a little girl. The plan? Chelsea Freeman would pitch, her husband would hit, and the ball would explode in either a blue powder or a pink, indicating the sex of the baby.
RELATED: Shocklee family parodies Justin Bieber's 'What Do You Mean?' for baby gender reveal video
The 26-year-old baseball player stood back, bat in hand, as his wife lobbed a pitch his way. The second he hit the ball with the bat, it was a home run!
Actually, it was blue powder, indicating a boy, but by the cheers of the overjoyed parents-to-be and their loved ones, Freddie Freeman might as well have made his way around the bases.
RELATED: Couple celebrates life in home run of a baby gender reveal announcement
This is the second time Freeman is making headlines this week — and for good reason! After a hero dad managed to block a baseball bat from flying into his son's face at a Pirates-Braves spring training game,dad Shaun Cunningham and his son, Landon, appeared on TODAY Tuesday to talk about the scary moment.
As it turns out, Landon's absolute favorite baseball player is Freddie Freeman, so the player surprised him with a signed jersey.
RELATED: Dad of 4 daughters faints after learning his wife's next baby will be a boy
Landon's reaction says it all: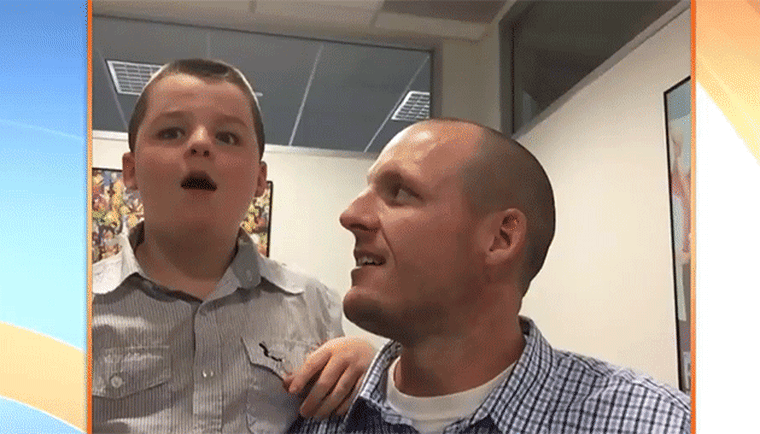 If Freeman can make his future son as happy as he made Landon on Tuesday, he'll have no problem with the whole parenting thing.