Alberto Perez started out as a street performer and then an aerobics teacher in Colombia, making extra cash on the side teaching the wives of businessmen how to dance in nightclubs in his hometown, Cali.
Today, he stands at the center of the Zumba exercise craze, having helped transform Zumba Fitness, a private company, into a rapidly growing fitness empire with heavyweight investor backing.
"I'm not a businessman, but I knew this had the potential to be something special," said Perez, who along with two Colombian associates founded the Miami-based company.
Zumba, a Latin dance-inspired aerobic workout, has exploded from a Miami gym phenomenon to infomercial and DVD smash hit into a global craze with some 12 million people taking classes every week in at least 125 countries. Zumba Fitness now boasts being the largest branded fitness program in the world.
Started on a shoestring budget in a Miami garage nearly 11 years ago, Zumba Fitness now has more than 200 employees, and a pair of New York investment firms are betting the craze has staying power.
What began as a company focused on fitness has evolved into a lifestyle and entertainment brand combining e-commerce, apparel and music, and a sought-after outlet for stars like hip-hop artists Pitbull and Wyclef Jean and reggaeton singer Don Omar who have turned to Zumba to promote their music.
The accidental instructor
Zumba got its start by chance in the 1980s.
Perez, who is known as Beto, was eking out a living as a street performer and salsa and merengue nightclub dancer known for his boyish model looks and muscular physique.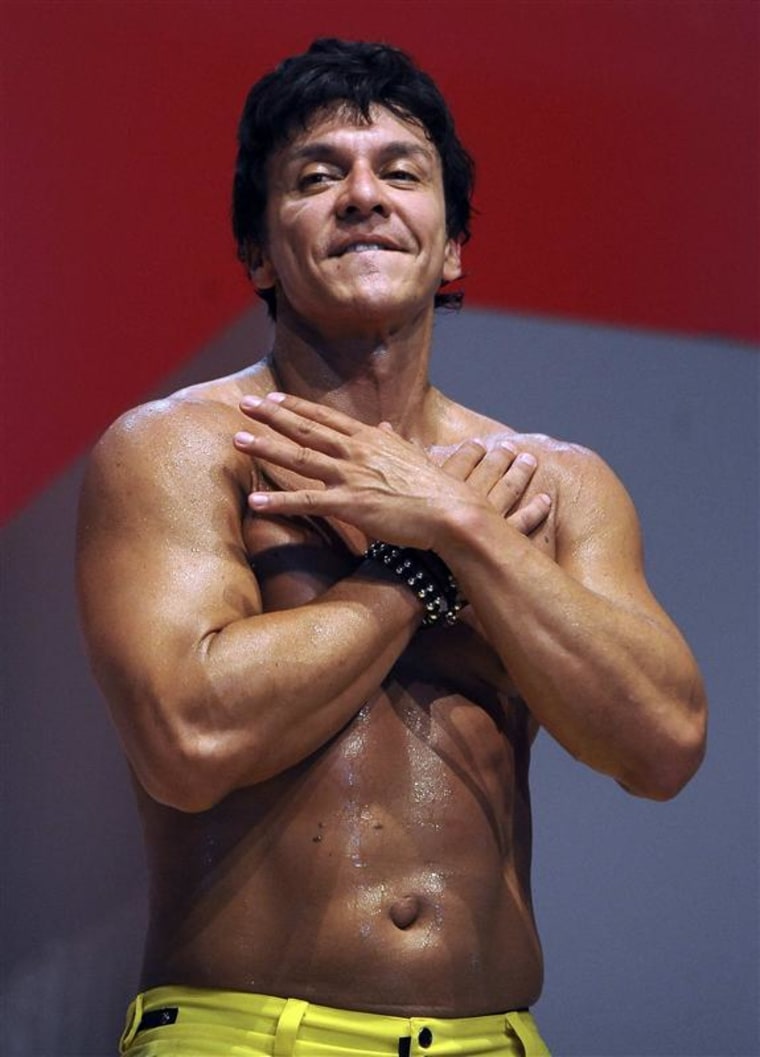 One day the owner of a nearby gym called and asked if Perez could stand in for an injured aerobics teacher. He agreed - but didn't mention he had never done aerobics and rushed out and bought a copy of Jane Fonda's Workout Book.
His fitness career was born.
Months later, getting ready for a class, Perez forgot his aerobics music. Instead, he put on his own merengue and salsa tapes and improvised dance moves for a workout, creating what today is known as Zumba.
It proved to be a hit and he quickly developed a loyal following before he moved to Bogota, where he briefly worked as a choreographer with pop star Shakira.
In 1999, Perez packed up and headed to Miami, speaking no English but hoping to make a breakthrough in the Latin-flavored U.S. city with his new dance exercise class.
He struggled before eventually building up a large, adoring fan base of mostly Colombian expatriate women, including the mother of Alberto Perlman.
Then a technology entrepreneur, Perlman lost his job in the dot-com bust two years later and was struggling with what career move to make next. He co-founded Zumba Fitness and is now its chief executive.
"My mom had been taking his classes for years," he said. "She would tell me about this amazing class but I never paid attention. When the bubble burst, I went to have dinner at her house and she kept saying 'Talk to Beto, maybe you guys could start a gym.'"
"I said I'd meet with him but I wasn't sure what I was going to do with him," Perlman recalled. But after watching a class, he came up with the idea for a new fitness video he hoped could be an infomercial success.
The men sought to put a name on the exercise, first thinking of the Spanish word rumba, which loosely translates as party, but realized it was already trademarked.
"We just went through the alphabet to see what rhymes with rumba," Perlman said. "We were getting nervous by the end, nothing sounded good - bumba, kumba. Then we settled on Zumba, it was perfect."
12 million and counting Perlman said growing the instructor and student base is the firm's top priority, with a goal of one day reaching 100 million students, more than eight times the current number.
The company has also launched its own line of brightly colored clothing, Zumba footwear and a glossy magazine named "ZLife", all designed in its Miami office.
But it is also focused on developing TV shows, pushing into global markets, particularly Eastern Europe, Asia and Latin America, and exploiting a new business opportunity: fitness concerts.
"I see Zumba Fitness also as an entertainment brand," Perlman said. "It's becoming a music, TV and concert platform."
Fitness fads rise and fall. But two prominent investment firms have made bets Zumba Fitness will avoid going the way of workout has-beens like Jazzercise, Thighmaster and the Ab Rocket.
"You see a lot of feasts and famines in the fitness industry," said Richard Wells, managing director of New York-based Insight Venture Partners, a private equity and venture capital firm that has invested in Twitter and Tumblr.
The firm made a minority investment in Zumba Fitness earlier this year. "They are just scratching the surface of its potential," Wells said.
The Raine Group, a media and entertainment investment firm based in New York, also has invested in the firm.
Neither company would reveal the size of its investment.
Perlman said Zumba Fitness hopes to draw on the firms for media, entertainment and technology resources and has no plans to go public.
"While there isn't a lot we rule out at Zumba Fitness, this is not on our radar at this time," he said.
The Zumba ecosystem
Once Zumba gained exposure on infomercials, fans started asking for more. The company began receiving calls at all hours of the day from people saying "I want to be a Zumba instructor," said Perlman.
By 2005, the company decided to develop the global instructor network and Zumba took off. The instructors each pay $30 a month to receive regular installments of new music and dance and exercise steps.
"It's their ecosystem," said Wells, the investor.
The network has turned Zumba instructors in the United States and across the globe as far away as South Korea and Norway into entrepreneurs.
"It's become my small business," said Betsy Dopico, a native Cuban who moved to Miami from Mexico four years ago and now teaches Zumba classes.
On a recent night, around 60 people packed a downtown Miami dance studio for her hourlong class. Salsa and merengue rhythms throbbed on loudspeakers as the group of mostly 20-something and middle-aged women in sweat-drenched T-shirts and exercise tights spun around, kicked and jumped to the music.
A handful of men also participated, most of them mimicking Dopico's moves from the back of the class.
Mehdi Benhaddouch, a 32-year-old account executive at a financial company, said he had grown bored with gym workouts before settling on Zumba a few months ago. "It's like going to a nightclub, but you're exercising," he said.
The company has turned live concerts into fitness experiences where concert-goers follow Zumba instructors on stage while artists perform.
A concert in Orlando, Florida, last year drew thousands.
"My dream is to see fitness concerts all over the world, traveling shows, permanent shows in Las Vegas," Perlman said. "The artists love it too, because it's a new way of selling their music."
Success has also brought challenges. Pirated versions of Zumba Fitness DVDs and clothing have led the company to hire a staff of a dozen people to combat counterfeiting.
Perez, whose official title is "chief creative officer", said Zumba's explosive popularity is rooted in its simplicity of having a good time while trying to stay fit.
"Over the years, fitness became too complicated and difficult," he said. "The industry turned egocentric with an emphasis on instructors doing the exercises. It became a show."
He added: "They forgot about normal people - mothers, grandmothers and the housewives who want to stay in shape and have some fun. That's the essence of Zumba." 
More money and business news: