For nearly three years, Ginger Sprouse drove by Victor Hubbard multiple times a day as he stood pacing and talking to passers-by on a street corner near her business.
Finally last June she decided to say hello and ask him why he was always in that same spot. Hubbard, who lives with mental illness, told her he didn't want to leave that particular place so his mother, whom he hadn't seen in years until very recently, could find him when she came back.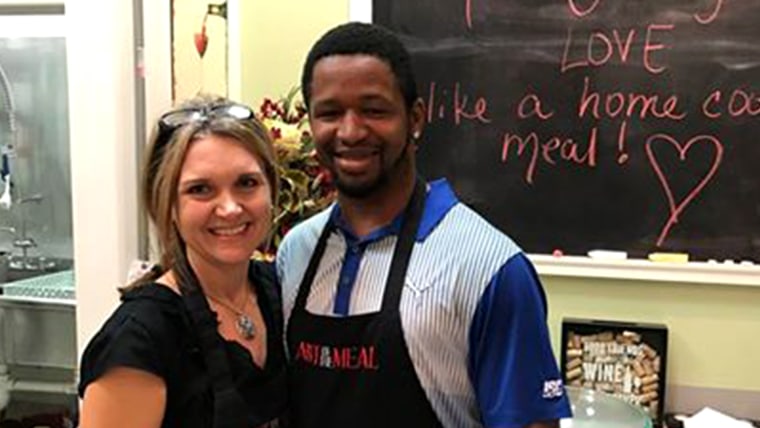 "He was so sweet,'' Sprouse told NBC News. "He didn't ask me for anything. He didn't want anything. He was just excited that I wanted to stop and talk to him."
RELATED: Homeless man hands out resumes instead of asking for money — and lands a job
Sprouse, who owns a business offering cooking classes in Nassau Bay, Texas, began spending her coffee breaks with Hubbard and learning more about his life. Hubbard has been on and off the streets for 10 years in Kemah, Texas, but local social services had been unable to locate his mother in the past three years.
Sprouse decided she wanted to do something to help.
"This is not OK with me that he's here waiting, and we can't do anything about it,'' she said.
This past December, Sprouse and her husband took Hubbard into their home on a 35-degree night, and he began staying there on and off.
Hubbard's plight spurred Sprouse to create a GoFundMe page and a Facebook page called "This is Victor" to help raise money for clothing, food and a place to stay at night. Nearly $18,000 has been raised so far.
Sprouse also received referrals to get Hubbard the specific help he needs, given his illness.
"I would drive by, especially when it was getting close to Christmas, and he had piles of pillows and blankets and shoes and bags of clothes and all this and food like you wouldn't believe, and I was like, 'OK, so what is he going to do with all of this?" she said.
"The man doesn't need another sandwich. What he needs is someone to help him do something with all of this."
The attention generated by the Facebook page also led to contact from Hubbard's mother, who, it turns out, lives only 2 miles away in East Texas. Hubbard's mother is not happy with the attention his story has received, according to Sprouse.
"He is an adult, and I cannot make him stay anywhere,'' Sprouse said. "We are very hopeful that he will make good decisions and not want to go back and stay with her and continue this cycle of not being medicated and being out on the street, and all of those things that go along with mental illness, because she does not have the capacity to be able to care for him the way that he needs."
RELATED: Why this man plays music for the homeless
Sprouse's solution for now has been to take Hubbard into her family's home full time, where he has lived for the past three weeks. He also now has a job in the kitchen at Art of the Meal, her cooking business.
"If we help him, we cannot just clean him up and give him a shower and throw him out there and say, 'OK, little bird, fly,''' she said. "It's a lifetime commitment.
"We kind of had to make that decision. Is he really a part of our family? Do we really mean it when we say that he's going to be in our lives for the rest of it if that's where he wants to be? And we said, 'Yes, he is.'''
Follow TODAY.com writer Scott Stump on Twitter @Scott_Stump and NBC News writer Shamar Walters @Shamar_Walters.