A college student who served as an inspiration while recovering from serious injuries suffered in the Boston Marathon bombing died in a car crash in Dubai over the weekend along with a classmate.
Victoria McGrath, who was pictured being rescued in an iconic photo from the 2013 bombing, died along with classmate Priscilla Perez Torres, Northeastern University officials confirmed Monday. The women were there on a personal trip.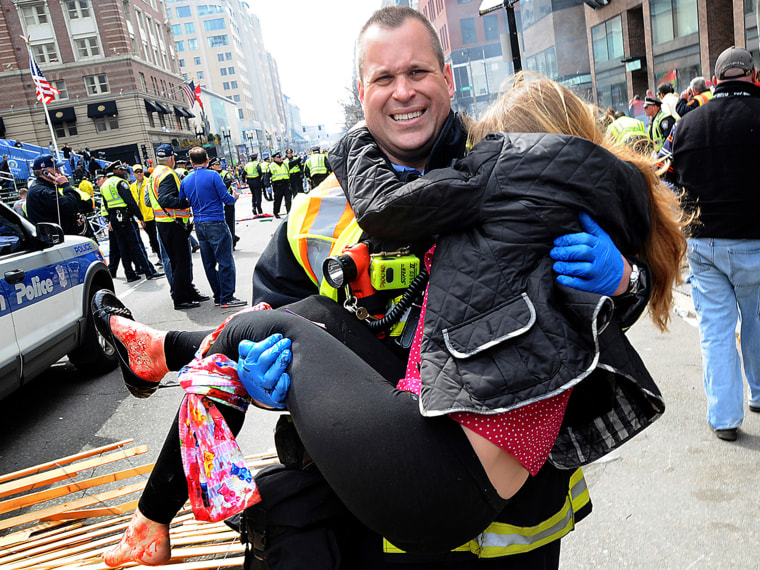 "Our hearts go out to the family and friends of Victoria McGrath and Priscilla Perez Torres in this extremely difficult time," the school said in a statement.
"We are stunned, shocked and heartbroken," McGrath's mother, Jill McGrath, wrote in an email to NBC News.
McGrath, who was 20 years old at the time of the bombing, was only five feet from the first bomb when it exploded. One of her legs was pierced with shrapnel, and she suffered nerve damage. If not for the quick actions of three strangers as well as Boston firefighter Jimmy Plourde, she could have bled to death.
A picture showing Plourde carrying a bloodied McGrath from the scene became one of the searing images from the day seen around the world. McGrath reunited Plourde and the trio of strangers who helped her — Bruce Mendelson, Tyler Dodd and Alicia Shambo — in an emotional appearance on TODAY in April of 2013.
"I'm so thankful. You guys are so brave," McGrath told them from her room at Tufts Medical Center.
The hospital staff at Tufts expressed their condolences for the loss of McGrath on Monday.
Follow TODAY.com writer Scott Stump on Twitter.