Prom is hyped up to be the most magical night of your high school life — and for Sam Lamar, a 21-year-old special needs student at Penn Cambria High School in Cresson, Pennsylvania, it was nothing short of unforgettable, courtesy of his 37 prom dates.
"It doesn't matter if you're a freshman or a senior. Everyone knows Sam," classmate Abby Harvey told Sara Small from NBC affiliate WJAC. "Sam taught me how to smile. No matter what happens, you could be having a bad day, you'll see Sam and he's smiling and happy in the hallway and whatever I'm upset about doesn't matter anymore."
The mastermind behind the epic prom-posal — in which the girls surprised Lamar in the school's gym with signs that read, "Will you go to prom with us?" — was Karingtin Sklodowski. After chatting with Lamar's teacher at the beginning of the school year about bringing him to prom, Sklodowski learned that many of the other girls in the graduating class also wanted in.
RELATED: High school students throw 'senior prom' for Florida nursing home
"It makes me feel great knowing that he's going to have this memory forever that every senior should have," Sklodowksi told WJAC ahead of the April 30 event. "They should all have that memory to enjoy their senior prom and to remember it for a lifetime."
Lamar, affectionately known as Sammy, was psyched. "Just by seeing his facial expressions, he seems really happy about going," another classmate, Christian Stewart, told the station. "The day we asked him, his eyes glowed. He just smiled. It was heartwarming."
RELATED: Girls honor late friend by wearing her prom dress
But the big night was extra special for Lamar for more than one reason: It represented his last hurrah after 16 years in the district. "I might cry knowing it's going to be the last year I'm going to see him," said Stewart.
Lamar's mom, Diana Lamar, was humbled by this act of kindness. "I think other parents with special needs kids understand that your biggest fear when they start school is that they're going to be picked on or made fun of or bullied," she said. "For us to get that from them, that letter inviting him, just proves how much they included him. It shows how much they like him and how much he's a part of their group."
RELATED: More than 70 years after high school, sweethearts attend prom
Lamar, who was escorted to the prom at Lakemont Casino in Altoona with his 37 dates on Saturday, was treated like a king — literally. Looking dapper in a tux and sunglasses, he was crowned prom king.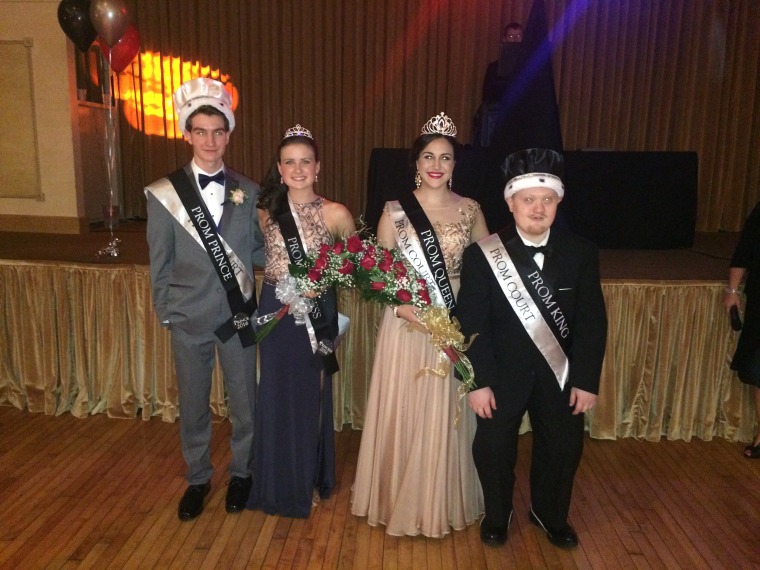 But for his dates, the event showcases a mutually giving relationship. "We might be changing his life tonight by taking him to prom and giving him this memory, but he's changed ours," said Sklodowski. "Every day when we see him, he's happy. He's taught us how to be patient and live life to the fullest."