A day after former New Hampshire prep school student Owen Labrie was sentenced to a year in prison for sexual assault, the victim's mother said in an NBC News exclusive that her daughter has no regrets about coming forward with the allegations.
"It's been excruciating for her, but she just wanted to do what was right,'' the girl's mother, whom NBC News has chosen not to identify, told Natalie Morales.
Superior Court Judge Lawrence Smukler imposed three concurrent 12-month terms after Labrie, 20, was convicted on misdemeanor counts of sexual assault and endangering the welfare of a child, as well as a felony charge of computer-related seduction. Labrie also is required to register as a sex offender for the rest of his life. He is currently free on bail pending an appeal.
Prosecutors had accused Labrie of raping a 15-year-old freshman girl in May 2014, when he was 18, at the exclusive St. Paul's School in Concord. The girl issued a statement delivered by her mother.
"Going through this legal process, I now understand why victims feel as if they can't speak up, yet cannot see how I would have lived day-to-day life without telling the truth,'' she said.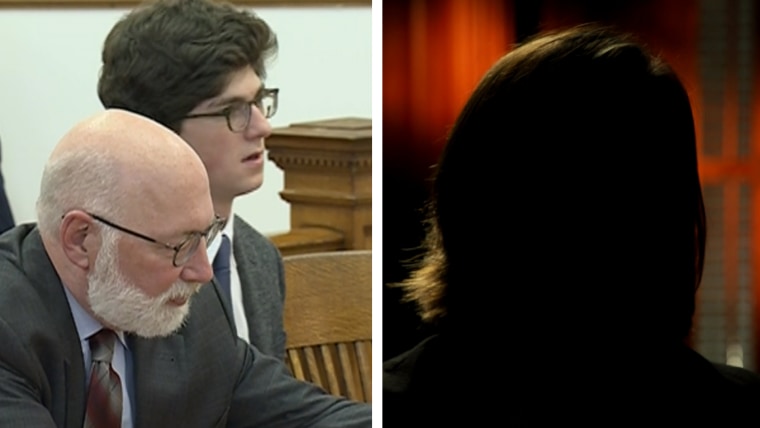 During the sentencing, the girl also issued a videotaped statement to the court.
"What he did to me made me feel like I didn't belong on this planet," she said, her voice quivering, "and that I would be better off dead than to deal every day with what was thrown in my direction after doing the right thing."
The assault occurred when Labrie asked the girl to join him at a ritual called "Senior Salute," where seniors ask out freshmen and often tried to have sex with them, according to prosecutors.
"Her experience was extremely limited with young men and certainly zero with an 18-year-old man,'' her mother said. "I know she regrets going."
"We remain committed to teaching our students our core values, that they live honorably, respectfully and never forget to be kind,'' St. Paul's said in a written statement.
Follow TODAY.com writer Scott Stump on Twitter.