Erica Herman, an ex-girlfriend of Tiger Woods, is asking for her nondisclosure agreement with the pro golfer to be nullified, according to a lawsuit obtained by NBC News.
Attorneys for Herman argued in the March 6 complaint the NDA is "invalid and unenforceable," citing the Speak Out Act, a federal law that protects victims of sexual harassment and sexual assault. The suit did not make any allegations of sexual misconduct against Woods.
Herman is asking to be released from the agreement she signed in August 2017 so she can share "her own experiences" and "photographs and recordings of herself" related to "various legal claims she believes she has," according to the lawsuit.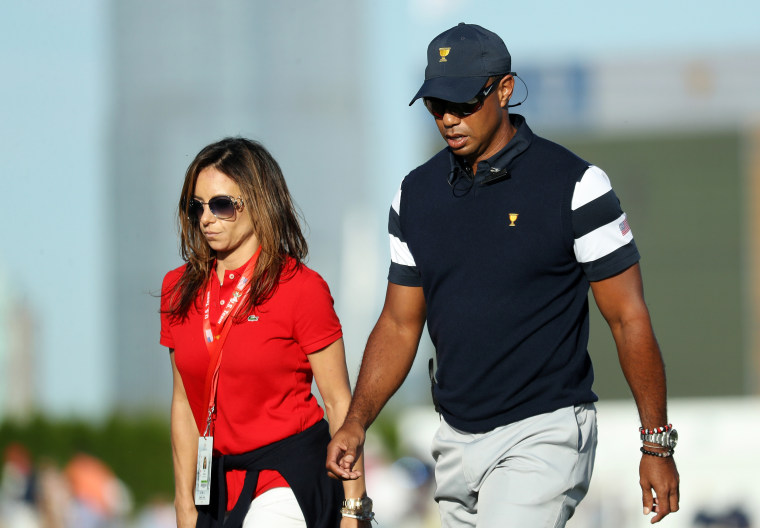 "She is also currently unsure what other information about her own life she may discuss or with whom," Herman's attorneys argued in the filing.
Representatives for Woods did not immediately respond to a request for comment from NBC News.
Herman's complaint comes after she filed a $30 million lawsuit against the Jupiter Island Irrevocable Homestead Trust, which owns Woods' home in Florida, in October.
She alleges "agents" of the trust tricked her into packing a suitcase for a short vacation, but when she arrived at the airport, she was told she had been locked out of the house.
Herman's attorneys alleged in the suit the trust's agents "utilized a lawyer to confront her with proposals to resolve the wrongdoing they were in the midst of committing" and refused to allow her back into the home.
The agents also allegedly removed her belongings from the house and "misappropriated in excess of $40,000 in cash that belonged to her, making scurrilous and defamatory allegations about how she obtained the money," according to the suit.
The lawsuit says this was a violation of an oral tenancy agreement between Herman and the trust that allowed her to live at the residence for 11 years, and is seeking $30 million in damages.
Woods' attorneys argued in a December 2022 legal filing in response to Herman's lawsuit that a nondisclosure agreement signed in August 2017 requires that "any and all disputes, claims or controversies... of any kind or nature whatsoever" between her and Woods to be resolved by confidential binding arbitration.
Attorneys for Woods also argued the oral tenancy agreement was only good for less than a year of her living at the residence.
Representatives for Herman did not immediately respond to a request for comment from NBC News.
The Associated Press reported the couple has not publicly announced the end of their six-year relationship, but Herman has not appeared with Woods at golf championships for the past few months.
Woods has until the end of March to respond to Herman's March 6 complaint in court, NBC News reported.