One of the most crucial positions on any sports team is the coach, and the U.S. women's national soccer team is in the middle of a search for one after Vlatko Andonovski stepped down in August following the team's worst finish in the World Cup.
With such a historic position open, we thought we would ask one of the team's most legendary players if she would ever be interested in the job.
During a recent interview with TODAY.com, two-time Olympic gold medalist and two-time FIFA Women's World Cup champion Mia Hamm was quick to answer "no" when asked if she would want the top job.
"I'm not the coaching type," she says, adding she probably doesn't have the "bandwidth" or "patience" for the role.
Her former USWNT teammate Brandi Chastain, however, recently said on the series "The 91st" that while she is "not ready," she would "love to lead this national team sometime in the future."
"Brandi has always been a consumer of the game, I mean in every possible way," Hamm says, "whether it's been watching as much soccer as possible, talking about it, coaching, herself. Her husband's been a longtime collegiate coach at Santa Clara.
"She just loves the game and is incredibly passionate about it, and she believes in her skills to do so — a cerebral player. I can see her coaching at the highest levels. She'll give everything, that's for sure."
What are her thoughts on the U.S. team's 2023 FIFA Women's World Cup performance?
At the 2023 FIFA Women's World Cup, the U.S. team had its worst-ever finish at the tournament when it lost in the round of 16 to Sweden in penalty kicks. That result also marked the first time the team didn't finish in one of the top three spots at the World Cup.
Hamm attended the tournament but says she did not speak to the team.
"They're kind of in their own bubble," she explains. "There's nothing that I could say that would've made them feel any better. You train for four years for that, and it's hard. It was hard for us as former players to see the hurt and the disappointment because I've been there in 2003."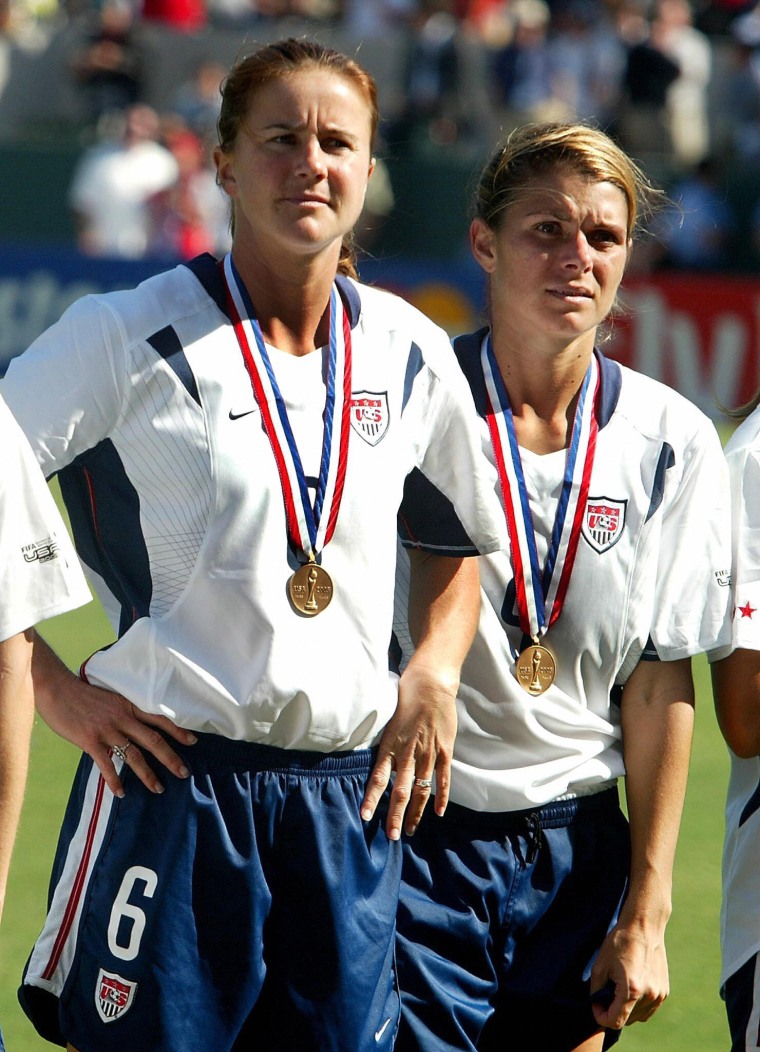 At the Women's World Cup in 2003, the Germans sent the U.S. to the third-place match after scoring two goals during stoppage time in the semifinals for a final score of 3-0. The U.S. defeated Canada 3-1 in the next match, finishing in third place.
"In a way, you just kind of want to go off and be by yourself or be together just as a tight unit, but you can't wait until the next tournament," Hamm says.
Her reaction to Carli Lloyd's criticism of the players during the World Cup
Former USWNT star Carli Lloyd, who's an analyst for Fox Sports, divided soccer fans during the 2023 FIFA Women's World Cup with her critical comments about the team after the U.S. tied Portugal in the final group stage match. Lloyd was not a fan of some of the players' postgame activities, which included dancing and posing for photos with fans.
"I have never witnessed something like that," Lloyd said at the time. "There's a difference between being respectful of the fans and saying hello to your family, but to be dancing, to be smiling."
Lloyd later clarified her comments, saying, "I want people to understand that I care deeply about this team," and added the team has a legacy of hard work and that her comments came from a place of wanting to see "that legacy continue to be passed down from generation to generation."
Hamm says she didn't hear Lloyd's comments, noting it's hard to react to them without hearing how she said them, but says she "for sure" would have signed autographs after the game.
"You just want to say thank you," she says, before pointing out how players deal with stress and frustration differently.
"If you go in before a game, into a locker room, you're going to have players that are dancing around like before a World Cup final, and then you're going to have players that are stoic and just want to be by themselves," she explains. "I was definitely someone who wanted to be by myself. … My nervous energy — I internalized.
"So I probably would have been more stoic after the game, and other people deal with it differently. But I haven't talked to the players, and I haven't heard anything they have said about why they were dancing."
Hamm says she knows Lloyd wants nothing more than for "that team to be successful."
She says while watching the team, "it seemed like something was off in terms of the continuity, whether it was the system of play or where players were playing … I'm sure they were frustrated by it."
"Everyone says you want to grow in a tournament, for sure," she adds. "But you want to step off after each game gaining some confidence in some aspect of the game."
What's the biggest thing the team should focus on before the Paris Olympics in 2024?
With no coach and longtime players like Megan Rapinoe and Julie Ertz retiring, the USWNT is in a rebuilding phase before the Paris Olympics in 2024.
Hamm says the team needs to resolve the coaching situation "first and foremost." The USWNT is scheduled to play international friendly games in September and October. Rapinoe will play her final game for the U.S. team on Sept. 24 against South Africa.
"I guarantee those players cannot wait to step back out on the field," Hamm says. "They want to prove to themselves and their fans that they're committed because the effort and the talent are going to be there. And now, we just have to make sure you put those players in a position to be successful — that's what I'm hoping."
"I think, at the very least, you need to be committed to working hard," she adds.