As the Spanish women's national soccer team boycotts playing for their country amid a kissing scandal, they continue to receive support from people across the world, including soccer legend Mia Hamm.
Hamm is sharing advice for the Spanish players in this moment.
"To really support each other — I think that's one of their strengths, is their unity," Hamm tells TODAY.com in an Aug. 29 interview.
After securing Spain's first Women's World Cup title Aug. 20, the Spanish team's victory was soon overshadowed by events following the game against England. The head of the Spanish soccer federation, Luis Rubiales, kissed player Jenni Hermoso on the lips while handing out medals to the team during the awards ceremony. Shortly after the kiss, Hermoso was seen in a video shared to social media saying she "didn't like it."
Backlash ensued online, and Rubiales initially dismissed criticism before apologizing, saying in part that he regretted his actions but that there was "no bad intention." He later denied any wrongdoing. Hermoso also released a statement saying she and Rubiales have a great relationship and the kiss was "a natural expression of affection and gratitude."
She later said in another statement shared Aug. 25 to X, the social media platform formerly known as Twitter, that she was pressured to say that and added the kiss was never consensual.
Rubiales refused to resign, and the Spanish women's national team said they will not play until Rubiales is removed. Spanish prosecutors recently opened a criminal investigation into whether or not the kiss was an act of sexual assault.
Boycotting play is nothing new in the women's soccer world. The U.S. women's national soccer team has abstained from playing a few times over the years in order to make change, including in the mid-'90s ahead of the Summer Olympics in Atlanta. Those Games happened to also be the first to include women's soccer.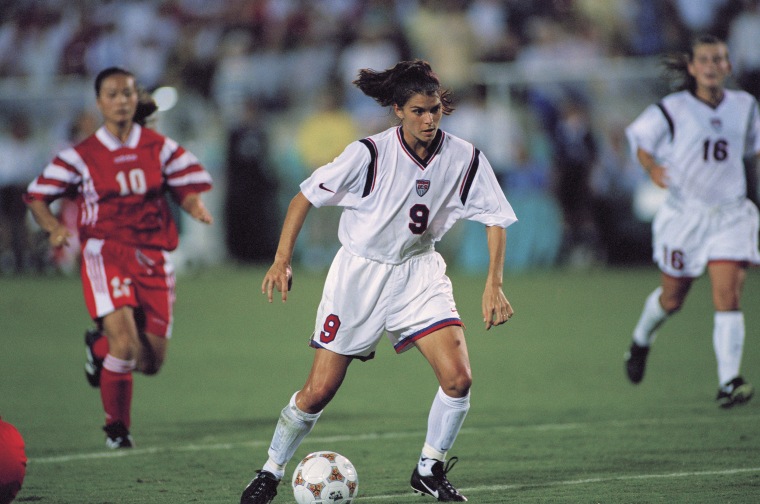 Hermoso credited "all the players from Spain and around the world" for giving her the "strength" to share her Aug. 25 statement.
During her interview with TODAY.com about her advocacy for the bone marrow transplant community (she lost her brother in the '90s from complications related to a rare bone marrow disease), Hamm offers encouragement for the Spanish team to continue to stand strong.
"They're going to find ways to divide you," Hamm says, "but they know what the right thing to do is. They know why they're fighting and stay committed to that and to each other."
In 1995, several players on the USWNT, including Hamm, said they would not attend training camp over a contract dispute, which reportedly included players only receiving a bonus if they won the gold medal. U.S. Soccer did reach an agreement with the players not long after, The Washington Post reported at the time.
Hamm and her USWNT teammates were pioneers in women's sports in the 1990s, advocating for equal pay and better working conditions, among other things, for years. U.S. Soccer didn't reach an equal pay deal with the team until May 2022.
Hamm, who is also partnering with biopharmaceutical company Incyte to raise awareness for graft-versus-host disease (GVHD), says the Spanish women's team has "so many of us all over the world that are right there" beside them and adds about the team's efforts: "But as long as you're doing it for the right reasons and to make longstanding change in your country and your federation and for future players."
Hamm previously posted a similar sentiment shared by many teams, players and fans in response to Hermoso's statement, writing on X, "Contigo @Jennihermoso," which translates from Spanish to "with you."