The University of Alabama is a front-runner in the upcoming March Madness basketball tournament next month, and its star Brandon Miller is the leading freshman scorer in college basketball.
But the school is facing increased pressure after police investigators said Miller provided a gun to former teammate Darius Miles before it was used in the fatal shooting of a young mother last month, leaving some to wonder why Miller is still on the team.
Miller, 20, has not been charged in the case and is not a suspect.
Last week, a Tuscaloosa Police investigator testified at a hearing that Miller brought a handgun to Miles on the night of Jan. 15, when it was used in the killing of Jamea Harris, a 23-year-old mother, near the school's campus.
Miles, a junior, was kicked off the team and charged with capital murder, along with another man, Michael Davis, who police said pulled the trigger.
Miller's attorney, Jim Standridge, said in a statement to NBC News on Feb. 22 that Miller was asked to return the gun but "never touched" the weapon.
"Brandon never touched the gun, was not involved in its exchange to Mr. Davis in any way and never knew that illegal activity involving the gun would occur," Standridge said.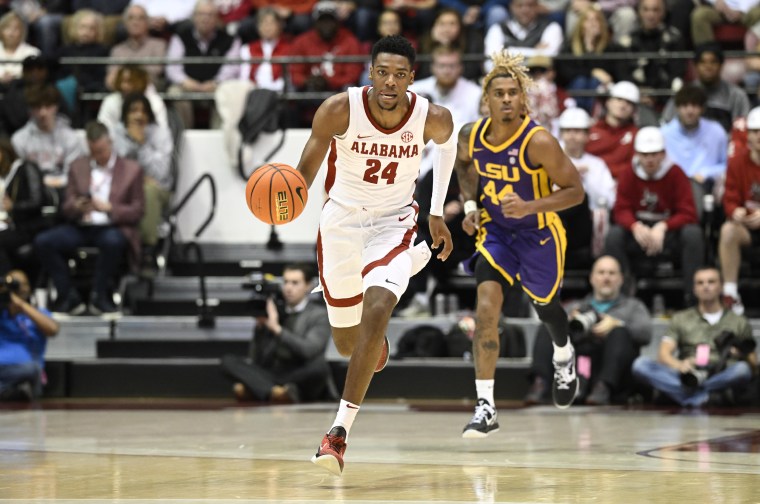 Steven Gonzales, associate director of athletic communications at the university, addressed why Miller remained on Alabama's basketball team in a statement to NBC News on Feb. 22.
"Based on all the information we have received, Brandon Miller is not considered a suspect in this case, only a cooperative witness," Gonzales said.
Gonzales' statement added, "Based on all of the facts we have gathered, Brandon remains an active member of our team."
Harris' mother, DeCarla Cotton, told USA Today last week the school's decision to have Miller remain an active player was "unimaginable." Miller is a top NBA prospect.
"They're worried about his career, but what about this 5-year-old boy?" Cotton said, speaking about Harris' son. "He's the true victim in all this. He won't have a mother anymore to influence his growing up and who he's going to be.''
A moment from Alabama's game against the University of Kansas on Saturday added to the controversy. As Miller was announced in the starting lineup, a teammate patted him down as he took the court.
Nate Oats, Alabama's head coach, said in a postgame press conference the team had been doing the pat-down move all year, and it was not related to the murder case. Nevertheless, he said, it was in poor taste.
"Regardless, it's not appropriate," Oats said. "It's been addressed, and I can assure you it definitely will not happen again."
NBC News legal analyst Danny Cevallos said on TODAY not charging Miller right now indicates authorities' confidence in the case.
"As a person who brought a gun to a murder ... law enforcement must have been really convinced of Miller's lack of knowledge or (their) intent to not charge him," Cevallos said.