After watching teenage figure skater Gracie Gold win her first national championship in a landslide, NBC Olympic analyst Scott Hamilton believes she has the ability to live up to her last name at the Winter Olympics in Sochi, Russia. 

"Realistically, I think she has a chance for a medal,'' Hamilton told Matt Lauer on TODAY Monday. "We are going to be in Russia against a couple of strong Russian skaters, but she's got everything. She's got the triple-triple combination, [and] she's got great presence on the ice. The new coaching relationship she has with Frank Carroll has given her another level of maturity, so she's doing everything right to put herself in position to medal at Sochi."
Gold, 18, was the headliner at the U.S. National Championships in Boston on Saturday, defeating runner-up Polina Edmunds, 15, by 18 points. Gold, who will appear live on TODAY Tuesday, jumped to the top of the podium after a second-place finish at last year's national championships, while Edmunds earned a spot on the Olympic team with her second-place finish. However, there was controversy over the third and final selection to the U.S. women's figure skating team for Sochi, which was announced on Sunday. 
Mirai Nagasu, a 2010 Olympian, took third at the national championships, but was passed over for the final Olympic spot in favor of two-time national champion Ashley Wagner. Wagner, 22, fell twice during her performance on Saturday and finished fourth, but her overall body of work from the past three seasons earned her a spot in the eyes of the selection committee. 
"The national championships aren't the Olympic trials,'' Hamilton pointed out Monday. "The selection process for the Olympic Games goes on for a couple of years before the Olympic Games, so the nationals are a part of that process, but it's not the process. So when you look at Ashley Wagner and what she's done over the last two years, winning nationals twice, placing high enough in the world championships to allow three participants to go, she's already earned her spot on the Olympic team."
Nagasu announced in a statement Sunday night that she would not appeal the decision of the committee. "Though I may not agree with it, I have to respect the decision the federation made," she said in her statement. "And I'm grateful to everyone who has supported me and look forward to what comes next in my skating career."
"I like to see somebody earn their spot on the team, but Ashley kind of did that,'' Hamilton said. "Mirai, I adore. It was the hardest thing I ever had to do, was to give her our traditional ice cream last night with her eyes full of tears. She's devastated, and my heart bleeds for her. I'm so sad for her, but the reason we have three women going to the Olympics is because of Ashley Wagner."
While Gold and Wagner are the more accomplished skaters, Edmunds, 15, becomes the youngest U.S. Winter Olympian since figure skater Tara Lipinski in 1998. Her inexperience on the Olympic stage could be an asset, according to Hamilton. 
"She's oblivious to the stage that she's on,'' Hamilton said. "All she knows is she's doing everything she does every single day. She's going out and she's doing amazing technical difficulty. She's got beautiful presence on the ice, she's got a great maturity. She reminds me so much of [1994 gold medalist] Oksana Baiul in that time of her development, but she's just, 'I'll make the Olympic team because I'm good enough to make the Olympic team. Why would there be any other discussion?'''
Team USA's chances of taking home the gold in ice dancing look strong behind the pair of Meryl Davis and Charlie White, who won their sixth consecutive U.S. title on Saturday. The two look to improve on their silver medal performance in the 2010 Olympics.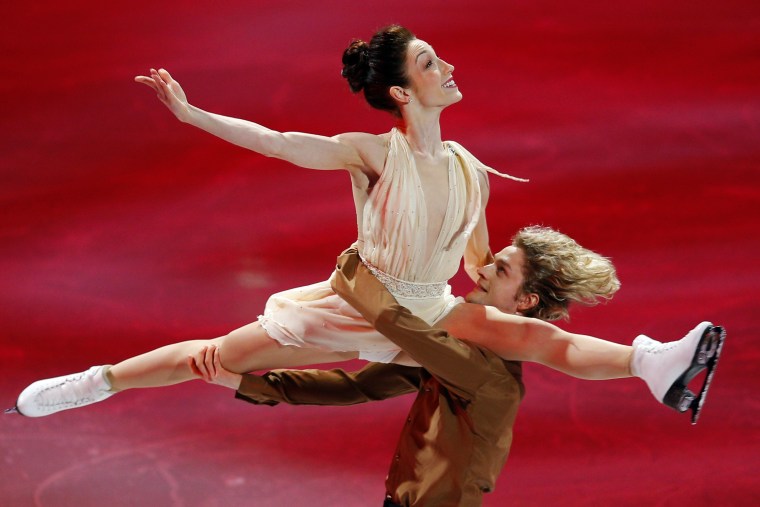 "I've never seen anything like that," Hamilton said. "I'm watching them skate and the stuff that they're doing is physically impossible, and the ease that they're doing it [with] is just extraordinary. They're spectacular, they've won more world championships than anyone coming into this Olympic games, and they train with their biggest competition, [Canadians] Scott Moir and Tessa Virtue, so they know who they're competing against. It's going to be a really tough fight, because Tess and Scott are spectacular." 
There also were repeat winners in the figure skating pairs competition, with Marissa Castelli and Simon Shnapir punching their tickets to Sochi. 
"(Shnapir) is 6-foot-4,'' Hamilton said. "That is tough, because if you go a little off-kilter on the triple jump, it's like felling a tree; it's like 'everybody get out of the way.' They fell on that quad 'sal' (salchow), and a quad 'sal' has never really been landed successfully at a national championship. They skated wonderfully in the short and the long, and they deserve their spot."