Robert De Niro and his ongoing legal battle with his former assistant has now come to an end.
During the trial, the 80-year-old Oscar winner took the stand in a federal courtroom in Manhattan, the culmination of a four-year legal dispute with his former executive assistant, Graham Chase Robinson, 41.
De Niro's production company, Canal Productions, was suing Robinson for breach of fiduciary duty, which related to alleged misuse of the company's funds, among other charges. Robinson, in turn, sued De Niro and his production company over charges including allegations of gender discrimination and retaliation.
The trial began on Monday, Oct. 30, and concluded on Nov. 9 after both De Niro and Robinson testified. A jury found the actor not personally liable for the abuse. However, his production company was found liable for both gender discrimination and retaliation, according to jury instructions and the verdict form obtained by NBC News.
Additionally, the jury awarded Robinson $1.264 million in damages on both counts. Robinson was completely exonerated and not found guilty of any of the claims against her.
"We are delighted that the jury saw what we saw and returned a verdict in Chase Robinson's favor against Robert De Niro's company, Canal Productions," David Sanford, attorney for Robinson, said in a statement to NBC News. "Not only did Ms. Robinson win her case against Canal but the jury completely vindicated Ms. Robinson by finding De Niro's claims against her to be without merit."
NBC News has reached out to De Niro for comment.
Read on for everything we know about the trail.
Who is Graham Chase Robinson?
Robinson began working as De Niro's executive assistant in February 2008 when she was 25, according to her countersuit filed in October 2019.
When she began working for the actor, she was "hoping to pursue a career in the entertainment industry," her complaint alleged.
Robinson became vice president of production and finance for De Niro's company Canal Productions in 2017, according to her lawsuit. The lawsuit said that De Niro continued to refer to her as his "assistant" and give her assistant duties. She left the company in April 2019. At that time her annual salary was $300,000, per Canal's lawsuit.
Robinson and De Niro have been involved in a legal battle in the years since she resigned.
What is De Niro's company suing Robinson for?
In August 2019, De Niro's company, Canal Productions, sued Robinson for $6 million. The complaint brought multiple claims against Robinson, including breach of fiduciary duty, breach of duty of loyalty, and conversion, which related to her alleged improper use of airline miles. 
Canal's complaint included several claims related to Robinson's handling of finances while she was an employee. The document alleged that Robinson charged "hundreds of thousands" of dollars in personal expenses to the company's American Express card, as well as transferring "millions" of the company's frequent flier miles for her personal use.
The complaint also alleged that Robinson "improperly 'reimbursed'" herself using company funds for "personal and luxury items." 
The document provided examples of Robinson's alleged unauthorized use of the company credit card, including a claim that between May 2017 and April 2019, she charged about $32,000 on the Canal's Amex card for personal taxis and Ubers.
The complaint also alleged that during the same time period, Robinson used Canal's card to charge more than $12,000 at Paola's, a Manhattan restaurant, "without proper authorization, permission or valid business purpose." She also allegedly charged a flower arrangement worth $1,311.94 for her birthday from Flowers by Phillip.
Canal's original complaint against Robinson also alleged that she engaged in "theft of time" by binge-watching TV shows on the company's Netflix account during work hours.
Robinson's team called Canal's allegations against her "baseless and frivolous."
"To be clear, Ms. Robinson did not 'loaf' or 'bingewatch' during work, did not make unauthorized use of Canal's credit card for personal expenses, did not make unauthorized use of Canal's petty cash account for personal items, did not engage in unauthorized conversion of frequent flyer miles, and did not submit false information about her unused vacation allotment," reads a section of her complaint filed in October 2019.
What is Robinson countersuing De Niro and his company for?
Robinson sued De Niro and Canal Production on multiple counts, including gender discrimination, retaliation and equal pay.
Her complaint, filed in October 2019, alleged that De Niro communicated with her in a "hostile, abusive and intimidating manner" and claimed that the actor made "vulgar, inappropriate, and gendered comments" to her.
Robinson also claimed she was treated as De Niro's "office wife." She alleged that even when she held the titles of director of productions and vice president of production and finance, she was assigned job duties that were "stereotypically female," such as putting away clothing, vacuuming and picking out gifts for De Niro's children. 
Robinson's complaint also alleged that De Niro engaged in "demeaning and inappropriate conduct" during meetings and calls with her. She claimed the actor "urinated during telephone calls" with her, and at times "met with her wearing only his pajamas or a bathrobe."
Her complaint also alleged that De Niro would initiate "gratuitous physical contact" with her, such as directing her to scratch his back or button his shirts.
Furthermore, Robinson's complaint alleged that De Niro underpaid her due to her gender. She claimed that "De Niro insisted on paying (her) less than a male whose job required no greater skill, effort, or responsibility than Ms. Robinson's position."
Robinson also claimed that De Niro required her to be on call "all the time." According to her complaint, she often worked 20 to 30 hours of overtime per week without additional pay.
Her lawsuit also included claims of retaliation. She alleged that after she raised complaints about her working conditions, which her complaint referred to as a "protected activity," De Niro retaliated by declining to write a letter of recommendation for her application to business school, and by "refusing" to provide her with a reference.
Her complaint also alleged that De Niro directed Canal Productions to file a "retaliatory lawsuit" against her.
De Niro repeatedly called Robinson's allegations "nonsense" throughout his testimony on the first and second day of the trial.
What has been said in court testimony?
Robert De Niro's testimony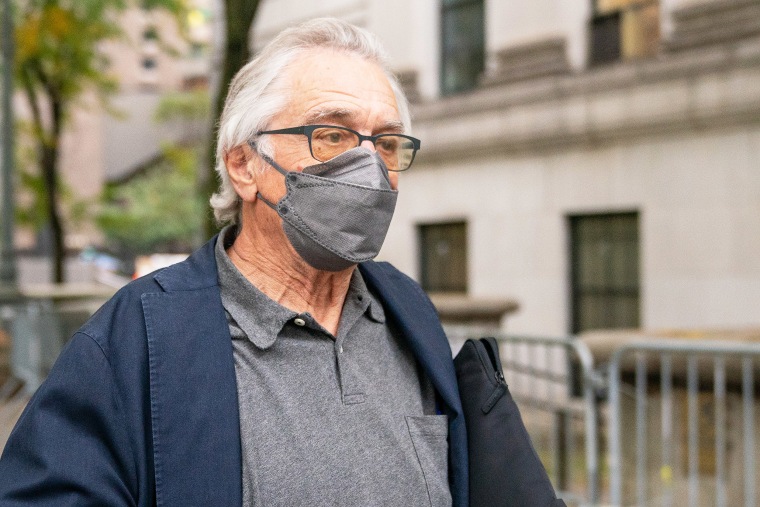 De Niro took the stand during the first and second days of the trial. 
During one heated moment while being questioned by one of Robinson's lawyers, the actor exclaimed, "Shame on you, Chase Robinson!" 
This came after De Niro addressed claims that he had asked Robinson to scratch his back.
"She didn't scratch it. If she did, I said could you scratch it because I'm over here, one thing, I have an itch. Once. It is so ridiculous. It is every little thing she is trying to get on me. It is like she implies that she is out in front of the building scrubbing the floors on her knees … this is nonsense. Come on."
He also said that when he did ask her to scratch his back, it "never was with any disrespect or lewdness or any kind of weirdness that you are trying to imply."
At another point, during the first day of testimony, one of Robinson's attorneys, Andrew Macurdy, asked De Niro if it was true that Robinson did "anything and everything you asked."
"Well, not anything and everything," De Niro answered. "Anything within the norms of a job like she had."
Macurdy also asked the actor if Robinson "had to do anything and everything related to your personal life."
"No, that makes it sound like it's something that it's not," De Niro replied. "I don't like that implication. She — anything and everything within the confines of her job working for me as my assistant."
De Niro also refuted the claim that Robinson was required to work "unpredictable hours," saying her hours "were civilized."
"I was very proper as far as my hours and times. What Chase did on her own working and saying she worked all night, that's her thing," he said. "But what I had is, I called at a decent hour in the morning and I go until a decent hour at night."
Robinson's lawsuit said it was "typical" for her to work from 7 a.m. through 8 p.m. and through breakfast, lunch and dinner, as well as weekends.
At another point in his testimony, De Niro denied the suggestion that he and his partner, Tiffany Chen, required Robinson to perform duties beyond her job description. 
"It is not like I'm asking her to go out on the floor and scrape floors and go out and mop the floor," he said. "I didn't do any of that and neither did Tiffany, so this is all nonsense."
He said at another point that he had been "loyal" to Robinson. 
"I said I want her to work for me. She is doing stuff. She's supposed to do this stuff," he said. "I didn't want her to break everybody's chops and create a big chaotic problem. Of course I wanted it all to work. I wanted everybody to be happy and play nice and unfortunately it didn't happen."
During his second day of testimony, De Niro also addressed claims that he had joked to Robinson that she could use a colleague's sperm to get pregnant.
"I don't take liberties with people who work for me to make jokes, especially these days, and even then, I just don't do it. And for her to use that is so ridiculous — so ridiculous — I don't even know what to say," he said in his testimony.
An attorney then asked De Niro, "You called Ms. Robinson a b---- to her face?"
"I — I don't remember but I could have said you're acting like a something," he answered. "I was never abusive. Period. So however I might have said that would not be in the way that she's implying that it was."
Graham Chase Robinson's testimony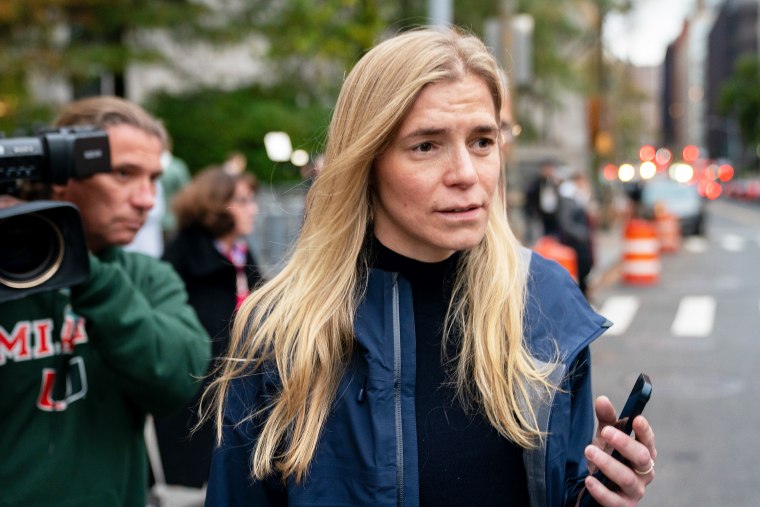 Robinson began her testimony the fourth day of the trial.
In the first portion of her testimony, she countered De Niro's claim that when she was working for him, he only called her during "civilized" hours.
She said she and other assistants referred to their work cell phone as "the bat phone" that needed to be answered regardless of the hour.
"Whenever it rang, whether it was 5 in the morning or 10 o'clock at night, you would pick it up. And that is Monday through Sunday," Robinson said in her testimony. "It didn't matter if you were in New York and the family was in Doha. It didn't matter if, you know, you were in New York and they were in Australia, you picked it up regardless of the time, and then helped them with whatever they needed."
She also testified that De Niro "got frustrated quite often" and yelled at her on several occasions.
"Sometimes I would email him and he couldn't find the email, and he would be yelling and screaming saying, I didn't receive it, when he did," she said. "When he got frustrated, when he couldn't find his driver. There are various different reasons why he would get angry."
During her second day of testimony, Robinson claimed De Niro called her derogatory terms on multiple occasions. She recalled one heated phone call when the actor allegedly said she was "acting like a little b----."
"It's just incredibly difficult to hear that from your boss when you're trying to be professional and you're trying to do the right thing," she said later in her testimony. "And you just feel like you're constantly being demeaned or put down."
On day six of the trial on Nov. 6, Robinson addressed claims around her use of frequent flier miles generated by Canal's corporate Amex card.
"There was never any discussion while you were at Canal about what would happen to the miles if you left Canal, correct?" an attorney asked her.
"No. We didn't discuss that as they were part of my compensation as of 2015, so, therefore, they were mine," she answered.
Robinson also described the alleged state of her mental health at one point while she was working for De Niro.
"I was exhausted, having a mental breakdown, I wasn't sleeping, wasn't eating, wasn't taking care of myself, and I was desperate for some personal time," she said.