With protests permitted at the Olympics for the first time in the Games' history, fans can expect more athletes to take a stand — or a knee — at the 2021 Tokyo Olympics.
In the past, Olympic athletes have been bound by Rule 50 of the Olympic Charter, which states that "no kind of demonstration or political, religious or racial propaganda is permitted in any Olympic sites, venues or other areas."
The International Olympics Committee announced earlier in July that athletes would be able to make gestures of protest "prior to the start of competition," such as "after leaving the 'call room' (or similar area) or during the introduction" of the athlete or team. The update currently only affects the Tokyo Olympics.
The change came after growing calls from athletes for leniency on social justice protests, which have become more common in sports since Colin Kaepernick began kneeling before games in 2016.
Athletes may still face disciplinary action for gestures that are "targeted, directly or indirectly, against people, countries, (or organizations)." Gestures also cannot be disruptive or disturb an opponent's concentration or preparation. Actions like unfurling a banner or making a gesture during a national anthem are not allowed.
In August 2020, the U.S. Olympic and Paralympic Committee formed the Team USA Council on Racial and Social Justice to "address the rules and systems in the U.S. Olympic and Paralympic movements that create barriers to progress." In December, the USOPC announced that actions who demonstrate "peacefully and respectfully ... in support of racial and social justice" will not be sanctioned.
Here are the protests so far:
Olympic Trials: Gwen Berry and Noah Lyles
U.S. track and field star Gwen Berry, one of the most outspoken activists going to the Games, turned away from the American flag on the podium at the Olympic Trials as the national anthem played.
Track star Noah Lyles wore a black glove and raised a fist at the Trials, a nod to the demonstration by the American Olympians Tommie Smith and John Carlos during a medal ceremony at the 1968 Mexico City Games. Carlos and Smith were sent home after their demonstration.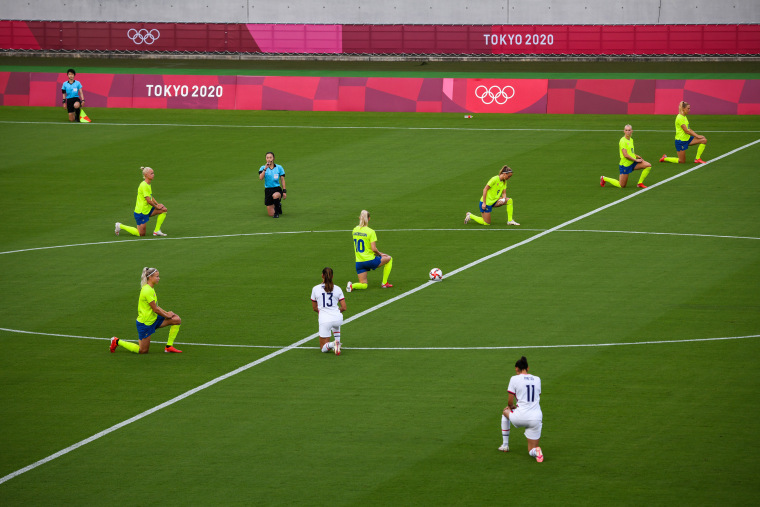 U.S. Women's National Soccer Team
During their first match of the 2020 Olympics, the U.S. Women's National Soccer Team took a knee alongside the Swedish team and the game's referee. The gesture did not take place during the national anthem, but instead was a pre-planned action that took place while pregame music was still playing. Players knelt for about ten seconds before rising for kickoff.
Other teams whose players have knelt included Chile, England and New Zealand.
Costa Rican gymnast Luciana Alvarado
18-year-old Luciana Alvarado, the first gymnast from Costa Rica to ever qualify for the Olympics, made a demonstration in support of the Black Lives Matter movement while performing her floor routine on July 25.
Alvarado took a knee, put her left arm behind her back, and raised her right fist to the sky about 90 seconds into her routine. Alvarado told podcast GymCastic that the move was deliberate.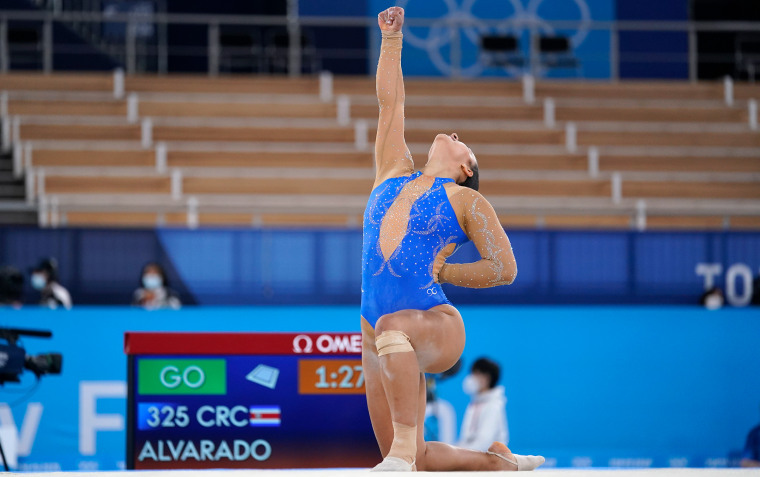 "My cousin and I, we both do it in our routines," she said. "And I feel like if you do something that brings everyone together, you know, and you see that here, like 'Yes, you're one of mine, you understand things', the importance of everyone treated with respect and dignity and everyone having the same rights because we're all the same and we're all beautiful and amazing so I think that's why I love to have it in my routine and I love that my little cousin does it on her routine too."
Track and field star Raven Saunders
Raven Saunders took silver for Team USA in the women's shot put final in Tokyo, and on the podium she raised both arms above her head and crossed one over the other, making an "X" gesture.
The 25-year-old explained to TODAY that the X represented the "intersection of where all people who are oppressed meet. I'm a Black female, I'm queer and I talk about mental health awareness. I deal with depression, anxiety and PTSD a lot. So me personally, I represent being really at that intersection."
So the pose she struck seemed like a natural fit — for her and for others at that intersection.
"I decided to use my platform to really speak up for all of those people, everyone that represents any part of or any one of those groups especially. And I'd like to say this medal is for you guys."
The U.S. Olympic Committee said it considered the gesture "a peaceful expression in support of racial and social justice" that it felt did not violate the IOC's protest rules.