Prince Philip, the husband of Britain's Queen Elizabeth, made his first major public appearance on Saturday since a hospital stay for a bladder infection, attending the annual Trooping the Colour ceremony in central London.
The Duke of Edinburgh, who turned 91 last Sunday, waved and smiled to cheering crowds gathered outside Buckingham Palace as he watched a military fly-past from the balcony of the royal residence alongside the queen and other royal family members.
Wearing a red military jacket with a blue sash and gold epaulettes, he looked alert and in good spirits during the event marking the queen's official birthday.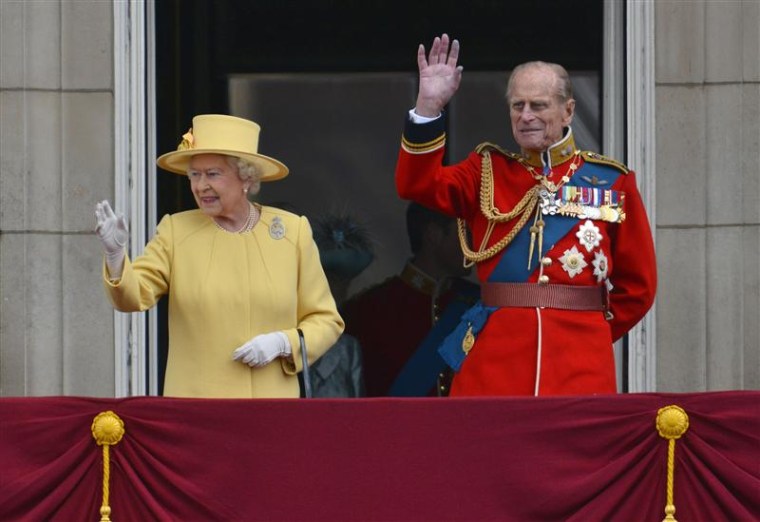 His illness had overshadowed the later stages of the Diamond Jubilee celebrations earlier this month marking the 60th year of the queen's reign, forcing him to miss a star-studded pop concert held outside the palace.
Singer Elton John, one of the concert's performers, had joked before going on stage that the prince's illness might have been a ruse: "He hates pop music — anything to get out of a pop concert."
Earlier on Saturday the Prince rode with the queen in a glass coach to and from a nearby parade ground where they watched an hour-long tattoo performed by 1,600 soldiers and horse riders in traditional military uniforms.
Other royals attending the military spectacle included Prince Charles, the heir to the throne, and his son and daughter-in-law — Prince William and his wife Kate.
Philip had been taken to hospital after spending hours on a ceremonial barge in driving rain and a cold wind as part of a flotilla of 1,000 vessels on the River Thames, a highlight of the Jubilee festivities.
Royal aides said he was treated with antibiotics and made good progress during his stay in hospital.
The Greek-born former naval officer is known for his gaffes and off-the-cuff comments about groups such as the Chinese, deaf people and Australia's Aborigines.
The longest serving consort in British history has won admirers for his charity work and loyal support to the queen. She has described him as her "strength and stay" and once said she owes him "a debt greater than he would ever claim".