ATLANTA — Former President Donald Trump turned himself in at the Fulton County Jail on Thursday night to be booked on felony charges in connection with efforts to overturn the 2020 presidential election results in Georgia.
Trump arrived at the jail shortly after 7:30 p.m. ET in a presidential-style motorcade and was booked, fingerprinted and photographed for a mugshot within minutes, according to jail records. Trump was quickly released, according to the records. He was in and out of the jail in about 20 minutes.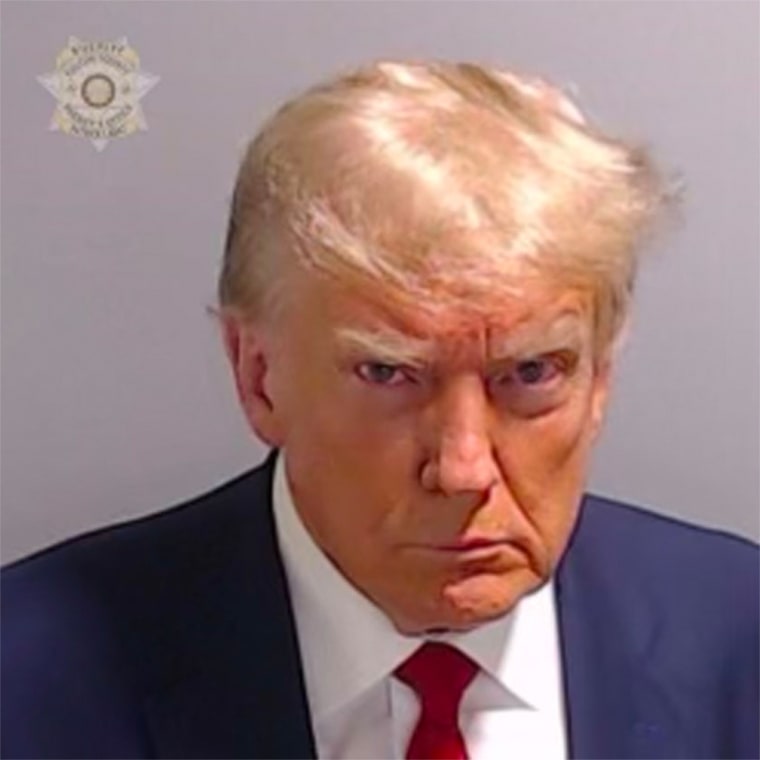 "I have to start getting ready to head down to Atlanta, Georgia" to "get ARRESTED by a Radical Left, Lowlife District Attorney, Fani Willis," Trump, 77, said Thursday afternoon in a post on his social media platform Truth Social, where he also exaggerated the crime rate in Atlanta. "Arrest time: 7:30 p.m.," he added in all capital letters.
Trump, 77, left his summer home in Bedminster, New Jersey, shortly before 4 p.m. ET and took his private plane to Atlanta, where he was indicted last week on racketeering and conspiracy charges.
He gave a thumbs-up to the cameras as he walked off the plane at Hartsfield-Jackson Atlanta International Airport.
After arriving at the jail, Trump was to be processed and then released under the terms of a $200,000 bond agreement his attorneys struck with Willis' office this week. Booking records listed his height as 6'3 and his weight as 215 lbs., which would be 29 lbs. lighter than at the time of his last White House physical in 2020. The source of the jail's information is unclear and appeared online before he arrived at the jailhouse.
A date for his arraignment has not yet been announced.
Trump has maintained he's not guilty of any wrongdoing and has accused Willis, a Democrat, of "election interference" for charging him since he's again running for president.
The majority of Trump's 18 co-defendants in the sprawling case have already surrendered, including his former White House chief of staff Mark Meadows, who was booked Thursday afternoon before being released under the terms of his $100,000 bond agreement.
Willis set a deadline of Friday at noon for the defendants to turn themselves in before arrest warrants would be issued.
Trump shook up his legal team Thursday morning ahead of his trip to jail, replacing lawyer Drew Findling with attorney Steven Sadow.
Sadow said in a statement to NBC News ahead of Trump's appearance that he "should never have been indicted. He is innocent of all the charges brought against him. We look forward to the case being dismissed or, if necessary, an unbiased, open-minded jury finding the president not guilty." 
No trial date has been set. Willis initially proposed a trial date in March, but on Thursday recommended the trial start on Oct. 23 after one of the defendants in the case, Kenneth Chesebro, filed a motion for a speedy trial date.
Trump, who's said this and the three other criminal trials he's facing should be delayed until after the 2024 presidential election, then filed a motion saying that he opposes the request and that he'll file be filing another motion to sever his case from Chesebro's and "any other co-defendant who files such a demand."
In a ruling late Thursday, Superior Court Judge Scott McAfee signed on Chesebro's request and the DA's proposed trial date, but added that, "At this time, these deadlines do not apply to any co-defendant."
Charlie Gile reported from Atlanta, and Dareh Gregorian from New York. This story first appeared on NBCNews.com.