A fourth-grader at a school that took a direct hit from Monday's deadly tornado in Moore, Okla., described the heroic actions of a teacher who saved his life and others by covering several students with her body to shield them from the storm.
Damian Britton, a student at Plaza Towers Elementary School, recounted a harrowing scene to Savannah Guthrie on TODAY Tuesday. He also had an emotional reunion with Rhonda Crosswhite, the sixth-grade teacher he credited with saving his life.

He was in class when he heard the sirens go off, warning of tornadoes that touched down a little before 3 p.m. with winds up to 200 miles per hour. The twisters tore through the suburbs of Oklahoma City, leaving 24 confirmed dead as rescue workers continue to search through the rubble.

"We heard the sirens go off and then we all ran into the hallway,'' Damian said. "Some of us had a math book and some of us had our backpacks. (The sirens) went off again, and we ducked again. They went off again, and then we heard the tornado and it sounded like a train coming by, and then we were all in cover."
Crosswhite laid down on Damian and several other students in a bathroom stall as the tornado hit.

"She was covering me and my friend Zachary,'' he said. "I told her we were fine because we were holding on to something, and then she went over to my friend Antonio and covered him, so she saved our lives."

The teacher and student were reunited on Tuesday, sharing a tight embrace along with Damian's mother, Brandi Kline.

"I told you we were going to be OK,'' Crosswhite said as she hugged Damian.

Crosswhite described how she tried to protect the children and keep them calm in the midst of the chaos.

"I was in a stall with some kids and it just started coming down, so I laid on top of them,'' she told Guthrie. "One of my little boys just kept saying, 'I love you, I love you, please don't die with me.'

"I never thought I was going to die. The whole time I just kept screaming to them, 'Quit worrying; we're fine, we're fine.' And I'm very loud, so I just hoped they could hear me because I could hear them screaming. (One girl) was sobbing, and I was like, 'We're going to be fine, we're going to be fine, I'm protecting you.' And then I said a few prayers. 'God please take care of my kids.'''
All of the children who were with her are accounted for and unscathed other than a minor injury. Crosswhite was wearing flip-flops and suffered cuts on her feet, but is otherwise in good condition.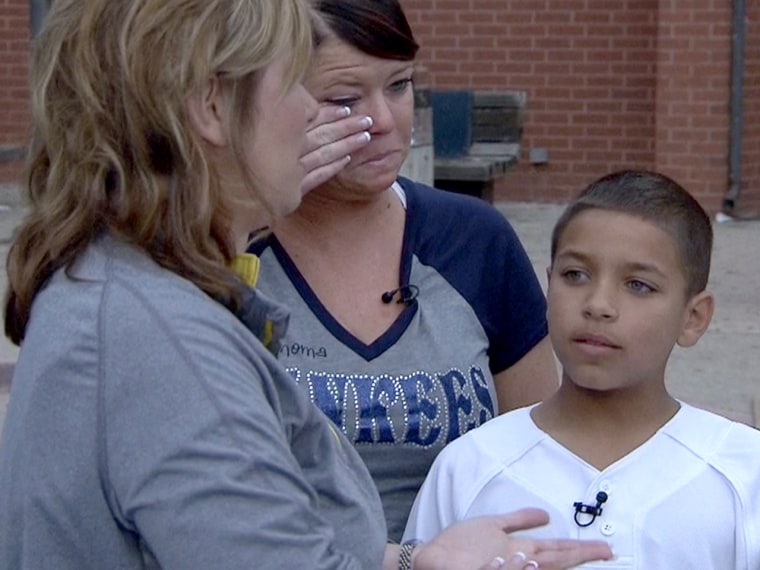 "It was like a freight train, but I don't remember much about it,'' she said about the sound of the tornado. "It felt like someone was beating me up from behind. The stuff was just coming down on my back. I have cuts everywhere that I didn't even realize I had."

Damian estimated that it took about five minutes for the twister to pass through before the students emerged from cover to survey the damage and check on their classmates.
"It was just a disaster,'' he said. There was just a bunch of stuff thrown around and the cars were tipped over, and it smelled like gas."

Bobby Britton, Damian's brother and a student in Crosswhite's sixth-grade class, was with other students taking cover in the girls' bathroom.
"I could see the debris flying over, and it sounded like a train,'' Bobby said. "(I was) scared."
Kline was at work and was sent to the basement when the tornado warnings sounded. She raced to the school as soon as her area was declared safe.
"About 45 minutes later, (my children) got ahold of me on their cell phones, but it was panic until then,'' Kline said. "I got as close as I could (to the school) and then just had to walk. Then we went to our house, which was nearby, and most of it's gone. Everyone around lost everything, but we have our kids.
"I still have about half of my house, so I'm lucky. All the neighbors lost everything. Like I said, all that stuff is fine as long as I have my kids. That's all that matters."
Moore residents Alfredo Corrales and Viviana Luna rode out the storm in the shelter underneath their home.

"All of a sudden we were hearing some noises like some voices up above, and we were like, 'What is that?''' Corrales told Guthrie. "So I popped the door open, and there were four or five of our neighbors standing there asking if they could come in. They got in there, and it was probably not even two minutes. The tornado came over, and I just can't really describe what the sound was like, but it was horrible."
Corrales heard a tree snap nearby and knew the twister was about to hit. The wind was so powerful that he and a neighbor had to hold the door to the cellar tight to prevent it from being ripped off.

"All the pressure from the wind speeds was just pulling up on the door,'' he said. "Water was just rushing, like blowing, into the storm cellar. The wind was just like so much that we could just tell that the door was kind of trying to give way, so me and the neighbor were just holding the latch down."
When they emerged from the cellar once the tornado passed, they saw a completely devastated neighborhood.

"I saw basically nothing,'' Luna told Guthrie. "There were no fences there anymore, trees were snapped in half, roofs of houses were gone. Everything from people's houses and even from neighborhoods across the street was laying in our yards. Half of the roof (of our home) is torn off, the garage is caved in — it's just a total mess."

Once Corrales realized the storm had passed, he began going house to house in search of anyone who needed help.

"We pulled a bunch of people out,'' he said. "A lot of them were elderly people. We pulled some younger people out, too. Some didn't make it, (but) most of them did that we were involved with.
"I kicked a door in just to save this one elderly lady and her grandkids. She had just gotten inside the house when it hit. She was still in the living room. The whole living room was just obliterated. I don't know how she made it, but she did, thank God."

Residents had less than an hour after the initial warnings to take shelter as the tornadoes moved at speeds that surprised even veteran weather experts. Once one of the most powerful tornadoes in U.S. history touched down, it turned a sunny spring day into a devastating afternoon.

A monster tornado hit Moore, Okla., leaving at least 24 dead.
"It's been so unreal that 10 minutes before that, everything was perfectly fine,'' Luna said. "The sun was out. It was a pretty nice day, and then just out of nowhere, all these storms came in and all this destruction."

"I haven't really had the chance to really process everything,'' Corrales said. "We didn't sleep much last night at all. Finally once we started to be able to calm down a little bit, and I just kept replaying everything in my head."