Nik Wallenda is no stranger to death-defying stunts, especially doing them on live television.
On April 29, Wallenda, 36, will walk along the Orlando Eye, a 400-foot observation wheel in Florida set to open this spring, exclusively on TODAY.
But there's a new element of danger to this stunt — he won't be using a balancing pole.
We're holding our breath in anticipation. So until then, here are some of his most nail-biting, scariest stunts captured on live television:
High-wire ride
In 2008, Wallenda set the world record for the highest and longest bike ride on a high wire ... without a net. He completed this stunt 135 feet above the streets of Newark, New Jersey, but he wasn't gliding all the way to the end. In fact, Wallenda's bike started to slide backward on the upward slope of the cable at one point.
Niagara Falls
On February 15, 2012, Wallenda completed a dream he's always wanted to do since a kid: Walk on a tightrope across Niagara Falls. Wearing a harness, he took his first step at 10:16 PM and slowly inched his way across the slippery 1,800 foot wire suspended across the widest part of the falls. Throughout the stunt, Wallenda prayed and praised Jesus Christ and after 25 minutes he crossed directly over Niagara Falls.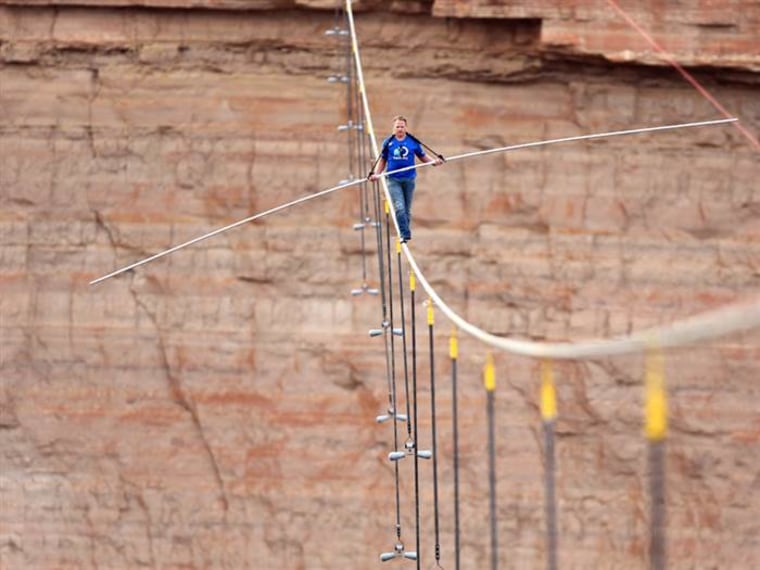 The Grand Canyon
On June 23, 2013, Wallenda became the first person to walk across the Grand Canyon on a wire during the Discovery Channel's "Skywire Live" special. It took Wallenda, who had no safety harness or net, 22 minutes and 54 seconds to traverse the 1,400-foot wire that was suspended 1,500 feet above ground.
'Windy City' walk
The daredevil acrobat decided to up the stakes in his 2014 stunt. On November 2, Wallenda walked on a wire between two Chicago skyscrapers while blindfolded and without a harness or safety net. While Wallenda was proud of his accomplishment, he was disappointed that he didn't get to take a selfie.
Giant spinning stunt
Wallenda isn't slowing down — in fact he's taking a spin. The daredevil announced that his next death-defying stunt will be walking along the Orlando Eye live on TODAY.