Nicolas Kerdiles, former professional ice hockey player and Savannah Chrisley's ex-fiancé, died after being involved in a motorcycle crash in Nashville, Tennessee, early Sept. 23. He was 29.
Kerdiles signed with the Anaheim Ducks in 2017 before becoming a television personality, appearing on "Chrisley Knows Best" alongside his girlfriend and later fiancée.
Savannah Chrisley discussed his death on an episode of her podcast "Unlocked." The personality gave a disclaimer at the start explaining that while she talks about her new relationship with Robert Shiver in the episode, it was recorded before Kerdiles' death.
"Before airing it, I just wanted to — you know, we took a break last week, we didn't air anything, but that was because I wanted to respect Nic, his family, just everyone involved and everyone that's hurting with his passing right now," she says.
"I do speak about my current relationship, but I'm also still mourning the loss of someone who meant the absolute world to me," she says. "Nic and I were in each other's lives for six years. We were engaged. There were so many great memories. And at the end of the day, Nic made a huge impact on my life. He left such a mark on the world."
She said she's received messages from people who knew him, sharing stories of how he impacted their lives.
"If his passing teaches us anything, I think it's to love and love hard," she said. "So Nic, I love you, you'll be missed and you left a mark."
The Chrisley family shared several tributes to Kerdiles, with Chase Chrisley saying his death feels like losing a "brother."
The Anaheim Ducks confirmed the former player's death and shared a tribute to Kerdiles Sept. 23 on X, formerly known as Twitter.
"We're heartbroken to hear the news about Nic Kerdiles, who died in a motorcycle accident this morning," the team said in a statement. "An Irvine native, Nic became the first player from Orange County to play for the Ducks, in 2017. Our thoughts and deepest sympathies go out to his family and loved ones."
A spokesperson for the NHL directed TODAY.com to the team's statement.
Metro Nashville Police Department said Kerdiles drove through a stop sign while riding on a motorcycle and hit another vehicle, WSMV, an NBC affiliate in Nashville, reports. There were no signs of impairment, police said.
TODAY.com was unable to reach the Metro Nashville Police Department by phone Sept. 23.
Kerdiles died after he was taken to the hospital, according WSMV.
Kerdiles' last post on his Instagram story, shared late Sept. 22, was of someone riding a motorcycle, with the caption "Night rider."
Savannah Chrisley, 26, who split with Kerdiles in 2020, shared an animated video of the former couple kissing to her Instagram story Sept. 23 and wrote over it, "I'm still hoping you respond to my text..."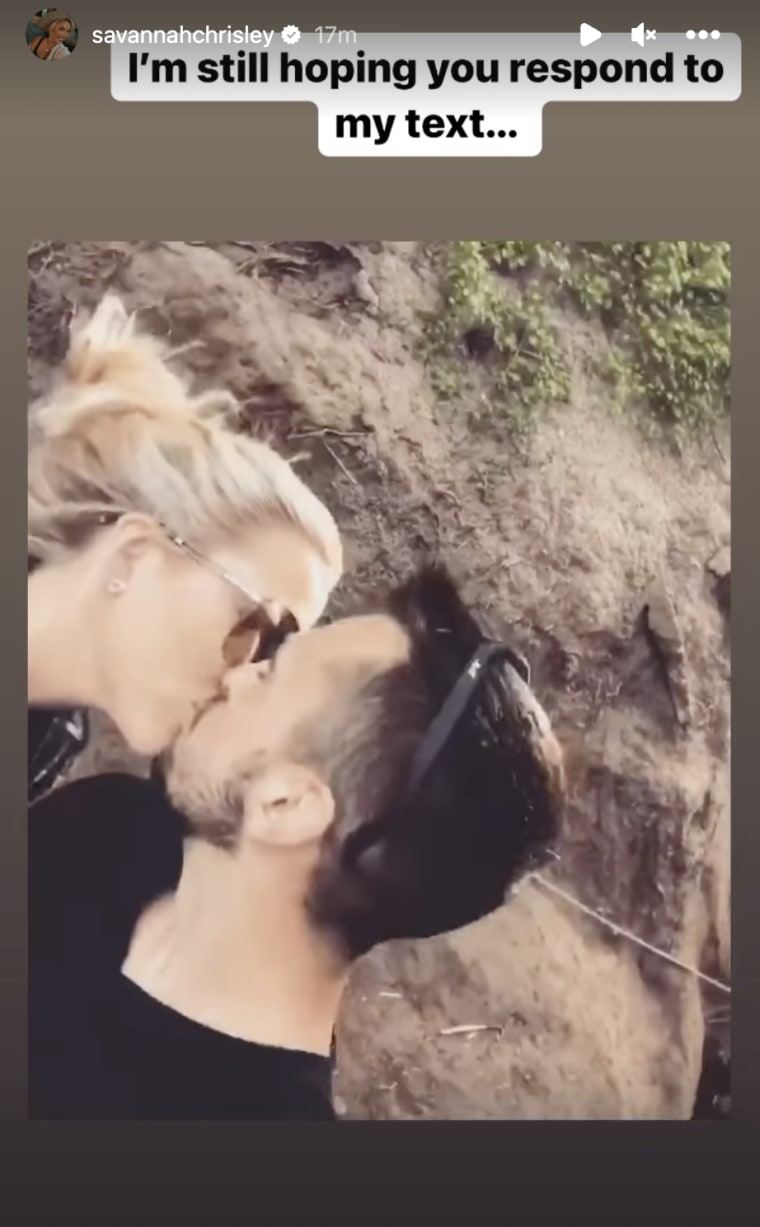 She later posted a photo of them celebrating their engagement in 2019.
"Heaven gained the most beautiful angel today. I miss you and I love you," she wrote on her Instagram story. "I'll forever save our last messages of 'I love you'..."
"Please send me a sign that you're ok... maybe it'll be thru a ham and cheese crepe.. or pasta with white sauce... or maybe even your favorite carrot cake," she continued. "We loved hard...and I can't wait to ride bikes along the beaches of heaven with you one day."
She then posted a tribute to Instagram on Sept. 24.
"I wish you could see all the people that are showing up and loving you right now. I can see that grin of yours so clearly. You left such a mark on this world and it's so empty without you," she wrote, adding that she was struggling to "absorb the news."
"It is impossible to believe that you are really gone. I am so sad and so numb. I don't want to believe it… I keep texting your phone and just hope you respond."
She went on to speak to the good and hard times of their relationship and how hard it was for it to be in the public eye.
"I know we had some moments that were really, really hard, but our day to day life really was beautiful. Just because some things don't work out, or don't last forever, doesn't make them less special or less meaningful," she wrote.
Kerdiles and Savannah Chrisley started dating in November 2017 after meeting online.
They went Instagram official in January 2018. He proposed to her on Christmas Eve later that year, People revealed.
The couple ended their engagement in 2020, Savannah Chrisley shared in a since-deleted Instagram post, per People. The trailer for Season Eight of "Chrisley Knows Best" also showed the fallout of their breakup and Todd Chrisley's continued friendship with Kerdiles.
Since his split with Chrisley, Kerdiles had been working in Nashville as a real estate broker, according to his Instagram.
Chase Chrisley, 27, also shared a tribute to Kerdiles and posted a series of photos to his Instagram story Sept. 23.
"No words ... i love you man," he captioned a photo of the friends riding in a golf cart.
He later wrote, "Doesn't feel real ... lost a brother today ... I know God has a plan but man I don't understand it today. Fly high my brother and rest easy."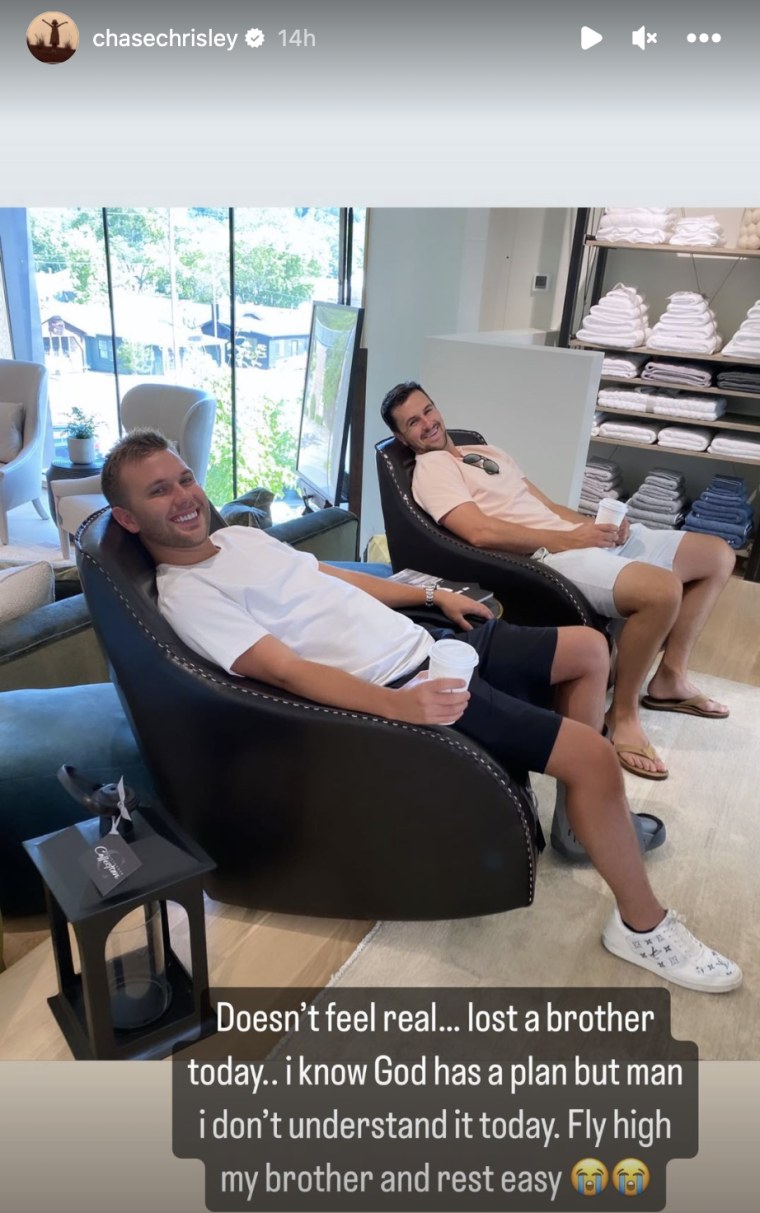 Kyle Chrisley, 32, also shared a post mourning Kerdiles, writing, "He wasn't just Savannah's ex fiancé, he was a part of our family."
"There are really no words," he began in his caption. "Nic was a good soul all the way around. He was incredibly hard working and was always there for you."
"My daddy loved him, my nanny adored him and I know Savannah is beside herself. It's just absolutely heartbreaking. Please pray for comfort for everyone that knew him and loved him," he continued.
The youngest Chrisley, 17-year-old Grayson, wrote on his Instagram story, "Ain't no way plz tell me it ain't real I love you man forever n always."