Whether or not you've ever tuned into an episode of Todd Chrisley's reality series, you've likely encountered his name.
Todd Chrisley, who made a fortune in real estate in Georgia, and his co-star wife, Julie Chrisley, have been embroiled in a headline-grabbing controversy ever since they were indicted on charges of wire fraud, conspiracy to commit bank fraud and conspiracy to defraud the United States in 2019, per NBC News.
The couple was convicted in June 2022 and sentenced in November. Todd Chrisley was sentenced to 12 years in prison, and Julie Chrisley to seven years, according to the U.S. attorney's office. Bruce Morris, an attorney for Todd Chrisley, previously told NBC News his plans to appeal. The pair reported to their respective prisons in January of this year.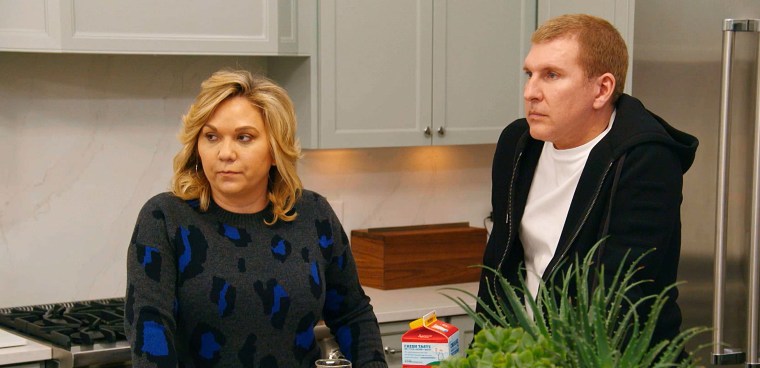 Their new attorney — Jay Surgent, a Partner at Weiner Law Group LLP — told People in July 2023 that they had started the appeals process.
Todd, 54, rose to fame as the outspoken patriarch on the USA Network's "Chrisley Knows Best" — a series that offered viewers a glimpse at his family's lavish lifestyle and their personal ups and downs. (USA Network is part of NBCUniversal, as is TODAY). 
The day before their sentencing, the Chrisley's then-25-year-old daughter, Savannah, reflected on getting custody of her two younger siblings, Chloe and Grayson, on an episode of her podcast.
"I come home Tuesday and I have custody of a 16-year-old, I have custody of a 10-year-old," she said. "And we spend our first Thanksgiving not as a family."
She said she was attempting to teach them "how to navigate the circumstances," expressing that it was a "really difficult thing."
"I have to be a positive role model for Chloe and Grayson," she said. "No matter how hard it gets, I have to show up."
But who makes up that family? Get to know all five of Todd Chrisley's children below.
Lindsie Chrisley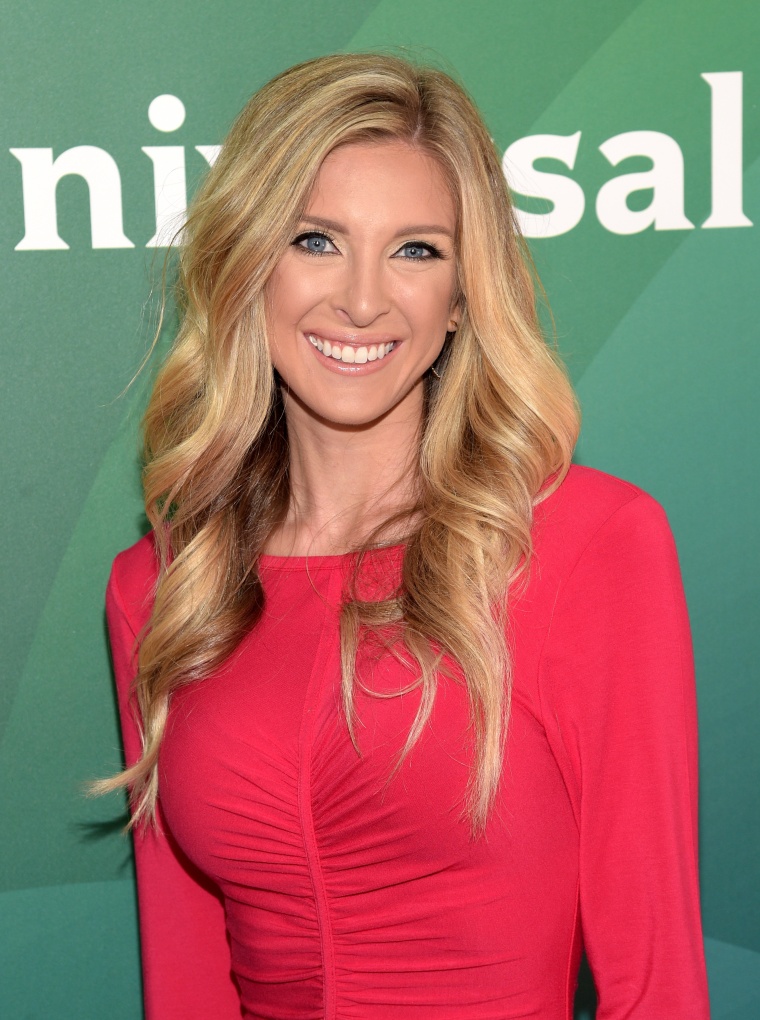 Lindsie Chrisley, 33, is the oldest of Todd's two children from his first marriage to Teresa Terry, and is a former cast member of "Chrisley Knows Best."
Like all of Todd's children, the mother-of-one joined the series in its first season, back in 2014, but the South Carolina-born reality star made a break from the show in 2017. 
And since then, she's made a break from her father, too. In a 2019 statement issued to People, a lawyer for Lindsie confirmed that she had been estranged from her father and stepmother since 2017.
Lindsie, who's now a podcast host on both "The Southern Tea" and "Coffee Convos," has had a variety of rocky moments with her dad over the years.
For example, after Lindsie announced her divorce from Will Campbell on Instagram in 2021, her father weighed in with a post on Instagram. "I truly was shocked when I saw something so personal shared as we do have each other's numbers," Lindsie said on her "Coffee Convos" podcast.
Lindsie denied rumors that she reported her family to the authorities. A 2019 statement from her lawyer, obtained by People, read: "It was reported that Lindsie was the source of the information that led to her father's arrest. That is untrue, she was not the source of this information."
Despite her estrangement from Todd, in a May 2022 Instagram post, she asked for prayers for her father and wrote, "I know you are innocent..."
Following her father and stepmother's conviction, Lindsie wrote on Instagram that she was "deeply saddened."
In 2021, Lindsie said there was no chance of reconciliation. "There will never be a reconciliation," Lindsie told Entertainment Tonight in 2021. "I think that the most that anyone could ask for at this point is for everyone to go on with their lives as they see fit and to just leave the other side alone. But at this point, there will be no chance for reconciliation."
But that changed. During a July 2022 episode of "The Southern Tea" podcast, Lindsie said their reconciliation was not tied to her father's trial.
"I can confidently tell you there was no reconnection due to any legal reasons whatsoever. Nothing like that ever transpired," she said.
Instead, it had to do with her divorce. "After my divorce stuff had become public, my dad had posted, 'I'm here, I love you, whatever's going on in your life right now I see it.' That's really more so how we were able to reconnect," she said.
She said in April 2023 that she had visited her father behind bars and that he seemed to be doing really well.
"My parents were welcomed (to prison) with open arms. I feel so blessed with that because I have heard of other people reporting and that not being the case," she said in an episode of her podcast.
Kyle Chrisley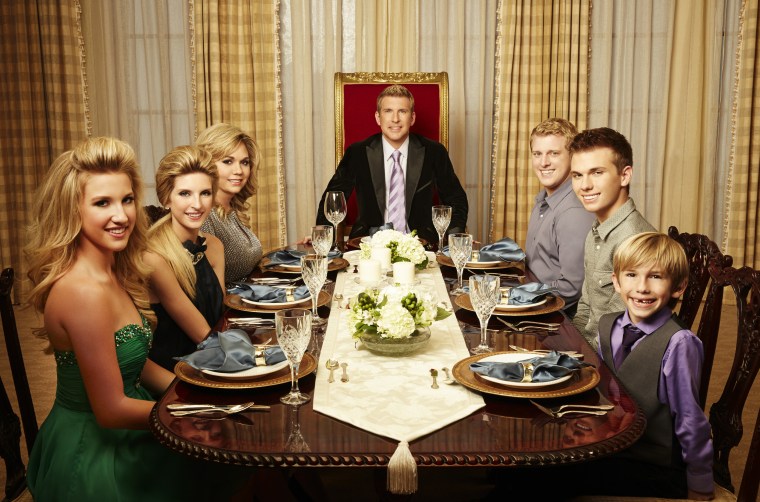 Kyle Chrisley, 32, is the other child Todd shares with his ex-wife. 
Like Lindsie, Kyle was once estranged from Todd, but no longer is as of 2019.
"9 months ago I went to my dad with an apology. His words were 'I love you always, and you are forgiven' and just like that I was welcomed back into his life with open arms. I will be forever grateful for his love [and] graciousness," Kyle wrote in a Facebook post in 2019.
Like Lindsie, Kyle also left the family's reality TV show. He departed after one season. In 2019, Kyle joined his father on an episode of "Chrisley Confessions" and spoke candidly about his substance abuse, mental health and suicide attempt that led to hospitalization, E! News summarized.
Another kid filled Kyle's spot on the show — his own.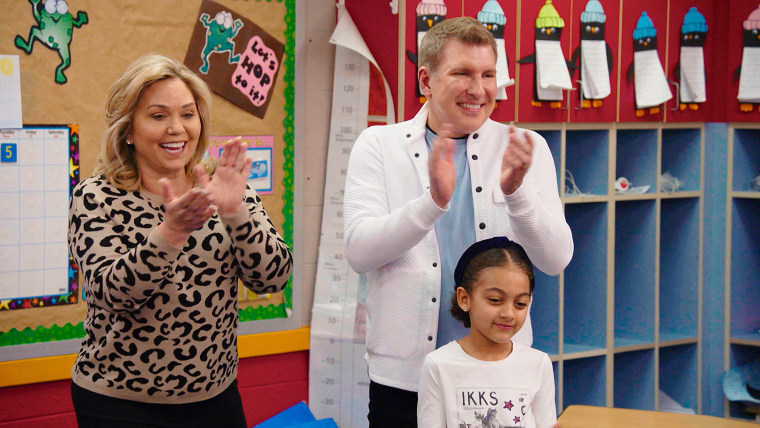 Kyle and his ex-girlfriend, Angela Johnson, welcomed daughter Chloe in 2012. 
As TODAY previously reported, Todd and Julie had been raising their granddaughter due to Kyle's issues with substance abuse, as he confirmed on the episode of "Chrisley Confessions." Julie told TODAY, Chloe doesn't have a relationship with her biological mother. Once Todd and Julie reported to prison, Savannah gained custody of her niece.
In March, Kyle was arrested in Tennessee after an altercation at his place of employment, according to police.
Smyrna Police Department said in a statement that Kyle faced an aggravated assault charge after allegedly getting involved in a "physical altercation with a supervisor" and that he'd pulled a "fixed blade" during the incident.
As of Aug. 11, it was not clear if Kyle was still facing the charge or if it had been dropped. Smyrna Police Department did not respond to TODAY.com's request for comment.
Chase Chrisley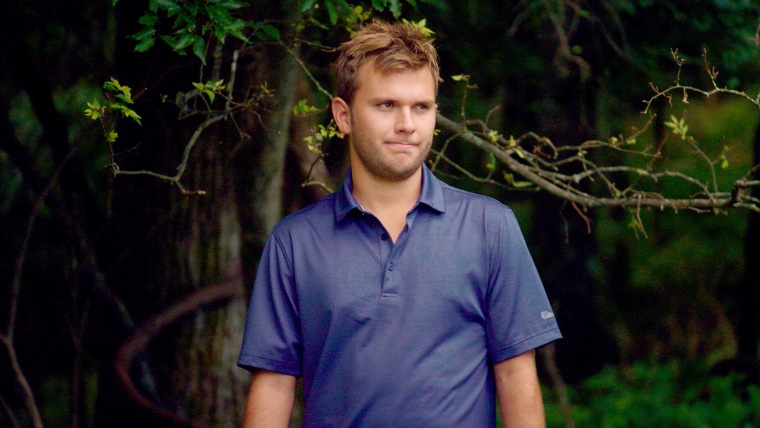 Chase Chrisley, 27, is the first child Todd and Julie had together.
Chase launched his own candle line (Chase Chrisley Collection) and firmly established himself as a reality TV star on all seasons of "Chrisley Knows Best."
He even expanded his reality TV resume, too. Chase, along with his younger sister, Savannah, starred in the spin-off series "Growing Up Chrisley," which was canceled in 2022 after four seasons.
Chase has spoken out about the conditions of the prisons his parents are in custody at. In the July 25 episode of "Unlocked With Savannah Chrisley," he said his parents are in a living "nightmare."
"Now they both have no air conditioning. They are both in states where it gets to be 100+ degrees and there's no air conditioning."
"I don't care if you killed somebody, if you're in a government facility, you should have air conditioning," he said, while his sister said that "air conditioning is the least of it."
Savannah said she understood people don't have "any sympathy" for prisoners but that there was "black mold, asbestos, lead-based paint, snakes."
In a recent post, Chase commended his sister for being an inspiration.
"Happy birthday @savannahchrisley," he wrote alongside a carousel of photos. "I'm so proud of the woman that you are and continue to be. You inspire everyone around you to be better and stay strong. I'm so grateful that God gave me you as a sister, I pray that He continues to fill your life with blessings because you deserve them all!! I love you so much!! Happy birthday!!"
Savannah Chrisley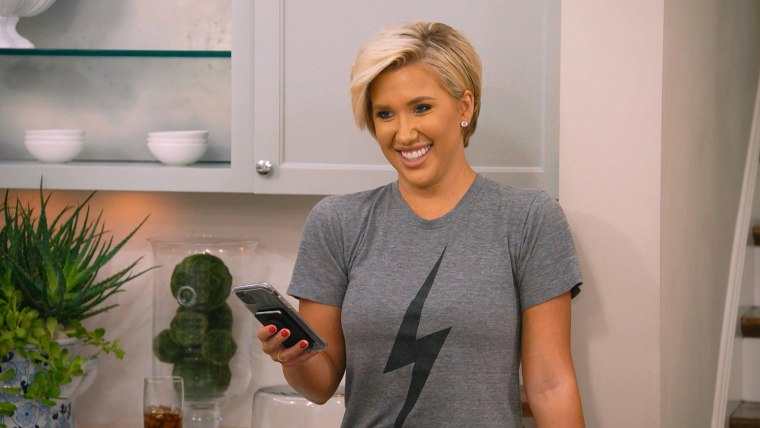 Savannah Chrisley, 26, is the only daughter Todd and Julie welcomed together. 
The former Miss Tennessee Teen USA pageant winner is a self-proclaimed "daddy's girl." She was supportive of her parents after their 2019 arrest, sharing a Bible quote to her Instagram story responding to their situation, per People.
In 2020, Savannah launched her own cosmetics company called Sassy. But years before that, she broke out as a fashion designer with an HSN line of her own, an early success she credited to Todd's support.
"My dad has been the biggest supporter of me throughout," she told People shortly after releasing her Faith Over Fear line in 2017. "He's my best friend and without him I couldn't have made it happen."
On June 17, 2022, she shared an Instagram post with a statement regarding her parents' conviction. Savannah wrote in the caption she would "continue to stand by (her) family and fight for justice" and said the "fight isn't over."
The reality star said that she felt "let down by God" recently, and that her "relentless prayers have been unheard." But said she is remaining strong in her faith, saying she prays for "strength, hope, and love."
She has been open about her stress as a young, single woman raising her teenage younger brother and niece after her parents were incarcerated.
"I'm not their mom. I'm not their dad. I'm their sister and I get to love and guide them through life. Being a bonus parent is TOUGH," she said in a July 26 post. "No one could ever add up to their parents. But these kiddos have shown me so much love, patience, grace, understanding, and appreciation!"
She added that raising Grayson and Chloe has been the "hardest but most rewarding job" she will ever have.
"I've always said, 'God meant for me to be a mama!'… little did I know, the journey would start a little sooner than expected!" she said.
Grayson Chrisley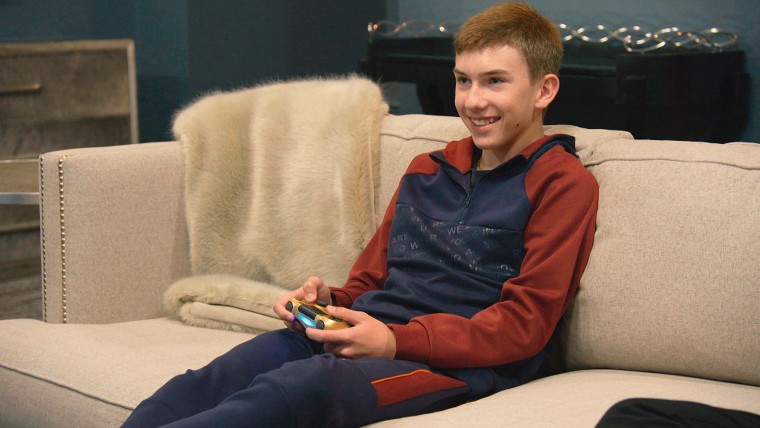 Grayson Chrisley, 17, is Todd and Julie's youngest child and also appeared on "Chrisley Knows Best." The active teen played high school baseball and is part of the Tennessee-based Redbirds Baseball Club.
On Nov. 12, 2022, days before his parents' sentencing, Grayson was injured in a car accident. "Grayson was in a horrific car accident on the interstate, and we got the phone call that we had to get to him," Todd Chrisley said on the "Chrisley Confessions" podcast on Nov. 17. "I ran out of the house, jumped in the car and found him on the interstate. The ambulance was there, the paramedics were there.
"I remember looking at Grayson on that stretcher in the back of that ambulance and him crying and the police stopping me to talk to me before they took me to him," he recalled. "And all I could think of was, 'Thank you God,' because he is alive and crying."
In May 2022, Todd took to Instagram to share a message about his son in honor of Grayson's birthday.
"This day 16 years ago was one of the greatest days of our lives," the proud dad wrote. "I thank God each day all day long for blessing us with you and I love you more than words could ever express, with all my heart Thank (sic) you for just being you."
In June, while chatting with older sister Savannah on her podcast, Grayson said that having his parents in prison was worse than them dying.
"Because they're here, but they're not here. So it's just time that's being wasted," he said. "I'm saying, like, if they died, there's no possibility of you getting any more time with them. So it's over."