The mother of a 12-year-old New Jersey boy who died during a no-contact football practice is demanding to know how the tragedy happened.
Elijah Jordan Brown-Garcia, a sixth-grader at KIPP Rise Academy in Newark, died Feb. 10 after he fell to the ground and became unresponsive while running drills during a practice with his recreational football league, NBC affiliate News 12 of New Jersey reported.
The boy's mother, Raven Brown, told News 12 that Elijah was a "healthy kid" and that he did not receive CPR.
"He was so happy to be there," Brown said. "He didn't know that it was going to be his last day."
Both Brown and her younger son, who was at the practice, said there was "no contact" before the collapse.
"It was just drills running back and forth," Brown said. "He didn't get hit."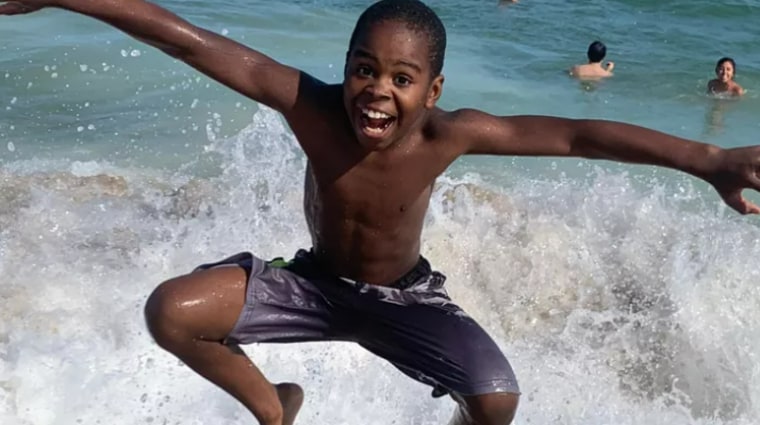 A spokesperson for the school confirmed Elijah's death in a statement to NBC News.
"Elijah will be deeply missed by our KIPP students, families and educators and we will remember him as a kind, outgoing student who was a friend to all," the school said in the statement.
Elijah played football for the Essex County Predators league at the West Side Park football field with his 10-year-old brother.
Brown told News 12 that it was her younger son who phoned her to tell her that Elijah had collapsed.
"I said, 'What are they doing? What is anybody doing?' And he said, 'They are pouring water on him, and they are fanning him.' And that's when I got my kids together and I said, 'I'm on my way,'" Brown said.
Brown said multiple people, including herself, called for paramedics to come to the field but it took "a long time" for an ambulance to arrive.
"I was fighting for him," she said. "I grabbed him, and I just kept saying, 'Elijah, get up,' but I knew he was gone."
The boy was taken to University Hospital in Newark where he died. The hospital said in a statement to NBC News that it "cannot comment on protected health information regarding our patients, including confirmation of a patient's identity."
A cause of death has not been disclosed.
"He didn't deserve this. He was a good kid," Brown told News 12 through tears. "He had so much further to go. He had so much more time he was supposed to be here."
In a GoFundMe organized by Elijah's family, Brown described her late son as "an outgoing, loving young kid."
"He loved dancing and football and loved his family. He made sure everyone was comfortable with his infectious smile. He loved going to school and he loved his friends," she wrote.
Elijah's football team paid tribute to him Feb. 16 on Instagram, writing alongside a photo of the boy illustrated to look like an angel, "Our Hearts are crushed and our condolences scream out to the family of our very own Elijah E2 Brown. We love You."
The team also shared in the post that there will be a balloon release Feb. 18 at West Side Park as a tribute to Elijah.