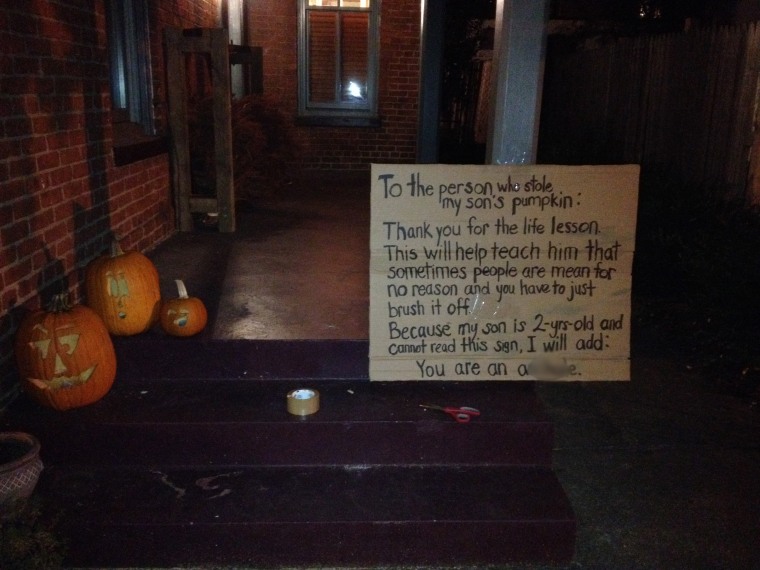 When Becky Reina noticed something was missing from her front porch last Thursday — her 2-year-old son Tommy's recently-carved pumpkin — she knew he wouldn't take the news well.
"He was on his way to bed, but we didn't say anything to him at the time," Reina, 33, told TODAY.com. "I was stewing and upset that something bad had happened that would upset my kid."
It's a familiar story: Each year, some neighborhood pumpkins are fated to be stolen from front yards and smashed on cold concrete. But instead of throwing her hands up, Reina decided to fight back with a few choice words scrawled on a sign.
That night she wrote, "To the person who stole my son's pumpkin: Thank you for the life lesson. This will help teach him that sometimes people are mean for no reason and you have to just brush it off." And because her son can't read yet, she punctuated the sign with a blunt expletive.
A photo of her sign was posted to Reddit and quickly went viral, winning her cheers around the Internet. 
"I was kind of shocked," Reina said. "I'm blown away. We had no idea that it would go viral."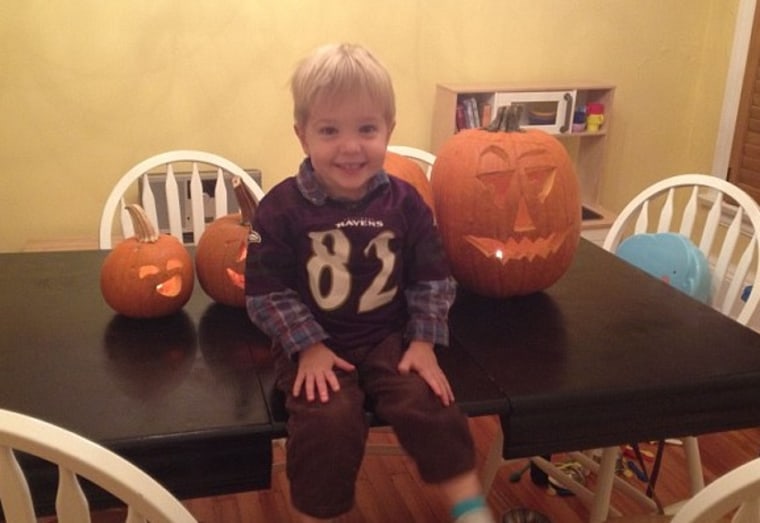 Reina, who also has a 3-month-old daughter named Abby, says she just wanted to make a point.
"I wanted to make them feel bad," she said. "It's a joke — I don't expect to get the pumpkin back, but maybe a kid will happen to walk by and think, 'that's funny, I made somebody feel bad.'"
Her sign served as a bit of distraction for her son when he realized his pumpkin was missing on Friday. Tommy took the news in stride, but later began to cry when Reina told him how many people were sorry his pumpkin was taken.
"He literally burst into tears, so he definitely gets it," she said. "He's sad that his pumpkin is gone, but he seems to also like the sign."