A man whose home was burned to the ground in Maui, Hawaii, is opening up about the devastating fires that engulfed the island this week.
Dustin Kaleiopu and his family were forced to evacuate to the other side of Maui as the deadly fires moved quickly toward their home on Aug. 8.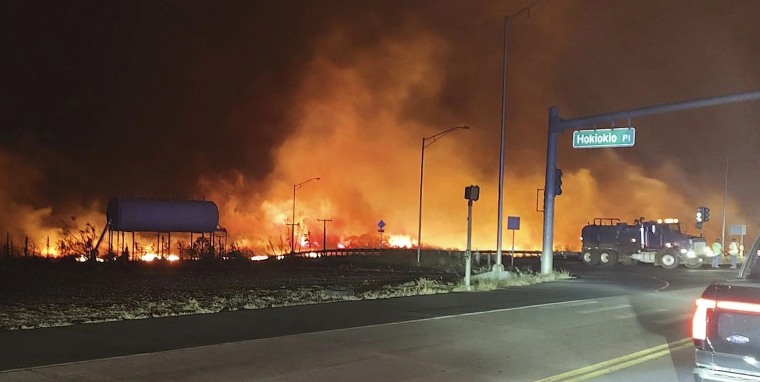 "By 3:30, the smoke had started to get thicker … and it started to make its way closer to our home," Kaleiopu told TODAY Aug. 10. 
"You could hear the explosions happening around the block from the gas station and from businesses," he continued. "By 4:30, our neighbor's yard was on fire and we had minutes to escape because an hour later we would find out that our house had burned completely to the ground."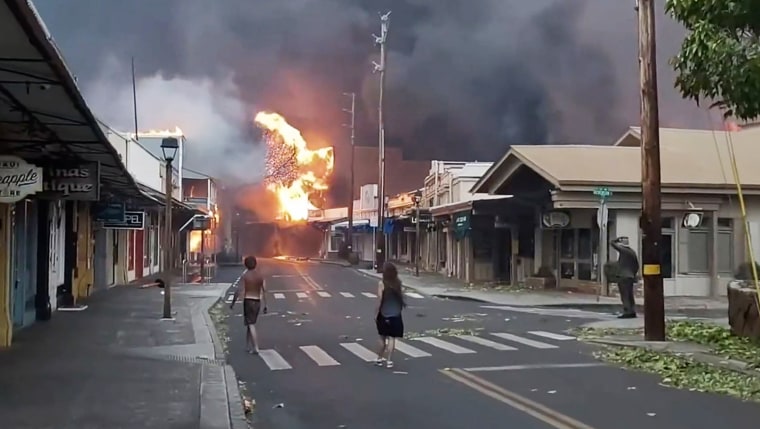 Kaleiopu says he and other members of his family were eventually able to reunite on the central part of Maui, but he added that "there were still so many other people that we were unable to get in touch with, and that still remains true for a lot of the families here."
He described the tragic toll the fires have taken on his community in Lahaina, Maui.
"The two houses that I grew up in, my grandparents' homes, my house, where my brother lives, my mother, my father, every single person that I work with, the people that I see at the bank, the grocery store — everyone I know is now homeless," he said. "In 36 hours, our town has been burnt to ashes, nothing left."
The wildfires, fanned by high winds from Hurricane Dora, began ripping through Maui on Aug. 8, according to the National Weather Service.
As the fires spread, the U.S. Coast Guard Hawaii Pacific rescued about a dozen people who had jumped into the Pacific Ocean to escape the smoke and flames.
Cell service and 911 service went down during the fires, according to officials, making it impossible for many residents to get help and check in with their loved ones.
Local hospitals have been overwhelmed by people with serious burns, and thousands of people are being housed in evacuation centers, NBC News reported.
At least 36 people have been confirmed dead in the Maui fires, and more than 11,000 people have been evacuated, officials say.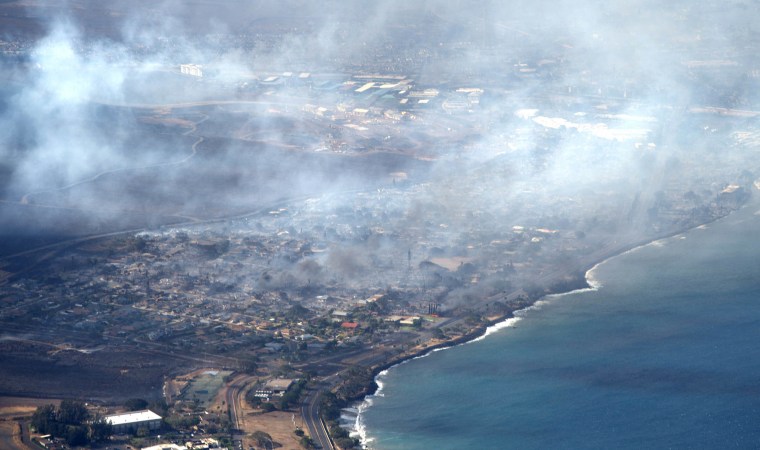 In Lahaina, a historic seaside town on the western side of Maui, about 300 homes, businesses and landmarks have been destroyed, NBC's Miguel Almaguer reported on TODAY Aug. 10.
Kaleiopu said that while Lahaina is often referred to as a "tropical paradise" or a "tourist destination," it is so much more than that to his family and everyone who has lived there for generations.
"This is our home," he told TODAY. "This is a home to so many people, and many of these homes were multigenerational families with infants to great-grandparents, and it's sad to see that many of those great-grandparents or even grandparents, some of the children even, are still unaccounted for. 
"And although the physical sight of the destruction is painful to see, the inability to have communication with our family members, knowing what's going on, is really what's hurting everyone here right now," he added.
CORRECTION (Aug. 10, 2023 at 2:15 p.m. ET): An earlier version of this story incorrectly stated that Kaleiopu and his family had evacuated on Aug. 9. They evacuated on Aug. 8 and this story has been updated to reflect the correct date.