A Maryland judge was fatally shot in the driveway of his home Thursday in a "targeted attack," hours after he granted custody of the suspect's children to their mother, officials said Friday.
Washington County Circuit Court Judge Andrew Wilkinson, 52, was found outside the residence in the 19100 block of Olde Waterford Road in Hagerstown by deputies who responded to a report of a shooting at 8 p.m., the Washington County Sheriff's Office said.
His wife and son were home at the time, Sheriff Brian K. Albert said in a news conference Friday.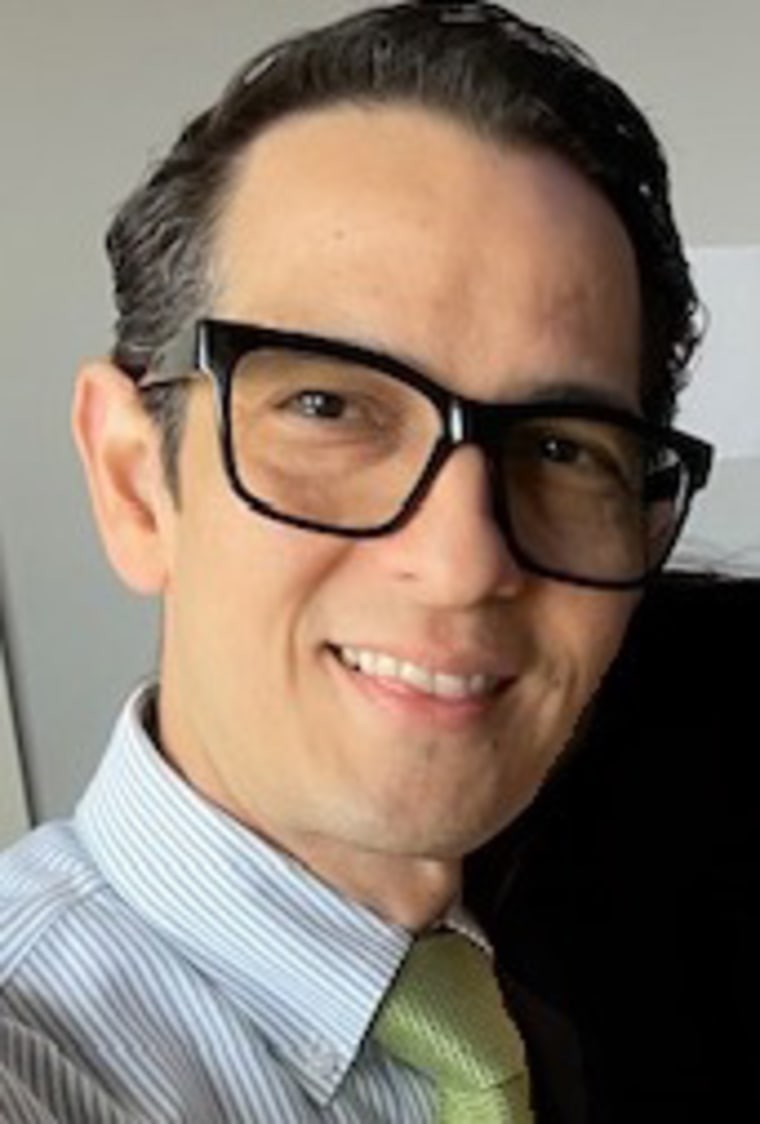 "The victim was suffering from what appeared to be gunshot wounds. He was transported to Meritus Medical Center, where he later succumbed to his injuries," the sheriff's office said.
The sheriff's office named the suspect in the homicide investigation as Pedro Argote, 49. He "is not in custody and is considered armed and dangerous," Albert told reporters.
Wilkinson was the judge overseeing Argote's divorce case, filed in June 2022.
Wilkinson presided over a hearing in the case Thursday morning that dealt with the "partial judgment of absolute divorce," according to the court docket.
Argote was not present for that hearing, but Sheriff Albert said the attack was targeted in response to custody being granted to the mother of Argote's children.
Argote, his estranged wife and attorneys in the case did not immediately respond to requests for comment.
Court records show Argote also had a domestic violence case against him filed in June 2022 that resulted with the unnamed petitioner requesting dismissal less than two weeks later. 
The sheriff's office had responded to a residence involving Argote for "verbal domestic assaults two times within the past few years," Albert said. The sheriff said Argote legally owned a handgun.
Argote is described as 5 feet, 7 inches tall, 130 pounds, with black hair and brown eyes. He may be driving a silver 2009 Mercedes GL450, according to the sheriff's office.
"Anyone with information in reference to Argote's location is asked to not approach him but to immediately notify law enforcement," the sheriff's office said. 
Maryland State Police troopers were deployed Thursday night "out of precautionary reasons" to "protect" judges residing in Washington County, a state police spokesperson told NBC News. However, the sheriff said Friday that there's no threat to other judges in the county or state.
Albert noted that the sheriff's office had no knowledge of threats against Wilkinson. 
A community 'devastated'
Wilkinson was born in Guam in 1971, graduated from Emory University School of Law in 1997, and previously worked as an assistant county attorney. He became an associate judge in Washington County Circuit Court in January 2020, according to an online profile. 
While Wilkinson was a prominent member of his community, neighbors described him as "down to earth" and friendly. On any given day, they said, he would be out cutting his own lawn or taking walks or jogs through the neighborhood.
Penny Hill, who lived next door to Wilkinson for the past decade before she recently moved, said she enjoyed being neighbors and watching Wilkinson with his wife, Stephanie, and their two children.
"He was a terrific guy, and this is devastating to the community," Hill said. "What happened is terrifying, unexpected. And I feel so terribly for Stephanie and the kids."
Neil C. Parrott, a former Maryland state delegate, mourned Wilkinson's death on X, writing: "Horrible news in Washington County tonight. It appears that Judge Andrew Wilkinson was shot multiple times and has passed away."
"Please pray for our police and for Judge Wilkinson's family at this time," Parrott wrote.
Maryland Congrssman David Trone tweeted that he was "shocked and heartbroken" to hear of the homicide, adding "this violence is horrifying to see in our community."
The Maryland Judiciary issued a statement Friday saying it "mourns the tragic death of Judge Andrew Wilkinson."
"The Maryland Judiciary is actively engaging with law enforcement to assist in resolving this matter and to ensure the safety of our judges, staff, and visitors, which remains our top priority," the statement said.
This article first appeared on NBCNews.com.