Lyft says it is ramping up its efforts to provide women and nonbinary users worry-free rides, whether they're the rider or the driver.
On Sept. 12, the ride-hailing company shared that it will roll out a new feature called Women+ Connect, that gives women and nonbinary riders the ability to request women and nonbinary riders.
"Just for your own peace of mind, the ability to choose a woman driver might be exactly the thing that allows you to say, you know what, yeah, this really is making my life better," Lyft CEO David Risher told NBC's Savannah Sellers in an exclusive interview that aired on TODAY.
Risher said in a press release that this feature gives women and nonbinary people "the opportunity to earn money on their terms."
In the release, Lyft says that while women make up nearly half of the demographic of its riders, only 23% of its drivers are women. It says that by giving women and nonbinary drivers the option to be more selective when it comes to who they're matched with, the company is creating an environment that allows women and nonbinary drivers to feel more "confident."
Here's what we know about Women+ Connect, the new Lyft feature working to give women and nonbinary users more control.
How does Women+ Connect work?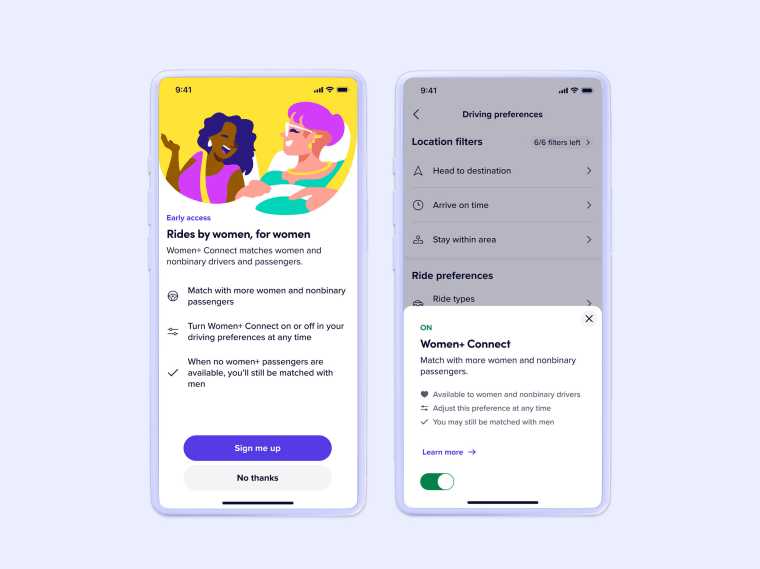 According to Lyft, the feature will exclusively roll out for early access in Chicago, Phoenix, San Diego, San Francisco and San Jose. The company says it will soon roll out the Women+ Connect feature in more cities.
Drivers will have the ability to edit a preference in the Lyft app that prioritizes matching them with other women and nonbinary riders. The press release notes that this is an added feature and shouldn't be looked at as a guarantee, so if no women or nonbinary riders are requesting rides at that point in time, the rider will be matched with men.
Can riders request female drivers on Lyft?
While users will not be able to request female drivers on Lyft exclusively, the Women+ Connect feature will allow riders to select a preference feature in the Lyft app that will increase their chances of being connected with a woman or nonbinary driver.
When the feature rolls out in a new city, women and nonbinary riders will receive a prompt in the app to select "Count me in." The option will increase their chances of matching with women and nonbinary drivers, according to Lyft's press release.
All users will be able to update their preferences at any time and have the opportunity to opt out of the feature in their settings.
How safe is Lyft for passengers and drivers?
Ride-sharing apps, including Uber, have proven to come with risks for both riders and drivers.
In 2021, Lyft revealed in their community safety report that they received over 4,000 reports of sexual assaults during their trips from 2017 to 2019. The report did not statistically specify whether its assaults had happened to riders or drivers.
In 2019, NBC's Jacob Ward interviewed two Lyft users who shared their alarming experiences with drivers on the app.
Anna Gillcrist was one of the women to speak.
"I just remember realizing that the door was locked," Gillcrist explained. "And I said, please unlock the door, and he didn't. And then he continued to drive past my apartment, and so I just, you know, like pried the lock up, and I jumped out the car."
Gillcrist explained how she felt the company fell short of reassuring her about the experience. She said Lyft offered her a $5 coupon and assured her she would not be matched with the driver again.
Ward spoke to TODAY's Savannah Guthrie about the report and explained that he came across hourly complaints of harassment addressed to Lyft on social media.
In a statement issued to NBC News regarding the interview, Lyft said, "Safety is fundamental to Lyft. Since day one, we have designed policies and features that protect drivers and riders." 
Both women told NBC that they would feel comfortable if they were allowed to be matched with women drivers only.