Liberty Ross had everybody fooled during Alexander Wang's New York Fashion Week show Saturday.
Her calm, cool and collected -- not to mention, extraordinarily fierce -- exterior belied some serious nerves as she strutted her stuff during a surprise trip down the runway.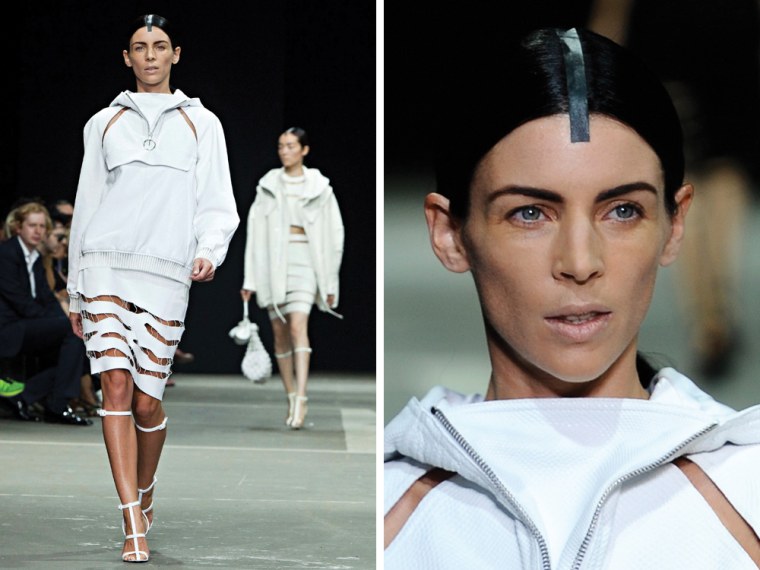 PHOTOS: Kristen and Rupert's July 17 fling
"I was totally terrified," Ross, 33, confessed to The Cut at the show's after party. "I hadn't actually been out of my house for seven weeks so I was really anxious. But it felt amazing." (Ross' pal, and the man of the hour, Alexander Wang, said asking the model to take part in his show was a no-brainer. He told the fashion site he invited her "Because I love her and I support her.")
PHOTOS: Kristen and Rupert's road to infidelity
While the British stunner's claims she's been a recluse recently were a bit exaggerated (Ross has been photographed out and about near her Los Angeles home over the last month or so), she's still reeling after learning in late July that her husband, director Rupert Sanders, cheated on her with his "Snow White and the Huntsman" star, Kristen Stewart.
Together for 10 years, Ross and Sanders, 41, have two children together, Skyla, 7, and Tennyson, 5. Currently, their marital status is still very much up in the air.
Mercedes-Benz New York Fashion Week gets under way in New York City with Tyra Banks, Alicia Keys, Victoria Beckham and more stars getting a front-row look at the biggest designer shows for Spring 2013.
As a source close to the couple recently told Us Weekly, "It's too early to tell what will happen with them."
PHOTOS: Women who've been cheated on
Meanwhile, Stewart is getting back to work as well; the "Twilight" star made her first public, post-scandal appearance Thursday night when she attended an "On the Road" screening at the Toronto Film Festival.
Related content: