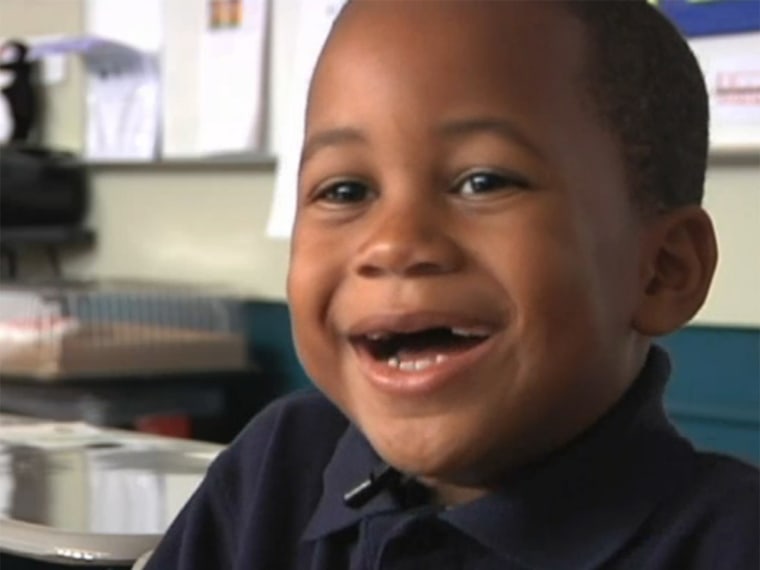 A New Jersey kindergartner was able to help save his father's life on Monday thanks to some quick thinking and a firm grasp of his ABCs.

Nathaniel Dancy Jr. had spent the day going to the movies and buying new shoes for school with his father on Monday afternoon when Nathaniel Dancy Sr. began suffering a stroke and an aneurysm while driving. He was able to pull the car off the highway and into a parking lot but was incapacitated once he stopped the car. The 5-year-old grabbed his father's phone and called his grandmother, who often takes care of him while his mother works at her job at New Jersey Transit.

"It was very confusing and it was scary,'' the boy's grandmother, Susan Hardy-Blackman, told TODAY.com of the incident, originally reported by NBC New York. "I was on the other side of town, and I was just trying to figure out where they were so I could get to them.''
The distraught boy initially hung up but then called Hardy-Blackman back, and she patched him into a three-way call with her daughter, the boy's mother, Janel Blackman. Nathaniel was trying to tell them where he was but had trouble pronouncing the name of a nearby store, so they asked him to spell it out. He said, "F-U-R-N-I-T-U-R-E " and then the number 22. He also said they had just gone through a "tunnel,'' which was actually a nearby highway overpass.
Hardy-Blackman went to a nearby firehouse and asked if they knew where a furniture store of that name might be, and once they told her, she quickly dialed 911 to tell them where to go while her daughter rushed over to the scene. It turned out Nathaniel and his father were in the parking lot of 22 Furniture Gallery on Route 22 in Hillside, N.J., near their home in Newark.
"My wheels were churning, and I didn't know what to think,'' Blackman told TODAY.com. "I'm trying to put a mental picture in my brain of where Furniture 22 is. I jumped on the highway, and while I was going past Furniture 22, I saw my husband laid out in the parking lot. Minutes after I arrived on the scene, the ambulance came."
Dancy Sr., 33, is still in the intensive care unit at Newark Beth Israel Medical Center and is being put on a feeding tube, according to Blackman. He had been taking medication for high blood pressure before the incident.
"He is still in the hospital, still trying to survive,'' Blackman said. "They did in fact save him just in time. I congratulated Nathaniel for being so heroic and helping his dad, and at the same time, his dad was a hero, too. To be in the midst of a stroke and know to get off the highway and get yourself and your child to safety is amazing, especially when you've lost feeling in half of your body."
Nathaniel Jr., who is the youngest of five brothers and sisters, is a kindergartener at West Side Park Elementary School, which is part of the North Star Academy charter school system in Newark.
"Nathaniel is a very smart guy,'' Blackman said. "He has great diction, and when you hear him talk, you would never think he's only five. He's on a third-grade level. He already spells words like 'decipher' and understands concepts that the average elementary school student at his age does not."
"Nothing Nathaniel does is a surprise to me because he does such a tremendous job in everything he does,'' his grandmother said. "He'll read something like, 'The boy slammed the door,' and say, 'Grandma that's onomatopoeia because the word sounds like the sound effect.' He is tremendous."
Blackman has not taken Nathaniel Jr. to the hospital to see his father yet.
"I don't think that it's sunk in to him,'' Blackman said. "He just thought his dad needed help. He's not aware of the full severity of the situation. They are very close, and I don't know the traumatic side effects it could have on him.
"I said to him, 'Daddy might not be the same daddy you remember,' and he said, 'I hope my dad doesn't end up in a wheelchair.' It just melted my heart. He's just so compassionate as a little guy."