The singer, who hasn't released an album in nearly seven years, performed his new single "Suit and Tie" with Jay-Z before premiering another new song, "Pusher Love Girl," Sunday night at the 55th annual Grammy Awards show. His new, yet old-school sound was accompanied by a massive "JT" band, and was broadcast in sepia tones, no less.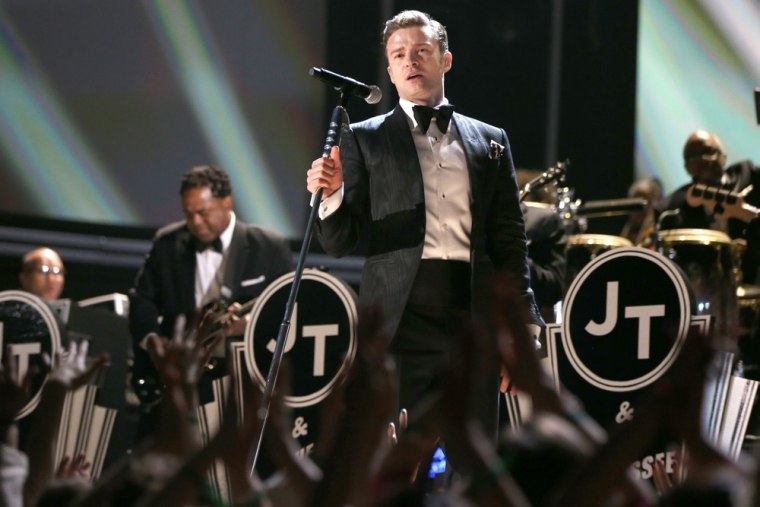 Timberlake, who announced he'll be heading out on tour after the release of his third studio album, "The 20/20 Experience" -- out March 19 -- is no stranger to the Grammy telecast. In fact, he's performed on music's most hallowed stage during pretty much every iteration of his ever-changing musical career (which can also be marked by his most prominent romantic relationships).
As a member of 'N Sync, Timberlake -- who was dating Britney Spears at the time -- and his group members J.C. Chasez, Lance Bass, Chris Kirkpatrick and Joey Fatone performed a "Girlfriend" medley with rapper Nelly during the 2002 show. 
Two years later, Timberlake had moved on from 'N Sync and was flying high on the success of his first solo album, "Justified," which was recorded during the aftermath of his 2002 split from Spears. He won Grammys for best pop vocal album and also what has since become the ultimate breakup song, "Cry Me A River," during the 2004 show, but chose to perform the more upbeat "Senorita."
When he returned to the awards show in 2007, Timberlake had already resurrected "sexy" and received another two golden gramophones for songs off of his second solo album, "FutureSex/LoveSounds," which was recorded during his four-year relationship with actress Cameron Diaz. He was popular enough to perform twice during that ceremony. Timberlake sang a mashup of "Ain't No Sunshine" and "My Love" with rapper T.I. and burgeoning singer Robyn Troup. He also did a solo rendition of his "What Goes Around ... Comes Around," which would win him his fifth Grammy the following year.
Timberlake then took an extended musical interlude to try his hand at acting (and coincidentally, began dating now-wife Jessica Biel), occasionally popping up on friends' records as a guest star over the last seven years. But even this portion of his career is documented on the Grammy stage. The "Trouble With the Curve" star joined T.I. again to sing "Dead and Gone" in 2009.
Which brings us to Sunday night's performance. Timberlake and Jay-Z brought down the house with their soulful performance and received a standing ovation from the Grammy audience. But not everyone was as impressed. Some took to Twitter to express their disappointment with JT's self-proclaimed "old man" music. 
"Justin Timberlake should have to follow Alicia Keys around for a month and take lessons. Get the damn Disney out of your music, son," tweeted viewer Dave Zirin. 
"If only justin timberlake would sing bye bye bye again.. one last time," wrote @v4gisil.
What do you think? Did Timberlake live up to expectations? Share your thoughts on our Facebook page!
More Grammys coverage in TODAY Entertainment: