Seven months after being devastated by the worst storm in New Jersey history, most of the beaches and boardwalks of the Jersey Shore are back and open for business in time for Memorial Day weekend.

Take that, Sandy.
On TODAY Friday, Gov. Chris Christie strolled the rebuilt boardwalk with Matt Lauer in Seaside Heights, the famed ground zero for MTV's "Jersey Shore'' and a town hit hard by the storm. He talked about a recovery from Hurricane Sandy that is "an eight in some places and a four in others" on a scale of 10.

"Here on the boardwalk, people will see it as an eight out of 10 when they start coming here in June, but for a lot of the homeowners of the state, it's going to take the better part of the next year to get them back,'' Christie said. "This was the easiest one to get done first. The homeowner part is much more difficult because people have decisions they want to make about whether they want to rebuild, how they want to rebuild, and how much they want to elevate."
TODAY visits the Jersey Shore: A behind-the-scenes look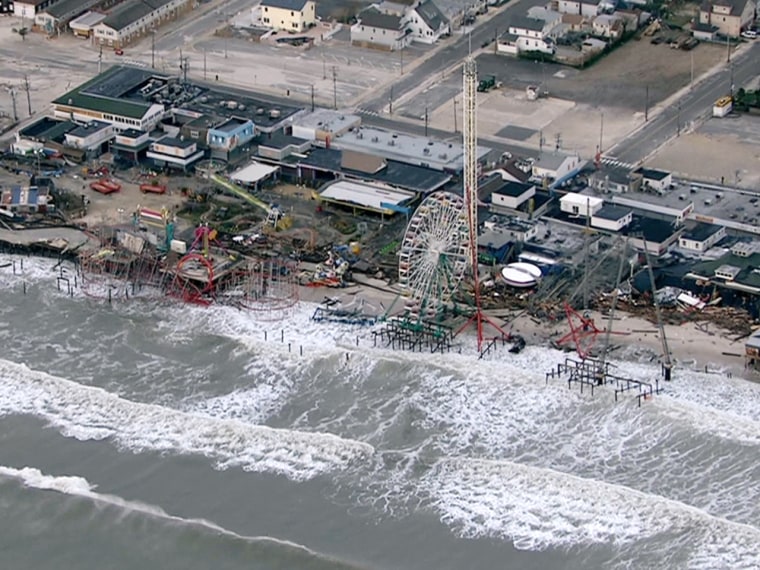 While much of the residential area of Seaside Heights is still in rebuilding mode, the famed mile-long boardwalk and beach have been restored and are open to the public for Memorial Day weekend. And yes, much to the relief of The Situation and co., the nightclubs are also ready for the summer.

More than 80 percent of the businesses are open to give Seaside the familiar sights, sounds and smells that have kept people coming back for generations. Like many towns along the Shore, the race was on for Seaside to be ready for the summer because a majority of the municipality's revenue comes from tourism in the weeks between Memorial Day and Labor Day.
With so much news coverage of the devastation wrought by Hurricane Sandy, New Jersey also has to fight the perception of potential tourists that the coastal areas are still so damaged that they won't be the same as in past years. Christie is looking to get the word out that the Jersey Shore is open for business.

"That's why we're doing things like this (appearance on TODAY), and that's why we have a $25 million advertising and marketing thing going on right now,'' Christie said. "For probably 80 percent of the Jersey Shore, you won't notice the difference at all from last summer."

Christie on upcoming Obama visit: 'I'll be here to welcome him'
While New Jersey has squabbled with Congress since the hurricane about disaster relief funding, the fiscally conservative Christie told reporters on Wednesday that the victims of the devastating Moore, OK tornado on Monday deserve "swift and immediate'' help from the federal government.

"I think emergencies are a totally different thing,'' he told Lauer. "Americans help other Americans when we're in trouble, and that's what this country has always been about. I don't support irresponsible spending. Everything that's necessary to help them, absolutely, and we should be doing it quickly."
On Thursday, the National Hurricane Center released its outlook for this hurricane season, forecasting an extremely active season with three to six major storms of at least Category Three that could reach the Northeast.

"Of course, you're always worried, but I think we gave it the office last year, so I think it will bypass us this year,'' Christie said. "We'll be ready, as we were last year, if something happens, but of course we're concerned."

Earlier this week, Christie said he doesn't believe there's any proof that Hurricane Sandy was caused by climate change. Some experts have said that the damage from Sandy was possibly more severe because of elements of climate change, including rising sea levels.

"This is their business, they study it, and they say 'probably, maybe,''' Christie said. "All I said was I haven't been shown any definitive proof yet that that's what caused it. This is a distraction. I've got a place to rebuild here, and people want to talk to me about esoteric theories. We've got plenty of time to do that later on and study that and let me be more informed about it. But no, I'm not going to buy things out of a whole cloth, especially when they won't definitively say anything, and it's their business."

Amidst the ribbon-cutting (and inevitable fist pumping) on the Jersey Shore Friday, there are still many Shore communities among New Jersey's 130-mile coastline struggling to dig out from Sandy's wrath. The state suffered an estimated $42 billion in damage from the storm, and many homes in places like Mantoloking and Highlands are still being demolished, gutted or completely rebuilt.

N.J. Shore Town Destroyed by Sandy Confronts an Uncertain Future
The beaches in some towns are also scheduled to have delayed openings to the public in June, and regular tourist attractions, like the Keansburg Amusement Park, are partially open and look to be fully operational by next month. Amenities may not initially be the same at many beaches, where temporary bathrooms have replaced structures that were destroyed and food trucks will help compensate for damaged restaurants or destroyed snack bars.

Jersey Shore Towns to Vacationers: We're Still Here
Even areas that have worked hard to rebuild in order to be ready for the summer have fought the perception by potential visitors that the area is still badly damaged and not the same as in past summers. Realtors in Long Beach Island, a popular destination for summer renters, have reported more vacancies than usual this season, fearing that many are staying away because they mistakenly think the area is still in poor shape.
As Friday's festivities on TODAY aim to show, the Jersey Shore is on the mend. Joining the anchors in Seaside Heights will be the band fun., who will perform live on the boardwalk. It's the latest stop on TODAY's Great American Adventure after the anchors stopped in Hawaii, Chicago and Orlando this week.
Amid the rebuilding, it's time for some summer fun (and fun.) to start the summer.