Jenna Bush Hager let slip a secret on TODAY this morning that her family has been harboring for a long, long time. A deeply personal secret that she was immediately embarrassed to have shared on national TV.
Here it is: Her grandmother, 91-year-old former first lady Barbara Bush, has only four toes on each foot.
Didn't see it coming, did you?
There was more than a hint of regret on Jenna's part when she made the revelation during a segment on TODAY with Kathie Lee Gifford. They were having a chat about people who remove their shoes before entering a home, when Jenna casually asked Kathie Lee, "Do want to know the truth?"
It was then that she dropped this bombshell: "My grandma is missing a toe on each foot."
Kathie Lee couldn't believe it. Incredulous, she stared at her co-host and said, "Barbara?!"
She wondered aloud whether Bush has ever divulged this information herself. "Not that I know of!" Jenna said. "But she has darling feet!"
She elaborated, "I think it's the second [toes]. Ganny, I'm sorry, I shouldn't have said it. But it happened with age!"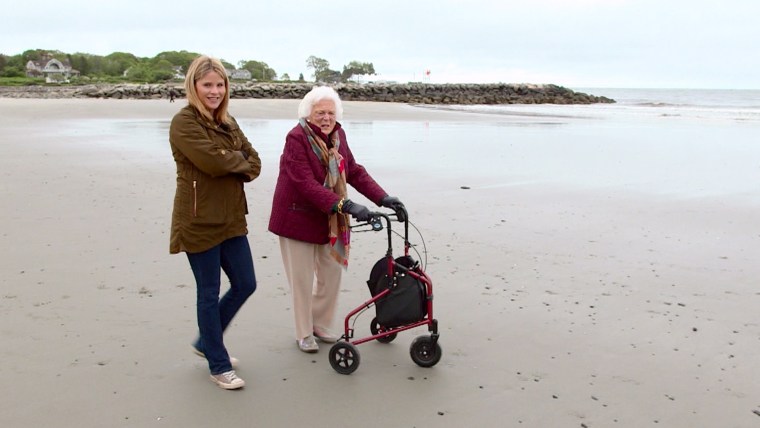 Kathie Lee put on her journalist hat and continued to dig for more information. "They disappeared?" she asked.
"They say if you don't sleep that much your toes go away," Jenna answered, laughing.
"I feel terrible now. Should I be embarrassed?" she added.
RELATED: Presidential pals! Bill Clinton paid a visit to George H.W. Bush this weekend
Jenna later clarified her comments in this statement: "Today, I spoke about my hilarious, strong, loving grandma's feet. She is indeed missing a toe or two. At an older age, she had a condition commonly known as hammer toes — toes that are too close together and crowd each other out. We don't talk about them often because it is mainly her kind heart and witty mind that we focus on!"