When Gordon Hayward suffered a gruesome injury just five minutes into his first game with the Boston Celtics last month, he was worried about missing more than just one season.
"When they were carting me out, that's when it hit me emotionally,'' he said. "I got this wave of emotion, 'Am I done? Is this my career? Is this over? This isn't how it's supposed to be.' It for sure crossed my mind this could be it."
Hayward opened up to Matt Lauer on TODAY Thursday in his first interview since breaking his tibia and dislocating his ankle in his left leg in the season opener, a frightening injury that caused an outpouring of support for him from around the sports world.
The All-Star forward was one of the prize NBA free agents of the offseason, expected to help Boston challenge LeBron James and the Cleveland Cavaliers for supremacy in the Eastern Conference.
The 27-year-old left the Utah Jazz, who drafted him in 2010, to sign with the Celtics.
His season of promise wasn't even one quarter old when Hayward went up for an alley-oop among a thicket of defenders and came down awkwardly.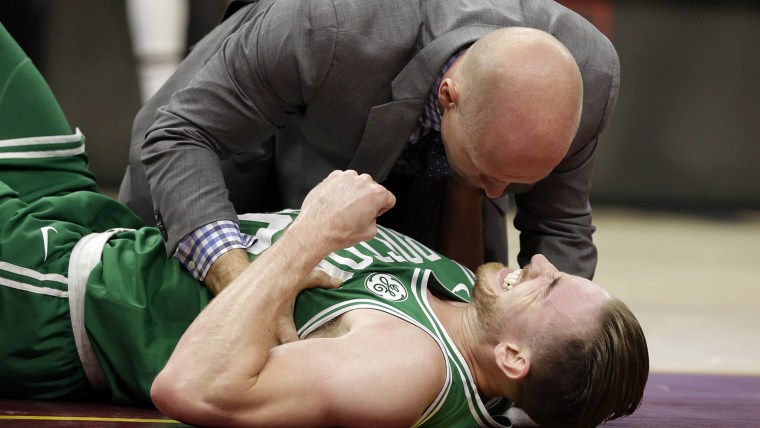 "I remember looking at (my foot) and it just doesn't look normal and didn't look right at all,'' Hayward said. "That'll definitely be with me forever, to look down and see my foot the wrong way.
"I'm signaling to the ref like, 'Look at this, stop the play.' Immediately he stops the play, and then all of a sudden it hit me. It was immense pain coming through."
The gruesome sight of Hayward's left foot pointing the wrong way was too much for fans in the fans and players on the court, some of whom knelt in prayer while medical staff tended to the injury.
Hayward's parents were also at the game to witness it firsthand.
"As a parent, you don't want your child to go through that,'' he said. "And as a parent myself, I would rather take their pain. And this is where it makes me emotional, because I wouldn't want (my children) Bernie or Charlie to go through that."
Hayward credits his wife, Robyn, and his two children with helping him recover as he begins the arduous journey to get back to 100 percent. He announced on Facebook Wednesday that he will be out for the remainder of this season.
"I think having the two little ones will really help me,'' he said. "They give you a little bit of perspective, because they don't know what's going on.
"They just know Daddy has a boo boo, and so they like to decorate it with stickers and give it a hug and a kiss because that's what we do when they get boo boos," he said. "It's a little comic relief with them, for sure."
Hayward received kind wishes from around the NBA and beyond. Barack Obama sent him a message, as did NFL stars J.J. Watt and Odell Beckham Jr., who both suffered season-ending injuries this year.
Now, he said, he is focused on returning next season and continuing a career that had been on a steady climb toward stardom.
"I'm gonna come back better than ever, and I firmly believe that, but I know it's gonna be a long and difficult process,'' he said. "Not being able to play with my team and do the little things that maybe I took for granted, I won't take for granted anymore."
Follow TODAY.com writer Scott Stump on Twitter.