The holiday season is just around the corner — literally.
The 2023 Rockefeller Center Christmas tree arrived on the New York City plaza Nov. 11. The iconic, giant legendary tree made it to 30 Rock on the back of a truck bed Saturday.
"It is officially the most wonderful time of the year," Saturday TODAY co-host Laura Jarrett declared.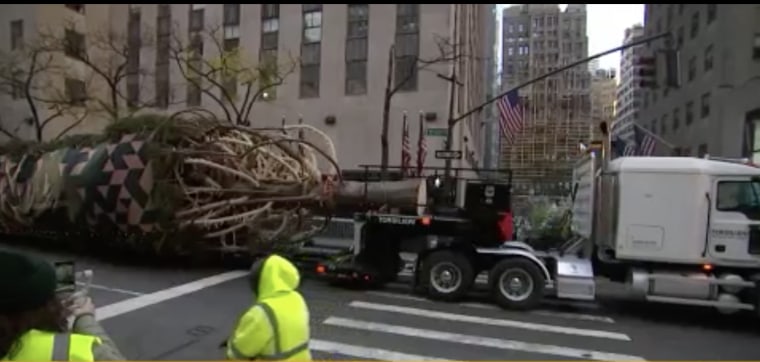 After a nearly 200-mile journey from upstate New York, the tree was slowly pulled into the plaza, with its size on full display.
"On its side, when it takes up half a city block in New York, you realize just how big that thing is," Peter Alexander said.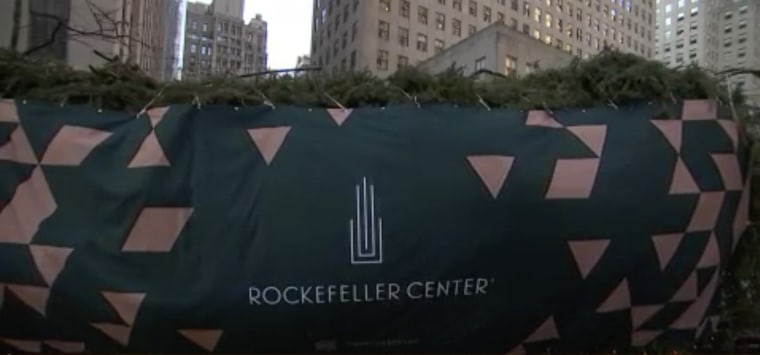 The tree will be decorated with 50,000 multicolored lights and topped with a Swarovski crystal star.
A tree has towered over the legendary New York City plaza almost every year since 1931. Details about this year's tree were announced Nov. 1.
"Meet the 2023 Rockefeller Center Christmas Tree," Rockefeller Center tweeted.
This year's tree is from Vestal, New York, the tweet said. It weighs about 12 tons and is 80-feet tall.
After the tree's arrival Saturday, crews will decorate — or should we say, spruce up — the tree ahead of the annual tree lighting ceremony on Nov. 29.
The Norway spruce was found by Rockefeller Center's head gardener Erik Pauze, who noticed the tree towering over Matt and Jackie McGinley's driveway in their New York town.
Pauze was so intrigued by the tree that he went and introduced himself to the couple who owned it.
"In pulls a car, guy gets out. 'My name is Eric, I'm the head gardener from Rockefeller Center. I'm here to look at your tree.' And I was like, 'No ... Do you understand how crazy you sound right now?'" Matt McGinley recalled to TODAY in a segment that aired Nov. 10.
Jackie McGinley said she did some research on Pauze and realized that he was the man who had been picking out the Rockefeller Center Christmas trees for the past 30 years.
"I Googled him and realized, 'This is legitimate,'" Jackie McGinley said. "We thought they were dating a lot of other trees, that maybe ours would be considered. And then as the date got closer and closer, we realized that, in fact, we probably did have the Rockefeller Center tree."
The McGinleys decided to donate their tree in hopes that it would bring joy to others during the holiday season.
"This is not about us, but it's about being of service to other people, giving them that chance to go and make memories by the tree," she said.
Matt McGinley said his late mother would especially be proud of him for donating the tree.
"I think she would think it was the coolest thing. I keep having this feeling of, 'Who am I not telling about this? There's somebody that I feel like I outta tell,' and it's her," he said, sharing that his mom's best friend will be there with them the day of the tree cutting.
Once the tree arrives in New York City, daytime talkshow host and pop star Kelly Clarkson will host a two-hour live show to light the tree, complete with performances and celebrity cameos. TODAY's Savannah Guthrie, Hoda Kotb, Al Roker and Craig Melvin will also join her.
The "Christmas in Rockefeller Center" tree lighting ceremony will air on both NBC and Peacock Nov. 29 at 8 p.m. E.T./P.T. (Peacock is owned by TODAY.com's parent company, NBCUniversal.)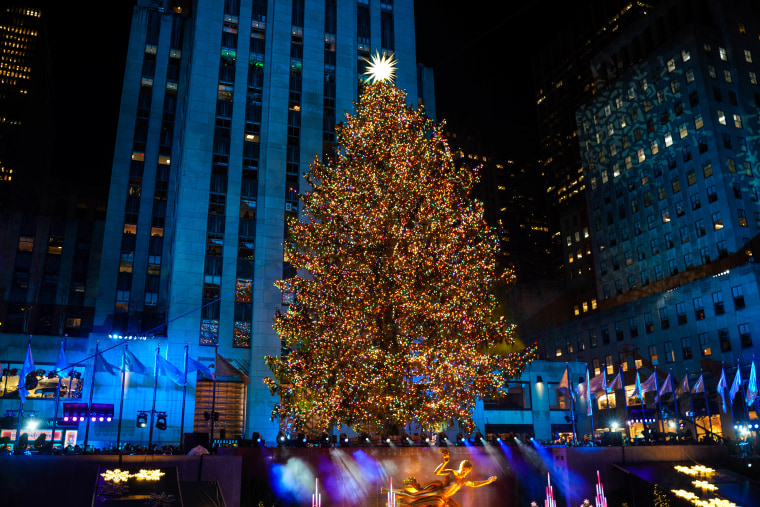 What is the history of the Christmas tree at Rockefeller Center?
Rockefeller Center has put up a giant Christmas tree nearly every year since 1931. Current head gardener for Rockefeller Center Erik Pauze sources a new Norway spruce to take the place of honor above the ice skating rink.
"What I look for is a tree you would want in your living room, but on a grander scale. It's got that nice, perfect shape all around," he said in an interview shared on RockefellerCenter.com. "And most of all, it's gotta look good for those kids who turn the corner at 30 Rock; it needs to instantly put a huge smile on their faces. It needs to evoke that feeling of happiness."
He said the specific type of tree, Norway spruce, "is great for the scale it can achieve. It can hold the lights on its branches, and it stands there nice and proud as the tree should."
The first tree lighting ceremony was held in 1933 and the iconic outdoor ice skating rink opened in 1936. The first televised tree lighting aired for the first time in 1951 on "The Kate Smith Show."
CORRECTION (Nov. 10, 2023, 8:42 a.m.): An earlier version of this story misstated the date for this year's Rockefeller Center Christmas tree lighting ceremony. It's on Nov. 29, not Nov. 28.