Have a drink lover in your life or a hostess you want to impress? TODAY.com's food and drink writers share their picks for the perfect drink gifts. Bottom's up!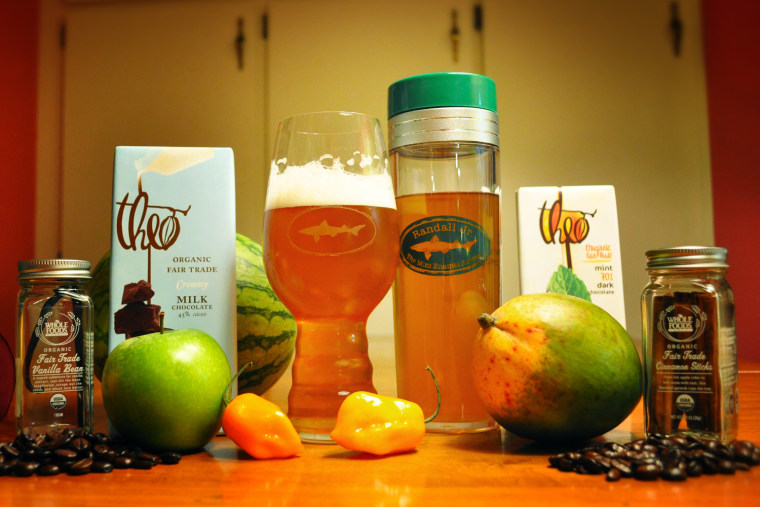 For the beer lover:
If you have a creative foodie on your list who also adores a well-crafted beer, then Dogfish Head's Randall Jr.is just the thing to bring the joy of flavor experimentation to their holidays. This fun $20 gadget allows you to play alchemist and infuse various flavors into beer, from fruits, to herbs to candy – whatever you can dream up. It's super-easy to use – simply fill it with beer, drop in your ingredients, screw on the lid and pop it in the fridge. Twenty minutes later, you pop off the top, pour your flavor-infused beer into your glass (a built-in strainer keeps your special ingredients from coming along) and enjoy your creation. I played with Randall Jr. a couple of months back, and had a blast adding everything to from watermelon, to habanero peppers, to vanilla beans to peanut butter cups to a variety of brews. –Jim Galligan, beer writer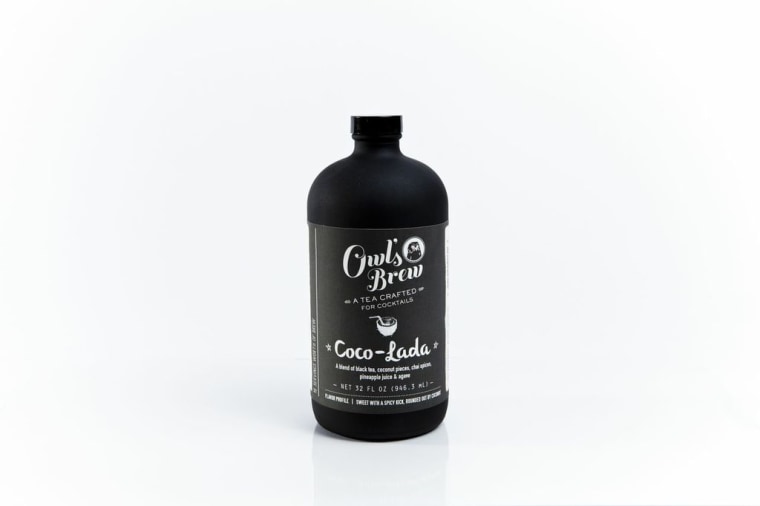 For the cocktail lover (or dry drinker)
If you or your giftee follow foodie predictions, then you already know that tea cocktails are expected to be the trendy tipple for next year. While I care little for jumping on trends, the $15.99 Owl's Brew cocktail mixer makes me a believer that this is one worth following. The mixer features tea and comes in three flavors. My favorite is Coco-Lada, with black tea, coconut, chai spices, pineapple juice and agave. It's perfect for a drink lover or hostess, as it mixes with virtually anything – rum, vodka, champagne – and offers a nice alternative to traditional party mixers like soda. It's also a great gift for the dry drinker in your life, as it has a complex taste that satisfies on its own with some ice. –Vidya Rao, food editor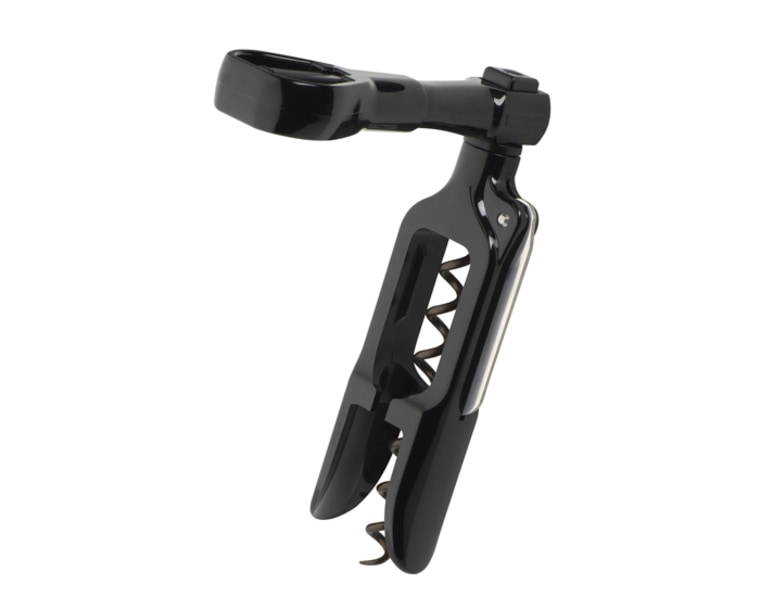 For the wine lover:
Screwpull from Le Creuset makes a range of corkscrews, but when I discovered the $25 Pocket Corkscrew, a "self-pulling" opener, I was hooked. You simply place the collar over the bottle, make sure the screw is in the middle of the cork and then turn the handle clockwise with your index finger. The cork lifts out effortlessly with no pulling required – just wind counter-clockwise to remove it. For a bonus: include a set of nifty reusable rubber bottle caps from CapaBunga that replaces the cork when you want to save a bottle you haven't finished. It takes a little effort to get them on, but they fit like a glove, sealing out air. I find them especially useful for bottles of sparkling wine. A set of two is $7.95, a perfect gift for the wine lover in your life. — Edward Deitch, wine writer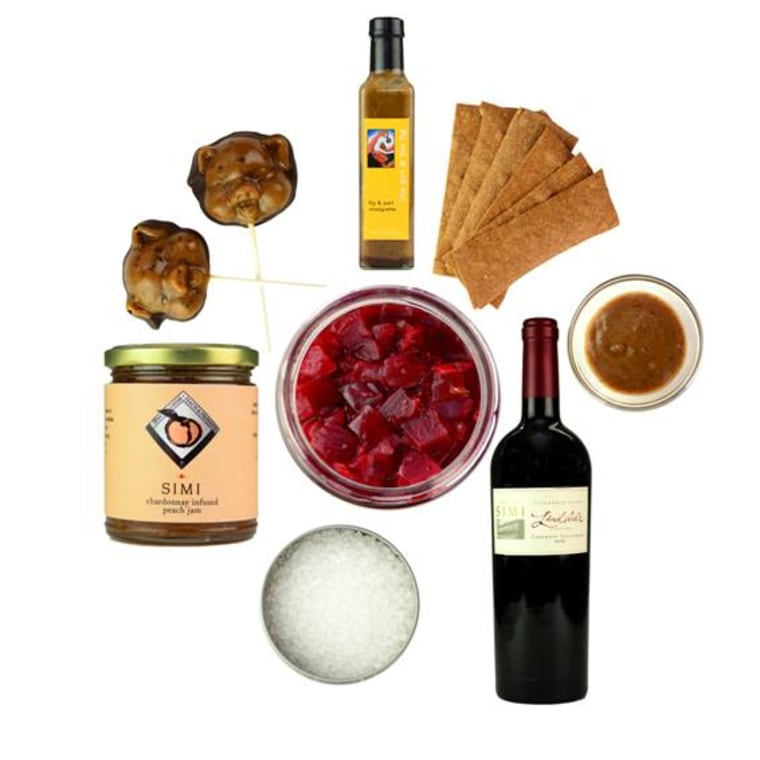 What could be better a better gift than excellent wine and delicious food? Sonoma winery SIMI teamed up with Out of the Box Collective to offer a limited-edition gift set that includes fig and port vinaigrette made by local restaurant The Girl and the Fig, chocolate and bacon toffee "piggy pops" by Black Pig Meat Co., SIMI chardonnay-infused peach jam, pickled beet relish by Preserve Sonoma, and chardonnay savory salt crackers. A bottle of SIMI wine is included, your choice of 2011 Russian River Valley Reserve Chardonnay or the 2010 Landslide Cabernet Sauvignon. As an added bonus, when you give this gift, SIMI Winery and Out of the Box Collective donate the proceeds to Action Against Hunger. $75 with a bottle of Landslide, or $65 with the chardonnay. — Linnea Covington, food writer

You don't need to spend a fortune on wine to enjoy the holidays. There are plenty of delicious values in the $8-12 range. Here are my top picks for gifting.
2011 Santa Rita "120" Chardonnay, Central Valley, Chile $12
One of the best value wines on the market in terms of quality/price quotient. Crisp and refreshing with a creamy texture, this is a white that marries the best of all Chardonnay worlds -- lush yet still light and lovely. Paired alongside roast turkey and stuffing or a cheese platter, it's sure to satisfy.
2011 Jim Barry "The Lodge Hill" Shiraz, Clare Valley, Australia $17
An impress-for-less red that ranks among my favorites of the year. Australian Shiraz is often (mistakenly) thought of as only heavy and bold, but this version from the cool Clare area of South Australia is laser focused and elegant. Sporting dark berry fruit flavors with a peppery kick, it's a wine that balances rich meat dishes with its vibrancy, but goes just as easily with fleshy fish preparations.
Spanning the spectrum from party pick to gift option, this beautifully packaged bubbly is a top choice for the holidays. Made with Glera grapes in the Prosecco region of northern Italy, it offers an alluring hit with flowery aromas and a whisper of sweet, succulent fruit notes. Serve with brunch fare or pour solo for cocktail hour. Just make sure to stock up. This fizz will go fast. —Leslie Sbrocco, wine expert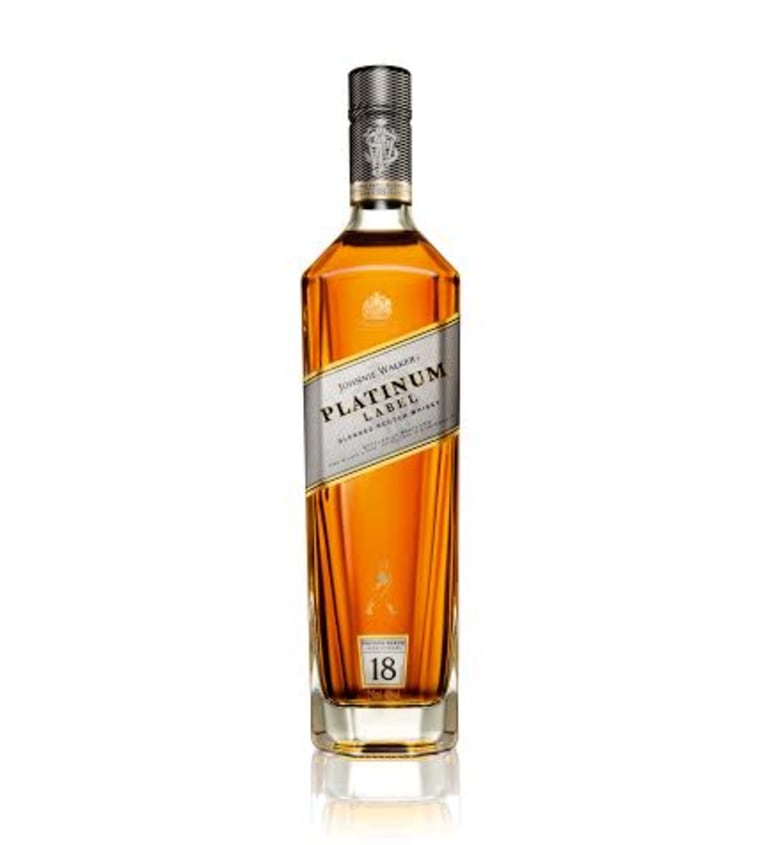 For the Scotch starter:

As someone who gravitates more towards margaritas and guacamole than steak and Scotch, I love the Johnnie Walker Platinum 18-year blend. It's a smoother, fruitier Scotch with a really mellow taste — none of the burn that those of us who aren't Scotch drinkers fear. Yet it still has the complexity that experienced Scotch drinkers (like my fiance) crave. It has a really full bouquet that includes buttery, caramel notes and subtle spice. It amplifies the rich taste of beef and duck and is fantastic for dessert alongside a scoop of vanilla ice cream. This is a perfect gift for the beginner and experienced Scotch drinker alike. Retails for $110. —Sarah Spigelman, food writer