Robert McCoy completed a half-marathon over the weekend, but on Monday, his race medal went to the police officer who helped him cross the finish line.
McCoy had just turned the final corner of the route Saturday, part of the Rock 'n' Roll Marathon in Savannah, Georgia. He was about 200 yards from the finish line when he took a tumble, hitting his head on the asphalt and scraping up his face, knees and the back of his shoulder.
"I just saw him hit the pavement and hit it pretty hard," said Sgt. John Cain of the Savannah-Chatham Metropolitan Police Department. He and other officers assigned to the area rushed to McCoy's side.
RELATED: Police officers buy car seats for family in need instead of giving tickets
"He was bleeding pretty good at the time, and he kept saying, in a whispering type of voice, 'I've got to finish this race. Please help me, I've got to finish the race,'" Cain told TODAY.com. "At that point, I knew he had some mission he needed to accomplish. My heart bled for him. Literally, my heart went out to him."
As it turned out, McCoy was running the race in honor of his father, who passed away from cancer this past April.
Cain said with the end goal in sight, he helped a bloodied and banged-up McCoy to his feet and kept a steady grip on his arm as the two men jogged the remainder of the race. An emergency medical technician followed closely behind on a bicycle.
Later that day, a photo of Cain and McCoy crossing the finish line went up on the police department's Facebook page. The post has since gone viral, with more than 482,000 views and eliciting accolades from around the world.
RELATED: Police officer provides homeless family with shelter and food on his own dime
On Monday, McCoy stopped by the police department to give Cain his finisher's medal from the race.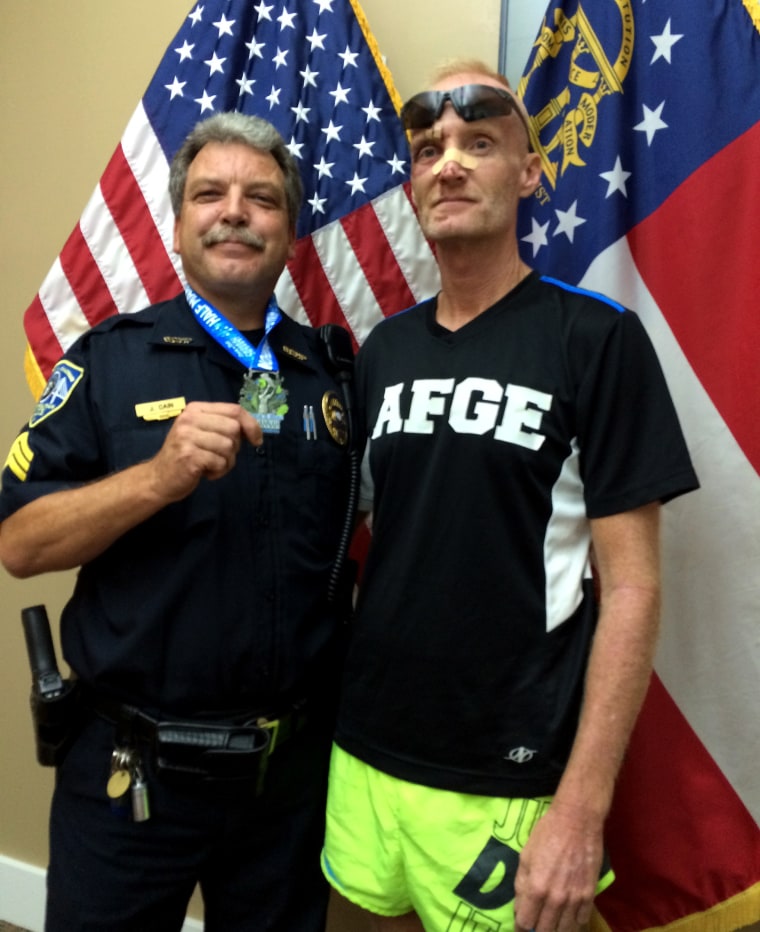 "He deserved it more than I did, because if it weren't for him, I wouldn't have finished the race for my dad," said McCoy, who noted that spectators had encouraged him to stay put after watching him fall.
Cain tried to deflect attention from what he did, but McCoy insisted: "He's the real hero. He kind of scooped me off the ground and helped me through there at the end."
RELATED: Gutsy grandpa, 73, finishes 13-year quest to run 50 marathons in 50 states
But Cain called McCoy the true champ. He said since meeting the man, who, like himself, is 49, he learned that McCoy is a cancer survivor who started running five years ago after coming back from a Stage 4 Burkitt lymphoma diagnosis.
"In my book, just his motivation, his dedication, his drive to that race made him a hero in my book," he said. "He caused me to want to be involved with him, to connect with him. I believe this entire instance not only caused me and Mr. McCoy to become friends but to develop a very true bond."
Follow TODAY.com writer Eun Kyung Kim on Twitter.