Cara McCollum, the 2013 winner of the Miss New Jersey pageant, died early Monday from injuries suffered in a car crash last week, family and friends have announced.
"We've prayed constantly for a miracle, and we believe God has answered our prayers,'' loved ones wrote on the Facebook page "Prayers for Cara. "Although it's not the miracle that we first envisioned, it's a miracle nonetheless. In the end, it's not the years in your life that count. It's the life in your years."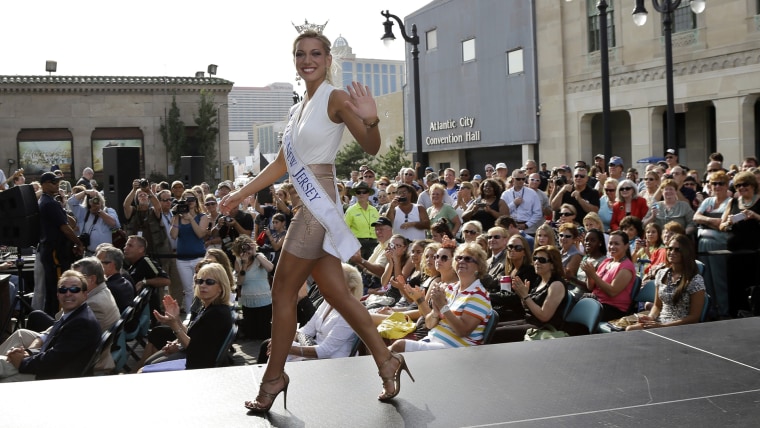 McCollum, 24, was critically injured on Feb. 15 when she lost control of her Ford Mustang on a New Jersey highway and careened off the road into some trees. She was not wearing a seat belt, state police told NJ.com.
Responders took her to Cooper University Hospital in Camden, where she underwent brain surgery.
Before the accident, the Princeton grad worked as a television anchor for the South Jersey-based SNJ Today. She lived in Margate City, some 20 minutes south of Atlantic City.
On Monday, her boyfriend, Keith Jones, an anchor at NBC Philadelphia affiliate WCAU, posted a tribute on his Facebook page along with several photos of the couple.
"Words fall short of describing the pain, but I'm eternally grateful and blessed for the time I spent with Cara,'' he wrote. "Her enormous heart enriched my life and changed me forever."
McCollum grew up in Arkansas. She was a rising senior at Princeton when she was named Miss New Jersey 2013. The next year, she went on to compete for Miss America, NJ.com reported.
Her colleagues at SNJ Today also issued a heartfelt remembrance of their time working with her.
"Whether you had the privilege of knowing her or if you enjoyed her newscasts during her all too brief time with us, you know that her smile, determination and sincerity made her a beloved individual,'' SNJ Today wrote.
"Cara showed warmth to everyone she met. She was a part of our news team family and we are gratified to have worked with her – even for such a short time. We will miss her terribly."
Before her death, McCollum declared her intent to donate her organs, according to the Prayers for Cara post.
Follow TODAY.com writer Scott Stump on Twitter.