A fire rescue captain and a woman in her home were killed when a helicopter crashed into a Florida apartment building in a harrowing scene caught on camera.
A helicopter from the Broward Sheriff Fire Rescue unit went down during the morning rush hour on Aug. 28 and crashed into an apartment building in Pompano Beach, authorities said.
The crash killed Broward Sheriff Fire Rescue Capt. Terryson Jackson, 50, who had been with the department for 19 years. It also killed a female resident in the apartment building, whose identity has not been released by authorities.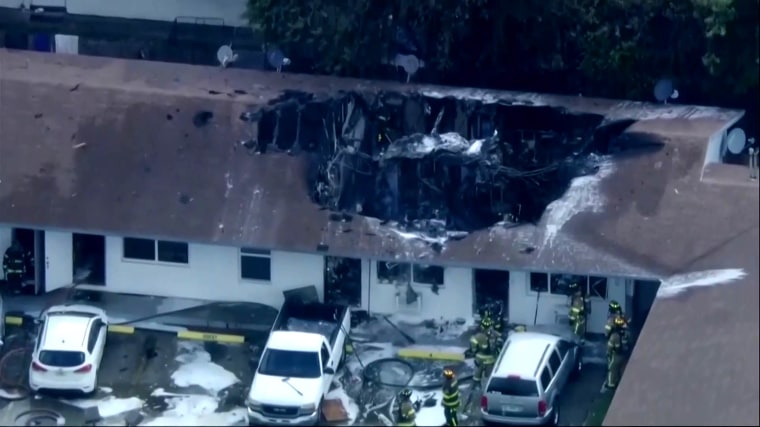 Four others were injured, including pilot Daron Roche, 37, and firefighter paramedic Mikael "Mike" Chaguaceda, 31, as well as two unidentified people on the ground.
Video of the frightening scene shows black smoke pouring out of the chopper in mid-flight as it spins out of control just 650 feet off the ground. The helicopter then nose-dives into the apartment building.
"A fire broke out on board," Broward County Sheriff Gregory Tony said at a news conference. "They did their very best, from my understanding, to try to extinguish that fire."
The three-man rescue crew had just lifted off to head to a traffic accident in which people suffered life-threatening injuries when the dual-engine Airbus helicopter began to spin out.
"Guys, we're having mechanical issues, we're headed back to our station," Roche said over the radio.
Witness video showed Roche and Chaguaceda crawling to safety by climbing down the roof of the building following the crash, according to NBC affiliate WTVJ.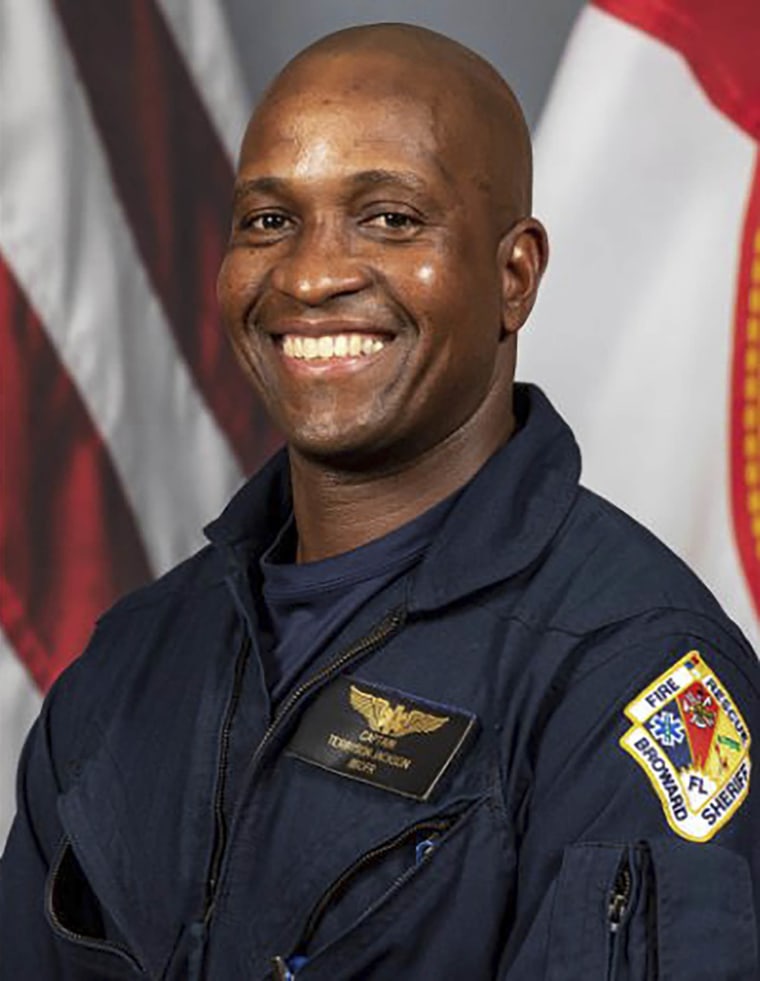 They were taken to a local hospital along with two civilians. A spokesperson for the Broward County Sheriff's Office told WTVJ that all four were in fair condition.
Tony lauded the men for their selflessness in the midst of trying to put out the fire aboard the helicopter. They radioed to say they would not be able to make it to the scene of the traffic accident.
"As they were fighting for their life, they were worried about somebody else's," Tony said at the news conference. "What else can you say about that type of character?"
Tony also mourned the loss of Jackson.
"Terryson was a rock star. He was one of the best of us, one of the brightest," he said. "He bled this profession inside and out all day long."
"Captain Jackson, Terryson typifies what it meant to be a brother firefighter," Broward County Fire Rescue Chief Tim Keefe said at a news conference. "He perished doing what he loved."
The National Transportation Safety Board and the Federal Aviation Administration are investigating the crash.