/ Source: The Associated Press
All the big names came out for New York Fashion Week: Marc. Vera. Snuggie.
Yes, Snuggie — the blanket with sleeves — staged a runway show on Tuesday, complete with high-fashion models and a new "urban jungle" line of zebra and leopard prints.
The silhouette, if you can call it that, remained the same — a cross between monk robes and "Alvin and the Chipmunks" sweaters. Accessories included remote controls.
"You're here at — let's just say it — the future of fashion," said host Ross Matthews, better known as Ross the Intern from Jay Leno's "Tonight" show.
The much-parodied Snuggie infomercial, in which Snuggie-clad actors eat popcorn and read on the couch and stand to cheer at a football game, was intended to have "a little cheek," said Linda Hotz of the Allstar Marketing Group, which makes the Snuggie. But the company had no idea it would become a pop culture touchstone.
"People just took it to the next level and we decided to go with them," she said.
Snuggies have been the butt of late-night TV jokes, hundreds of parodies on YouTube and countless Snuggie pub crawls — with groups looking like some kind of boozy, wizard cult. Its competitors include the Slanket, the Freedom Blanket, the Blankoat and the wearable towel, a sort of faux-toga.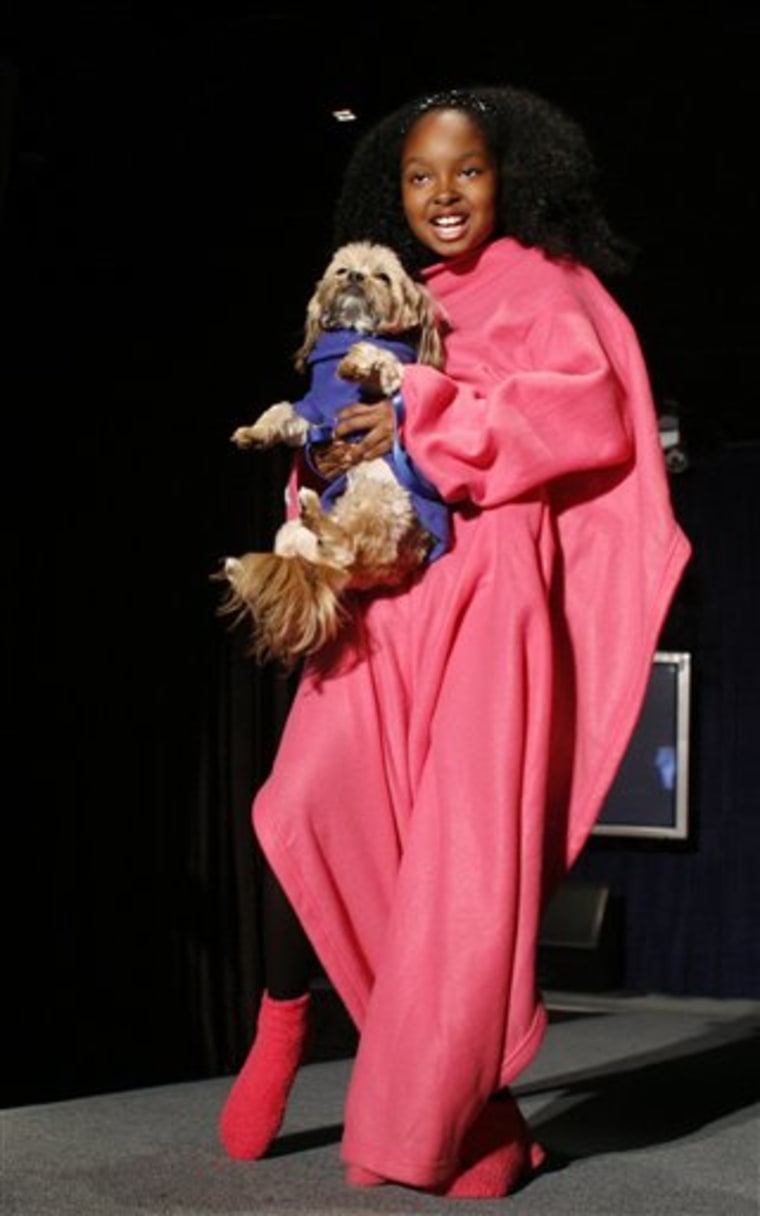 Snuggies for all!
The show on Tuesday was a gimmick, sure, but also a real effort to introduce new colors and styles that included animal prints, tie-dye, camouflage, a "luxury microplush" and — in a possible stroke of marketing genius — college logos.
Also shown were Snuggies for children and dogs.
"He can change the channel! He can read! He can text his friends! All while wearing his Snuggie," Matthews said as Marley, a Shih Tzu-Yorkie mix, pranced happily around the stage.
A larger dog named Percy put his head between his paws and quickly turned his back on the audience, as if mortified.
Backstage his owner, Melissa O'Dell, chalked it up to a combination of nerves and fatigue: "We ran 5 miles this morning to make sure he'd be calm."