Want to "wow" dad this Father's Day? Pass up the predictable and dive straight into gifts that will delight even the hardest-to-please dads. Here are some of the inside secrets to your gift- giving success. Give dad a present that sizes up his personality and hobbies for gift-giving perfection. With a little know-how and thought, you can make this Father's Day totally memorable. Dad will think you spend all night dreaming up these gifts!
Begin by considering dad's likes and dislikes: Cater to his interests and favorite whims. Whether he's a new dad, a golf- or spa-loving dad, a grill master, a handy dad or even a granddad, think first. Go for a wow gift that lets dad know it's just for him. You're bound to put a smile on his face and make dad glad he has you for a kid!
For the new dadNow that he's a dad, surprise him on Father's Day and dress baby in Tuni & G's unique line of clothing featuring sassy trademarked phrases like "Don't ya wish your daddy was dreamy like mine?" Dad will be tickled blue (of course!) to outfit his new baby in their onesies and little karate pants flashing "Don't ya?" on the back (sizes 3-6 months to youth). Order by June 6 to ensure delivery by Father's Day. Prices range from $32 per piece; TuniandG.com
For the dad on-the-go
Is your dad a jet-setter or road warrior? Add a smile to his daily commute with clever coffee mugs that say "Don't Make Me Stop This Car" and "Are We There Yet?" Both travel mugs hold 14 oz. $18; wrapables.com
For the healthy dadHealth-conscious dads will appreciate these healthy gift baskets for all occasions. The gift baskets contain healthy, gourmet foods appropriate for particular health concerns, allergies and dietary restrictions. Wellbaskets.com caters to the health-conscious gourmet as well as those new to the world of healthful eating. For example, Dad's Delight ($65) and Heart Healthy Father's Day Snacker ($35) are filled with healthy gourmet snacks. wellbaskets.com
For the sweetest dadSpell out your love and appreciation for dad this year with cookies from Eleni's New York. Packaged in a brown-and-pink Eleni's signature gift box, this set includes 18 hand-iced sugar cookies: 10 hearts and eight letters spelling out "I Love Dad" ($37.50). elenis.com
For the ice-cream-loving dadCreate custom, gourmet ice cream and gelato flavors from more than 60 flavor options and ship overnight anywhere in the continental U.S. Even choose your own flavor name and packaging. Custom orders start at $49.99 plus $34 overnight shipping for a half-gallon (arrives in four pints). eCreamery.com
For the spa-loving dad
Wrap dad in comfort with the Towel Spa Bathroom Towel Warmer and send a spa to dad's door. The Towel Spa is a compact towel warmer that warms two towels, a large bath sheet or a bathrobe in minutes. Simply stuff the towels inside and press "on" — when your shower is done, your towels are toasty warm. $80; bedbathandbeyond.com
For the grill-loving dad
Dad will love a collegiate branding iron for grilling and putting his college alum on his steaks! Go team! The Grill Topper is a ceramic-coated, cast-iron barbecue grilling surface that will sear collegiate team logos onto grilled meats — perfect for the backyard BBQ chef, and a must-have for sports tailgating. The Model 1311 (large) retails for $49.99; the Model 550 (small) retails for $24.99; thegrilltopper.com
For the dad who is a great sport
Here's a gift that will be a big hit! Spice up your food with this Cole & Mason King Peppermill Baseball Bat novelty peppermill. It's 28 inches long and made out of beechwood with a carbon-steel grinding mechanism. $50; target.com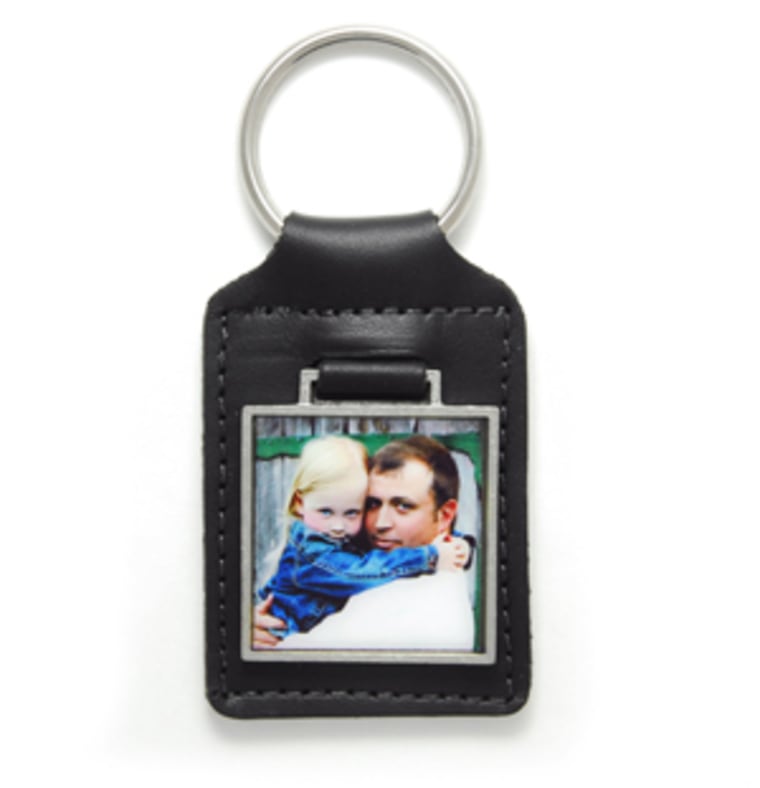 For the granddad or pet-loving dad
Give dad a photo gift from Kimbra Studios to capture loved ones (even Fido!) in an heirloom piece that will be treasured for years to come. Upload your noncopyrighted photographs right on the Web site and see them in a piece of your choice. Price ranges: Cufflinks ($95-$125), keychains ($25-$40), wallet ($55), business card holder ($42); kimbrastudios.com
For the cool dadCheck out the RC Cooler, a remote-controlled cooler from Interactive Toy Concepts. Dad will never leave his chair again — just let the remote-controlled cooler deliver the drinks for him. Holds up to 12 drinks with ice, has a range of over 30 feet. Runs on six C batteries and a 9-volt battery for the controller. About $70; solutions.com
For the handyman dadIt's one of the newest and coolest tools: The Ridgid See Snake Micro Inspection camera allows you to easily perform visual inspections in hard-to-reach areas. Its lightweight, handheld design means that it can be carried anywhere, providing solutions when and where you need them. Whether there's a leak in the wall, a blocked toilet or hidden insects, this camera lets you take a peek without tearing down an entire wall. About $200, homedepot.com
For the dad who knows best
Check out the fill-in-the-blank book titled "Questions to Bring You Closer to Dad." It's filled with questions you'll be so glad you asked your dad. Record his answers for a gift that lasts a lifetime, and get to know dad better as he reflects on his past and present memories. You'll spend a memorable afternoon getting closer to dad. $9.95; amazon.com
Robyn Spizman is a consumer advocate and gift-giving expert. She is the co-author of "Where's Your Wow?" and her Web site is robynspizman.com.