Firsts are always memorable, even when they don't deserve to be. Your first kiss may not be the best ever, but you'll know till your dying day where and with whom it happened. Ditto for first concerts. Very few of us saw The Beatles at The Cavern Club for our first show, we were much more likely to catch The Police in a soccer stadium or Tiffany at the mall. Those memories fade a little -- you may not remember who went with you or how much the ticket was -- but the song remains the same. Travel down a musical memory lane with us, and share your own first concert experience.
Coldplay, George, Wa., July 2009
It was a balmy summer evening at the breathtakingly beautiful Gorge Amphitheater in central Washington State when the British pop-rockers Coldplay took to the stage. In front of a golden sunset that descended upon the twisting Columbia River and its surrounding canyons, we sat on the terraced lawn listening to the soaring melodies of "Viva La Vida" and the pitch-perfect ballad, "Yellow."  Like all good things, it came to an end. This, however, was a harshly abrupt end. Near the finale, a drunken duo couldn't quite keep from spilling their beers on us; then on the drive home, my girlfriend decided to break up with me -- apparently the summer is no time for stifling relationships. So let me start over: On an ominous evening where the harsh waters of the Columbia River crashed into its surrounding canyons, I waited for the washed-out Chris Martin to deliver yet another contrived ballad created with the sole purpose of consoling sexually frustrated middle-age women who deal with their depression with a bottle of white wine and a "Viva La Vida" CD. I've had better evenings.    --Cody Delistraty
The Dazz Band and Berlin, Disneyland, May 1983
One of the many benefits of being a California girl is the high school graduation ritual that is Grad Nite. Each year, seniors from schools around the state load up in buses and head to Anaheim to be locked into Disneyland for the night to enjoy the rides and several concerts. At daybreak, the tired masses stumble back on the bus for a long, (in my case a 400-mile drive back to the Bay Area) sleep-filled drive home. That night, there were several acts performing, but I attended two. Being a stone-cold R&B fan, my first pick was The Dazz Band. The Cleveland-based funk group were riding high on the charts with their hit single, "Let It Whip,"and since I was there to have "big fun," oh, yeah, I let it whip! To this day, whenever I hear that song, I think of dancing with a couple of hundred of my new best friends in my best big-shouldered '80s dress (girls had to wear dresses for Grad Nite back in the day). Next on the concert ticket was Berlin, one of the many emerging New Wave-synch pop bands of the early '80s. Thanks to MTV, which was brand new to the TV dial at the time, I fell in love with New Wave. Berlin, fronted by the very cool Terri Nunn, would go on to score a huge hit with "You Take My Breath Away" later in the decade, but that night their show-stopper was "The Metro." It would be many, many years later until I rode le Metro in Paris, but yes, that song came into my head, as well as a cherished memory of one night in The Happiest Place on Earth.    --Denise Hazlick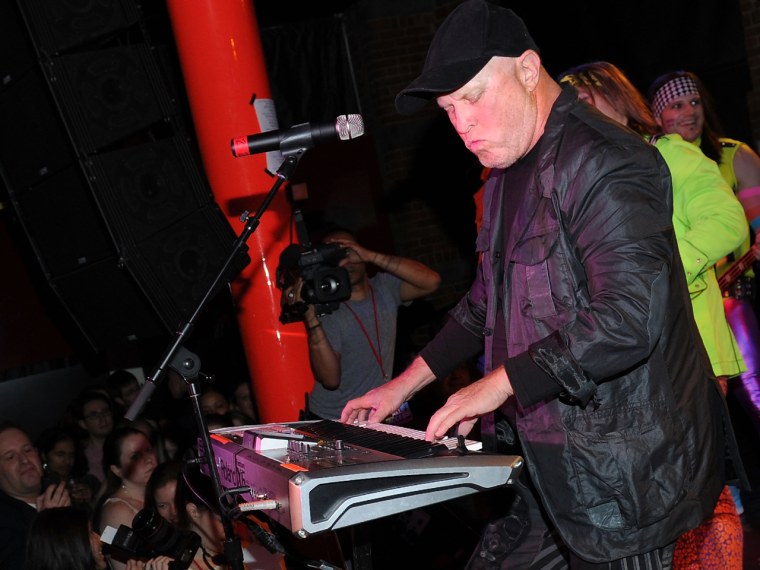 The Police/Flock of Seagulls/The Fixx, Rochester, N.Y., August 1983
When I was growing up in Rochester, N.Y., I could hear the music when bands played Holleder Stadium, three blocks from my house. I remember Deadheads sitting on our front lawn. And I remember my first show inside the stadium, where I had only ever been to see the Rochester Lancers soccer team play. The Police were on their 1983 "Synchronicity" tour and the regular set list included all the hits you would expect -– "Every Breath You Take," "King of Pain," "Wrapped Around Your Finger" and so on. The tour T-shirt remains iconic to me with its red, blue and yellow slashes of color. As a 14-year-old skateboarder at the time, I think the opening bands were a bigger draw for me. The Fixx and Flock of Seagulls were new wave heavyweights and were in heavy rotation on MTV. I can't remember if Seagulls' lead singer Mike Score's amazing hair was visible from my seat at the show. But the Internet coughed up a copy of the ticket, and $15 sure sounds like a deal today.   –-Kurt Schlosser
Chicago, St. Paul, Minn., 1985
Does anybody really know what time it is? Does anybody really care? Does anybody really know if my first concert was in 1984 or 1985? At the St. Paul Civic Center, or the St. Paul Auditorium? Those details have faded, but I know the band was Chicago, the album was "Chicago 17," and I'm pretty sure I went with my best high-school friend Kate. I'm also pretty sure her parents dropped us off and picked us up since neither of us were old enough to drive. Admittedly, looking back, Chicago wasn't the coolest band to claim as your first concert. Born the same year as me, 1967, they've been around forever, prominently feature horns, and are a staple of light-rock stations and dental offices.  In short, they're no Clash. But they're also second only to the Beach Boys in Billboard singles and album chart success, so take that, cool kids! You know our love was meant to beeeeeeee … the kind of love to last forever.    –-Gael Fashingbauer Cooper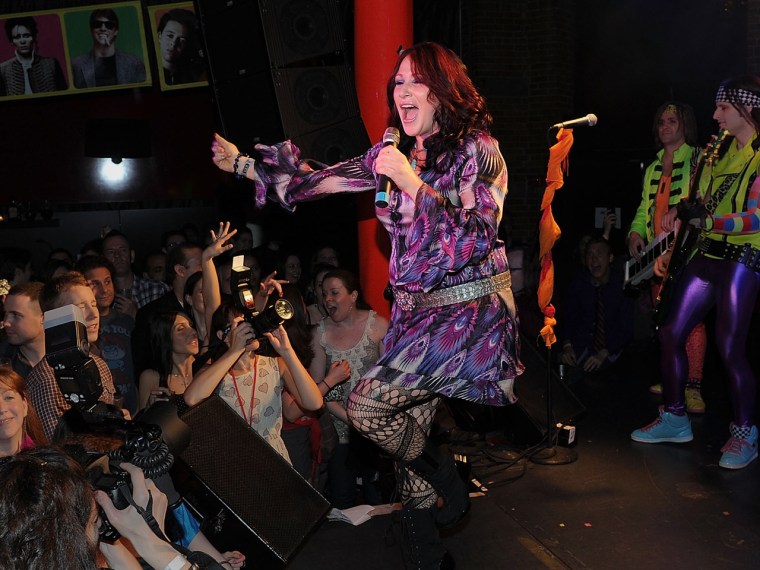 Tiffany, Pittsburgh, Pa., April 1988
If I had known that "what was your first concert?" would become a common icebreaker once adulthood struck, I might have made a more careful choice. But that was the furthest thing from my mind in the late 1980s, when I was all about a certain pop singer who went by one name. No, not Madonna. Tiffany. The events leading up to the concert and the show itself are fuzzy memories. I do recall my mother reacting to one of Tiffany's hit songs -- "I Saw Him Standing There" — with two words: "Awful, Courtney."  Too young to understand that it was a total bastardization of the Beatles song of the same name, I was entranced by the sheer pop quality of it, and the thought of seeing her perform it live? It was Christmas come early. So it's ironic that I don't remember the concert per se, but I do remember one important fact. It was my dad who took me and my friend to the actual show. Robert Hazlett sat patiently by our sides as we screamed and sang, disappeared just long enough to make us feel grown up, and bought what I'm sure was a very overpriced T-shirt to commemorate the event.  So while I'm a little mortified that the answer to this question will forever be an artist who was a total flash in the pan, I am happy about the rest of the memory — that it was my dad who made it all happen.    --Courtney Hazlett
Air Supply, Columbia, Md., 1982
I was 12 and couldn't exactly drive myself to the venue. That meant whatever rock concert I was going to go to had to come with mom's stamp of approval. Fortunately, Air Supply was the very definition of mom-approved rock. And heck, I was pre-adolescent and hormonal and just loved all of their deeply sappy love songs with a passion. To top it all off, I was in an Australo-philia phase and was working on finding ways to work lingo like 'wowser' into my daily vocabulary, so the fact that they were from Down Under made them even more exciting. I went with my friend Valerie and both of our moms to Merriweather Post Pavillion in Columbia, Md., and the first thing we did was purchase a $10 T-shirt in the parking lot, a shirt which I described in great detail –- along with a drawing of the Outback-themed stage set –- in my diary later on. Yes, the dreary Livingston Taylor may have been the opening act, but otherwise the show had everything I could have hoped for: Lasers, moving platforms, and, of course, those deeply sappy love songs. Air Supply rocked (softly) for a couple of hours, and as I told my diary later, "I had the time of my life. Oh, yes, I also got a big program for $6."    --Randee Dawn
Nelson, Seattle, 1991
I was the ripe old age of 12 when I attended my first concert with my best pals Bridget and Vilde -- and Bridget's dad. I remember the three of us jumping up and down on our seats (we weren't very tall for 12 year olds), screaming the lyrics back at the pair of beautiful, blond, identical twin boys on stage and loving every second of it. And after the show, we dropped way too much cash on some cheesy looking concert T-shirts. (In fact, it was this one that I bought:  If only I had kept it, I could sell it today for nearly twice the price I paid!) Sure, Nelson may not have maintained their "cool band" status (some might even argue they were never cool to begin with, but whatever), but after all these years, I can still remember the majority of the lyrics from their debut album and adore it "More Than Ever" even though my musical tastes moved on long ago.   --Anna Chan
Richard Marx, Concord, Calif. 1989
I'll admit that my concert track record hasn't always been the greatest. My first concert was Richard Marx's 1989 "Repeat Offender" tour –- where I was less impressed with the music than I was in trying to impress the two older guys – senior basketball players! – who let me tag along. From there, I made a few more questionable choices –- Milli Vanilli (turns out they WERE lip-syncing!) and New Kids on the Block (a friend made me go, I swear). I made up for it later by scoring fourth-row tickets to Madonna's 1990 "Blond Ambition" tour. You just haven't seen anything until you've had a closeup view of Madonna wearing breast cones and gyrating on a red velvet bed. But the concert-going pinnacle of my teen years was Dec. 31, 1991, when rising stars Pearl Jam and Nirvana opened for the Red Hot Chili Peppers at the San Francisco Cow Palace. Who could have predicted then that grunge would eventually lead me to my current home in Seattle?     --Joy Jernigan
Kansas/Loverboy, LaCrosse, Wisc., 1981
Wow, a famous band like Kansas and a hot, new, up-and-coming band like Loverboy were going to play the first big rock concert in the new LaCrosse Center, and I had a ticket!  By the time my friend Steve's parents dropped us off, Loverboy was already playing. Mike Reno was energetically running around the stage while his cohorts rocked the crowd. Then, during an extended version of "Working for the Weekend," Mike and guitarist Paul Dean began pitting the left side of the audience against the right side, "C'mon you guys, you're louder than them…." I remember only two things about Kansas, the guy who played the violin had like crazy long hippy hair, and wow, he played the violin a lot.    --David Gostisha
What was your first concert? Where was it, and who went with you? Share your musical memories on Facebook.
Related content: