/ Source: The Associated Press
Peruvian rice, steaming Greek falafels, satay dripping with peanut sauce, doughy Salvadoran pupusas, slippery Thai noodles. In much of the world, they are just on-the-go eats for the masses.
But in the U.S., a growing cadre of chefs and foodies are savoring these so-called street foods, elevating them beyond their humble origins, and weaving the tastes and ingredients into their own menus and homes.
"We've been reclaiming flavors," said Rick Bayless, winner of Bravo TV's "Top Chef Masters," fresh off the opening of his new Chicago restaurant XOCO, based on Mexican street staples such as churros, empanadas and tortas.
"After we went through the '50s, in America, when food got so processed and bland, there's been a backlash over the past 10 to 15 years," Bayless said. "A lot of the 20- to 35-year-olds are into this big, bold flavor. It's the antithesis of what you get in processed food, that balance of fat, sugar and salt. Street food has a tanginess to it. You get this thing that's so incredibly exciting to eat."
New trendUbiquitous across Latin America, Southeast Asia and the Mediterranean, street food is becoming increasingly common in the U.S., thanks partly to chefs like Bayless and Zakary Pelaccio, whose Malaysian-inspired Fatty Crab in New York gives steamed pork and veggie buns serious treatment.
Credit also is due to the growing army of food trucks and carts from coast to coast. As in Los Angeles, where the roving Kogi BBQ truck and its Korean-Mexican fusion has amassed thousands of fans through Twitter.
The trend is being taken seriously. Street food is regular fodder for bloggers and glossy magazines alike.
John Willoughby, executive editor at Gourmet magazine, said he expects cross-fertilization between street food and restaurants to continue for years. He called a May 2005 issue on street food the magazine's favorite travel issue.
"Here, street food has traditionally meant hot dogs, except in L.A. and New York," said Willoughby. "People thought of it as unhealthy, and sort of lowbrow. It wasn't something you thought about and looked forward to. That's totally changed in the last five years. Street food has become a lot more interesting."
According to Jackie Terrebonne, Gourmet's special projects editor, a wide variety of street food recipes have cropped up in new cookbooks by noted chefs, including John Besh's "My New Orleans: The Cookbook" and David Chang's "Momofuku," named after his New York restaurant chain featuring ramen and ssam, a type of Asian burrito.
'Frontiers of Flavor'The Culinary Institute of America, one of the nation's premier cooking schools, is even hosting a conference — "Frontiers of Flavor: World Street Food, World Comfort Food" — in California in November.
"If you told someone 15 years ago the Culinary Institute would organize a national conference on street food, you would have been laughed out of the room. The concept of food is changing," said Greg Drescher, the conference's organizer.
American food up until the mid '90s revolved around dishes from Europe, Drescher said, with notions of culinary excellence tied to schooling in France, then Italy. Foods considered "ethnic" were on the periphery.
Then chefs and food writers and enthusiasts started traveling beyond those European borders.
"A lot of people went to South Asia and discovered this incredible world of outdoor street food. Thailand, Singapore, Malaysia, India. It's as though you've been watching color television for the first time," Drescher said. "A street food vendor has one shot at impressing the customer. It's often quite creative and complex. Those people are doing one or two dishes for 20 to 30 years. They've gotten really good at what they're doing."
The nation's immigrant communities also have helped make street food more commonplace. In Los Angeles County alone, several thousand food trucks and carts — many run by immigrants — operate around the city.
In New York, Middle Eastern food stands are staples, as are carts selling arepas, South American corn meal patties. In Chicago, said Bayless, the spicier the street food the better, from regional Mexican fare to Puerto Rican.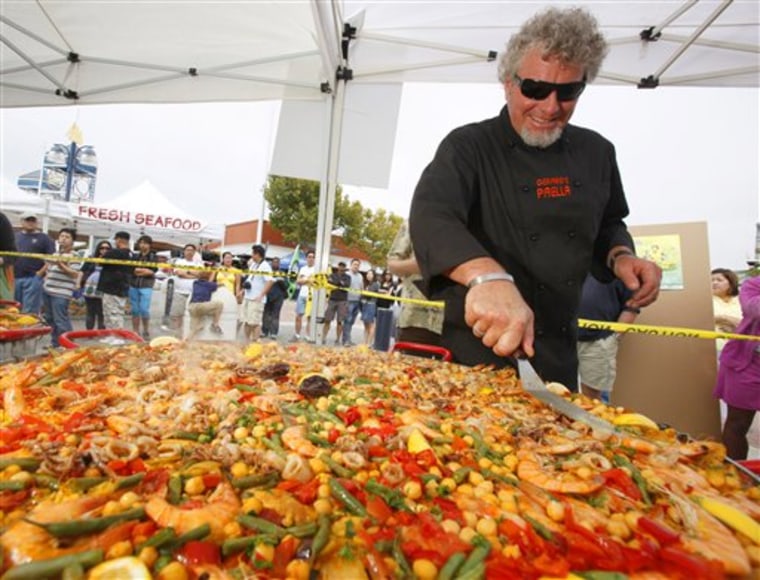 Guatemala native Irma Alvarado, 51, moved to Los Angeles in 1986 and started selling her pupusas at farmer's markets two years ago. She learned to cook the thick meat, cheese and vegetable-filled breads while helping to care for her 11 brothers, and began working as a food vendor at age 15. Sales at her roving L.A. stand have increased four to five times since last year.
"People go to a restaurant, and they have to sit down, wait. Here, you can see your food made, and it's faster and cheaper, fresh," Alvarado said.
Community connectionFor Susan Feniger, a trip to India 30 years ago jump-started her shift away from French-style cooking. At her new Hollywood-casual restaurant STREET squares of toasted bread with sweet coconut jam, a Singapore treat called kaya toast, come with soft-fried egg drizzled with soy sauce. Small collard leaves serve as taco shells for Thai bites, a dish seasoned with toasted coconut, crushed peanuts, dried shrimp, ginger, chilies and chopped lime.
"I love street food," said Feniger. "Many chefs do. I'm drawn to it because culturally I don't like going to fancy restaurants."
Last month, about 70,000 people crowded into the Eat Real Festival, a celebration of street food in Oakland that featured dozens of vendors like Joel Baecker, an alumnus of Alice Waters' Chez Panisse restaurant in Berkeley.
Baecker translated his love of local ingredients into his own Bay Area street food-inspired stand, Pizza Politana.
"We've really gotten the chance to connect to the local communities. When you get into street food, it's almost an extension of a home-cooked meal. It's much more familial," Baecker said.