As part of TODAY's Shine a Light series, a campaign to support worthy causes throughout the year, Carson Daly has chosen to fight childhood hunger and promote healthy eating. 
He's teamed up with KidsGardening.org, and they're on a mission to grow a garden to teach kids about better food options.
If you would like to help Carson with this effort, visit his fundraising page at Crowdrise.com/Carson.
After springing the idea of a creating a garden on a group of elementary school students in the Crown Heights neighborhood of Brooklyn, New York back in May, Carson returned to get the garden party started started. The students, who live in an area their teachers describe as a "health food desert," spent a month learning about gardening and growing their own food.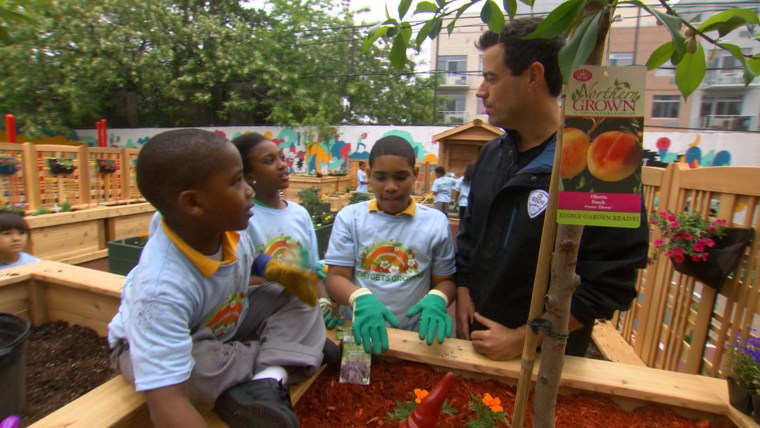 "I'm excited to get planting and get the stuff growing,'' Carson said on TODAY. "They're really great, great kids, and they deserve this." 
VIDEO: Carson Daly helps NYC schoolkids build a garden
Mike Metallo from KidsGardening.org lent a green thumb to the group to help them learn more about how flowers can keep pests away and how plants like to grow on top of each other. 
VIDEO: See Carson Daly get students jazzed about veggies
The hope is that the kids not only learn to incorporate healthy food into their own diets, but also spread the word at home. 

"They deserve healthier foods in their lives,'' Carson said. "They're going to be able to take this food home to their parents, which I love — the idea of helping these kids help themselves and their family."
Follow TODAY.com writer Scott Stump on Twitter and Google+.