As Caitlyn Jenner accepted the Arthur Ashe Award for Courage at the ESPY Awards Wednesday night, it was clear that she had the support of her entire family.
In her moving remarks, she called for "respect for" transgender people and highlighted issues affecting the transgender community. Then, she thanked her children for their role in her decision to come clean. "I am so, so grateful to have all of you in my life," she said, tearing up. "Thank you."
Caitlyn also paid tribute to her mother, Esther Jenner, who was also in the audience.
"I always thought that I got my courage and my determination from my dad, who landed on Omaha Beach and fought all the way through World War II," Caitlyn said. "But — you know what? I'm realizing now, Mom, I think I got all of those qualities from you. I love you very much, and I'm so glad you're here to share this with me."
RELATED: Caitlyn Jenner accepts ESPYs Arthur Ashe award: Transgender people 'deserve your respect'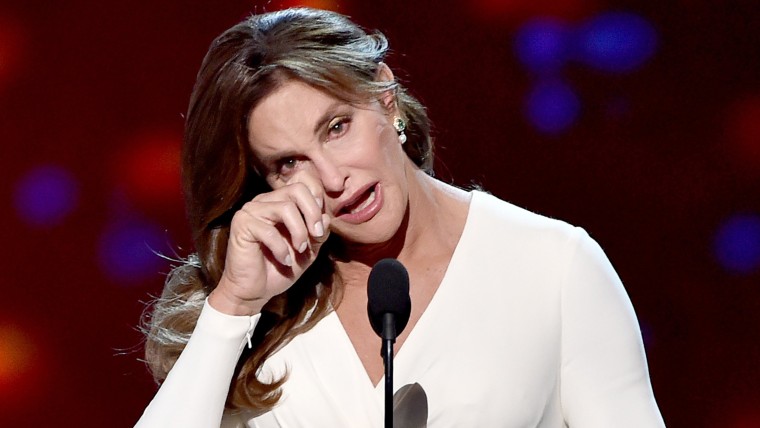 Midway through the event, the Kardashian-Jenner family took to social media to congratulate Caitlyn.
Kylie Jenner shared a photo of the entire clan backstage, noting their matching color scheme.
But the tribute photos went beyond fashion dissections and into tearjerker territory. Kylie also shared a photo of herself with the caption "espys for some fam support."
She also tweeted about a teary moment she shared with her sister:
And, of course, a selfie from Kim capped off the evening.
WATCH: Caitlyn Jenner pleads for acceptance at the ESPYs
Jenner first publicly identified as a woman during an interview with Diane Sawyer in April 2015. On June 1, Buzz Bissinger's Vanity Fair cover story, "Call Me Caitlyn," created a ton of buzz and revealed that sports network ESPN would honor Caitlyn with the Arthur Ashe Award, awarded annually to a recipient who displays "strength in the face of adversity, courage in the face of peril and the willingness to stand up for their beliefs no matter what the cost."
In the months since, Jenner's family has continually voiced their support for her. Earlier this month, her son Brody told TODAY that he's been getting along better with Caitlyn than he did with Bruce.
"Caitlyn is just a much freer person," he said. "It's incredible to see the difference between Caitlyn and Bruce."
The media attention and conversations surrounding Jenner's transition will likely only continue to grow this month and into the end of the year.
Her new tell-all TV series, "I Am Cait," premieres July 26 on E!